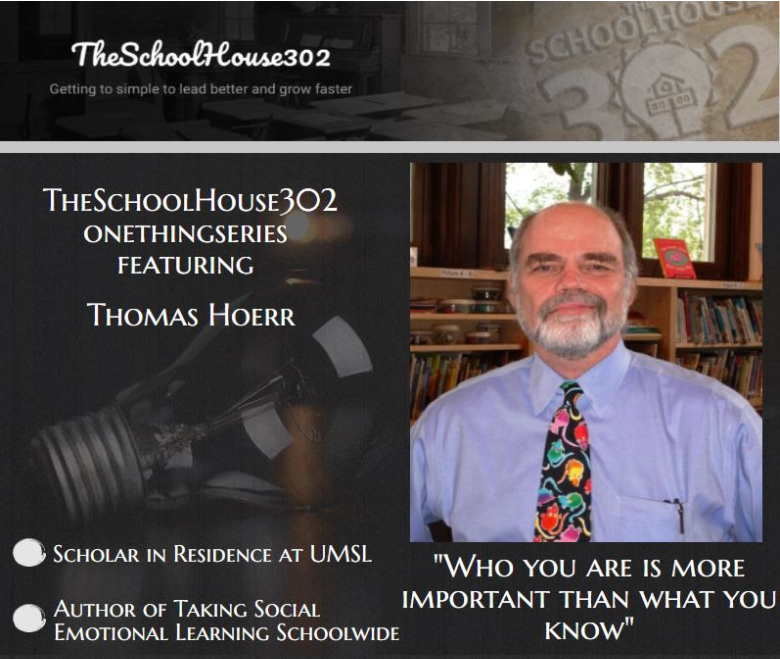 Who Is Thomas Hoerr?
Thomas R. Hoerr retired after leading the New City School in St. Louis, Missouri for 34 years and is now the Emeritus Head of School. He is currently a Scholar In Residence at the University of Missouri-St. Louis, and he teaches in the Educational Leadership program, preparing prospective principals. He also led the ISACS New Heads Network and founded the Non-Profit Management Program at Washington University in St. Louis. Hoerr has written five books, and his newest book is Taking Social Emotional Learning Schoolwide: The Formative Five Success Skills for Students and Staff. He has written more than 150 articles, including "The Principal Connection" column in Educational Leadership Magazine from 2004 to 2017.
Major Takeaways from Our Interview with Thomas Hoerr:
Tom wastes no time in this interview by quickly acknowledging that academics in the school set the floor not the ceiling. His insight about David Shield's moral and character development versus content learned uncovers the power in what schools can be.
His advice for administrators right now: "grab a cup of coffee and take a deep breath." His next bit of advice, totally focuses on developing the SEL culture that every school needs. 
He discusses how language is key and how simply changing the name of faculty meetings to "learning meetings" sets a different expectation for staff.
Tom talks about the Formative Five and how you should not attempt all five at once. 
You don't want to miss what he says about the power of halls and walls. 
Tom continues to learn and grow and finds incredible value in Howard Gardner, and his new book is A Synthesizing Mind. 
His pursuit to seek differing views to broaden his own understanding is profound. He shares sage advice: listen more than you talk and ask more than you tell. 
In an ever-changing and diverse world, Tom humbly admits that he really works to understand people from a diverse background. 
Tom used to think that knowledge and being smart were critical to success but now he realizes that compassion, empathy, and SEL are the gate to real knowledge and understanding.  
Let us know what you're reading and who else you want us to bring on the show by contacting us at contact@theschoolhouse302.com. 
We can't wait to hear from you. 
This episode was brought to you by GhostBed, a family-owned business of sleep experts with 20+ years of experience. With 30K+ 5-star reviews, you can't go wrong with GhostBed. Their mattresses are handcrafted, and they come with a 101-night-at-home-sleep trial. For a limited time, you can get 30% by using our code — SH302 — at checkout. And, even if you tell someone about GhostBed, you can earn a $100 referral reward. Go to Ghostbed.com today and use SH302 at checkout.