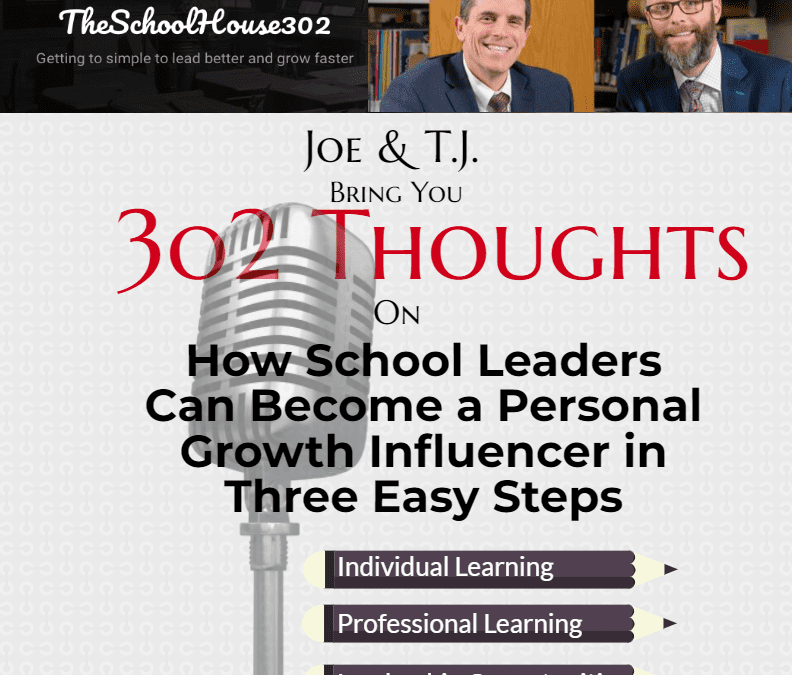 In this episode of 302 Thoughts, Joe and T.J. dig into a major responsibility of school leaders that very often poses challenges. Although professional learning is common in schools, not everyone views it as a primary vehicle for getting better. Whether for personal development or improving instructional practices, leveling up one's skills aren't always viewed with a positive attitude.
There are a host of reasons for this in schools, but one thing that must be in place to change the culture is that the leader needs to view themselves as a professional growth influencer. School leaders have to be intentional, not only with which trainings they bring to staff, but for casting the vision for how and why everyone in the school must grow.
To improve this aspect of school culture, we believe that three things must occur, which are discussed in this episode.
Listen to Joe describe how great schools build great teachers within healthy systems. The school itself needs to be viewed as a living, breathing organism and its health needs to be monitored routinely. 
T.J. explains how every school has a dynamic staff with a unique set of talents and skills and it is the school leader's responsibility to tailor learning accordingly. That's not all though. This is a two-pronged approach, the other prong is that the professional learning needs to be real and relevant–grounded in the nuances of the school or district. 
Lastly, they describe how growth is intentionally developed through leadership opportunities. Effective school leaders create opportunities for teachers to take on a variety of roles from professional learning responsibilities, non-evaluative and non-threatening peer observations, researcher roles, community outreach, assessment team leader, and a host of other possibilities.
T.J. and Joe always provide the how with the what, enabling school leaders to lead better and grow faster. To become a professional growth influencer, school leaders must know and do the following:
Conduct interviews and inventories about the unique strength of the teachers. Without this understanding, you'll likely plan one-size-fits all PD. 

Ensure alignment between the learning opportunities and the vision, goals, and initiatives of the school. Misalignment creates strife and frustration.

Delegate responsibilities and support teacher leaders. Teacher leaders are the life-blood of great schools, but the making of a great teacher is not the same as the making of a great leader. 
We conclude this month's 302 Thoughts with this quote from Abraham Maslow: "One can choose to go back toward safety or forward toward growth. Growth must be chosen again and again; fear must be overcome again and again." In this type of environment, growth is a core value integrated into the culture. 
Listen to Joe and T.J. take a deep dive into how school and district leaders, at all levels, can rethink growth in schools. 
Let us know if there's a topic you want us to cover by leaving a comment below or by contacting us at contact@theschoolhouse302.com. And don't miss our leadership newsletter every week by subscribing on the site. 
We can't wait to hear from you. 
This episode was brought to you by GhostBed, a family-owned business of sleep experts with 20+ years of experience. With 30K+ 5-star reviews, you can't go wrong with GhostBed. Their mattresses are handcrafted, and they come with a 101-night-at-home-sleep trial. For a limited time, you can get 30% by using our code — SH302 — at checkout. And, even if you tell someone about GhostBed, you can earn a $100 referral reward. Go to Ghostbed.com today and use SH302 at checkout.