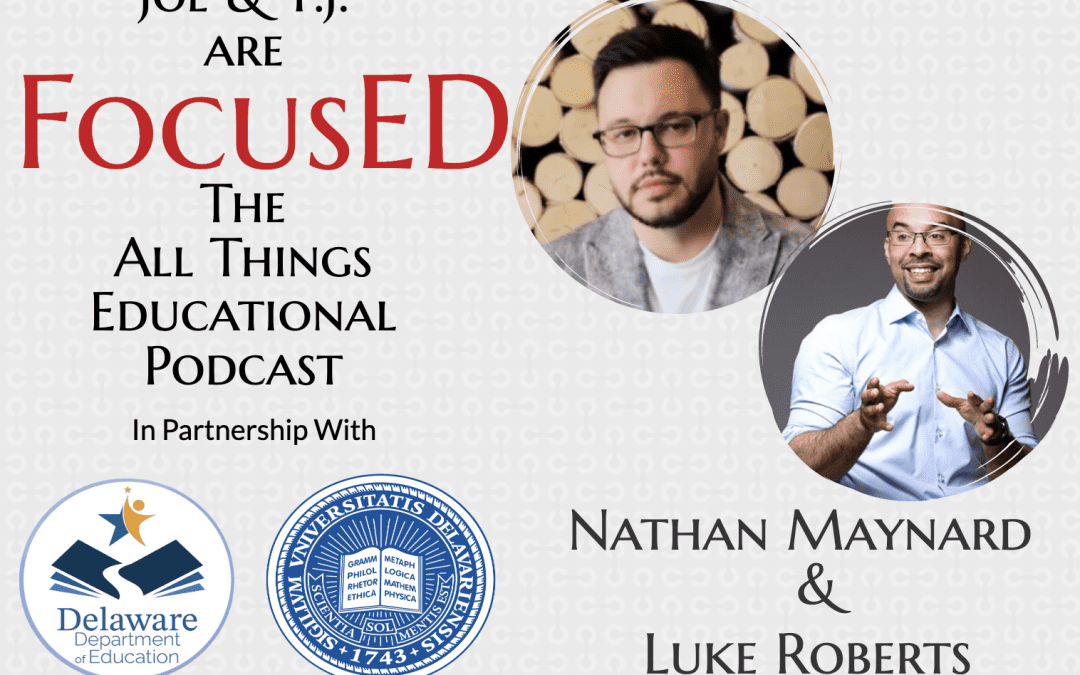 Restorative Justice in Schools with Nathan Maynard and Luke Roberts 
This is Season 4, Episode 14 of FocusED, and it features our guests, Nathan Maynard, and Luke Roberts. It was originally recorded live for a live audience in Delaware and provided as a professional development experience in collaboration with the Delaware Department of Education, the Delaware Academy for School Leadership, and The School House 302. Don't miss what Nathan and Luke say about restorative justice, school discipline practices, social and emotional learning, school leadership…and so much more.
_________________________________________
Nathan Maynard and Luke Roberts Bring Tons of Experience to FocusED Listeners
Nathan Maynard is a renowned global leader in discipline and restorative practices. He has over 15 years of experience as a facilitator of the work throughout juvenile justice and educational settings.
He co-authored the Washington Post bestseller Hacking School Discipline, which is now an international bestseller in 21 countries. He was awarded as "Youth Worker of the Year" in Indiana. Nathan also is the Co-Founder of Highfive–international restorative practices training group and the first restorative behavior support software for schools. 
Nathan studied Behavioral Neuroscience at Purdue University. He is passionate about ending the school-to-prison pipeline crisis and closing the opportunity gap through implementing cutting-edge trauma-informed and belonging-focused discipline practices.
Dr. Luke first started as an Assistant Researcher in the early 2000s, interviewing over 200 children and young people on their experience of restorative practice; he then went on to become a restorative practitioner working with children at risk of suspension, including those involved in gang violence, and weapon carrying in London. 
This work included multi-agency partnerships with Youth Workers, Police, and Social Services as well as parents. 
His passion for restorative practices has helped in addressing issues of bullying, cyberbullying, and older peer coercion. His work was noticed by the Metropolitan Police, and he was asked to help Police Officers become more empathetic to young people. 
In the 2010s, he then went on to chair the first Young People conference in City Hall, exploring the risks of cyberbullying and online harm, which was led by young people. This work became an All-Party Parliamentary Group, with young people's voices at the center, to influence politicians. 
He was asked to address youth violence in the prison service and work with the top four prisons of concern in 2015 by using restorative practices. This work left a lasting impression on him, and he developed a range of innovative models to support young people in custody and on release. 
Dr. Luke joined High Five (with Nathan) in 2022, where he brings his passion for championing young people's voices and experiences with the power to change the system. As Chief Innovation Officer, he finds engaging and exciting ways to equip children with conflict resolution skills as well as future developments for High Five.
FocusED Show Notes with Nathan Maynard and Luke Roberts
Nathan started with his definition of restorative practices. Joe underscored the relational aspect of the definition. 
Luke emphasized the process. "If everything is restorative, nothing is restorative." His question: are we repairing a relationship or building one from scratch? 
Nathan talked about how kids these days don't respond to fear because they're just not scared of adults like they used to be. 
Luke brings up a great point: we start with students as "the offender" when we talk about behavior. They're still students. 
TJ asked a hard question about students and guns in schools. Nathan passes it to Luke lovingly, of course. Luke shifted the conversation from "fear" to "embarrassment." Students need to claim power by coping with embarrassment…something to help them feel confident. 
Nathan pushed us to reflect on whether or not students are feeling ostracized and whether or not the school and the adults in it are compounding the problem. 
Don't miss what Nathan says about our role in not glamorizing behaviors. 
One question that comes from the conversation is about the quality of our relationships in schools. What's the quality of my relationship with [insert a misbehaving student's name]? 
Luke talked about confirmation bias. Sometimes we look for the things we've heard about kids. Story matter. 
We asked Luke about his interviews with students. Here's what they say: 
Am I being treated fairly?

Are the adults genuinely caring? Do they care about me? Did they give me time? 
Nathan talks about students needing to be involved for them to feel empowered. Let's all commit to getting every student involved. This was a critical call to action from the podcast. 
Luke talked about the difference between the content of an experience and the quality of it. 
We asked about resources, books, and people to follow. Luke mentioned that one of the best resources is the internal resources, like adults who work in a school and might be having a conversation for the first time. 
Nathan ended with a question: what does peace look like at our school? 
Related School Leadership Content from TheSchoolHouse302
Nathan Maynard on Leading Better & Growing Faster w/ Joe and T.J.
_______________________________________________________________________________________
Thanks for listening to FocusED, an educational leadership podcast brought to you by TheSchoolHouse302 @ theschoolhouse302.com where we publish free leadership content. Go to the site, subscribe, and you'll get all of our content sent directly to your email. 
 FocusED is your educational leadership podcast where our mission is to dissect a particular focus for teachers and school leaders so that you can learn to lead better and grow faster in your school or district. Let us know who you would like to hear from next.