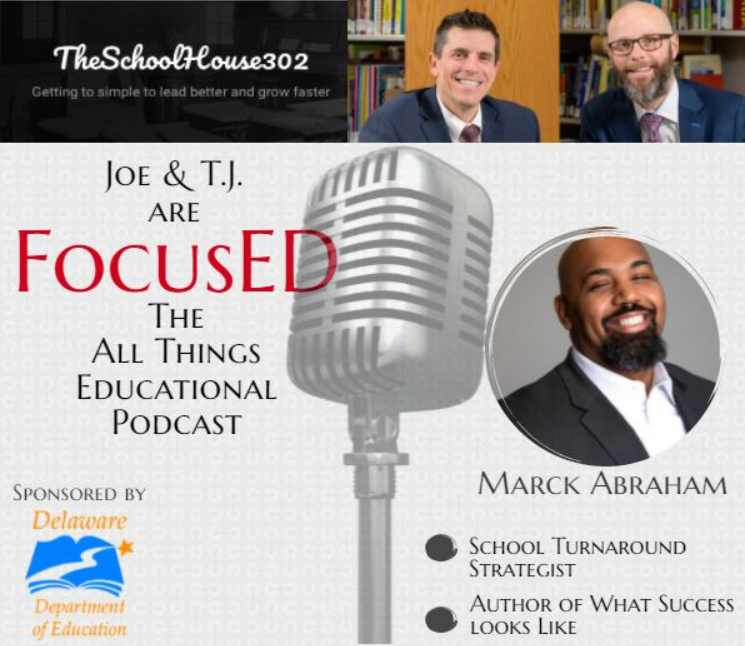 This is Season 3, Episode 5 of FocusED, and it features our guest, Marck Abraham. It was originally recorded live for a studio audience in Delaware, provided as a professional development experience for Delaware teachers and leaders. Don't miss what Marck says about creating cultures of success for all students. 
_______________________________________
Marck Abraham Brings Tons of Experience to FocusED Listeners
Dr. Abraham is a transformational leader with a wealth of experience in urban education. He is committed to providing a world-class educational experience that ensures all students achieve their goals of post-secondary college and fulfilling careers. His mission has been to create environments that assist students to reach their maximum potential in life. 
With more than ten years of experience in education, he currently serves as the principal of McKinley High School. He successfully oversees the daily workings of the largest CTE schools in Buffalo, which is the second-largest urban school district in NY. 
At McKinley, he has shown success by increasing graduation rates, decreasing negative behaviors within the school, raising teacher expectations, providing instructional focus to schools, and increasing parental involvement.
Marck's school has been recognized as an NYS Black Male Graduation Rate Model School and NYS CTE Model School. He was named Principal of the Year in 2018 and established the first Buffalo Urban Teacher Academy. He's the author of What Success Looks Like: Increasing High School Graduation Rates among Males of Color. 
————————————————————-
Show Notes from Our FocusED Episode with Marck Abraham
Marck started by talking about the crisis with black male graduation rates and how his book is meant to help others achieve the results that he did when he was a high school principal. 
Marck talked about seeing students through the lens of culture rather than color. 
You have to have a clear understanding of your data. ~ Dr. Marck Abraham 
Marck talks about setting high realistic goals using the data. 
The resistance that we must overcome is when our educators say things like "we care about the kids, not the numbers." Marck says we need to be hard on the data and easy on the people. 
If Marck was going to improve the student experience in every school, he would increase student voice and make sure that school is fun. 
Marck talked about a goal to have black males graduating at the same rates as their counterparts. 
Dr. Abraham mentions Reframing Organizations as a book that every educator should read. 
Don't miss what he says about understanding different theoretical frameworks. 
It's hard to know anyone else if you don't know yourself. ~ Dr. Marck Abraham 
Thanks for listening to FocusED, an educational leadership podcast brought to you by TheSchoolHouse302 @ theschoolhouse302.com where we publish free leadership content. Go to the site, subscribe, and you'll get all of our content sent directly to your email. 
FocusED is your educational leadership podcast where our mission is to dissect a particular focus for teachers and school leaders so that you can learn to lead better and grow faster in your school or district with more knowledge, better understanding, and clear direction on what to do next.
This episode was brought to you by GhostBed, a family-owned business of sleep experts with 20+ years of experience. With 30K+ 5-star reviews, you can't go wrong with GhostBed. Their mattresses are handcrafted, and they come with a 101-night-at-home-sleep trial. For a limited time, you can get 30% by using our code — SH302 — at checkout. And, even if you tell someone about GhostBed, you can earn a $100 referral reward. Go to Ghostbed.com today and use SH302 at checkout.