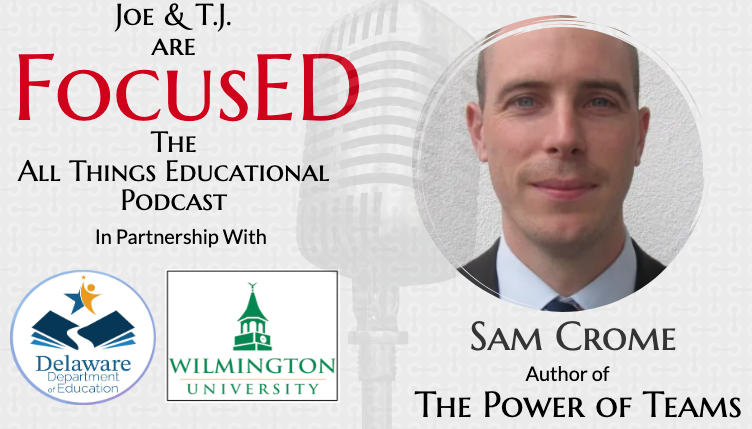 The Power of Teams with Sam Crome
This is Season 5, Episode 4 of FocusED, and it features our guest, Sam Crome. It was originally recorded in front of a live audience in Delaware and provided as a professional development experience in collaboration with the Delaware Department of Education, Wilmington University, and The School House 302. Don't miss what Sam Crome says about the power of teams, creating and leading thriving school cultures, and so much more.
_________________________________________
Sam Crome Brings a Tons of Experience to FocusED Listeners
Sam Crome is a school leader, currently a Deputy Headteacher and Director of Education for a Multi Academy Trust in Surrey. 
He has been a Head of Year, Head of Department, Head of Sixth Form, Lead of Teaching and Learning, and most recently, he led pastoral teams across a secondary school. 
For the last few years, Sam has studied high-performing teams, trying to better understand how teams can become more than the sum of their parts. He regularly blogs, speaks and works with schools regarding their teams, helping educators maximize their effectiveness. 
He remains convinced that this is an area that needs more attention and exploration. Sam is an accredited coach and loves working with coaches to help them realize their potential and make strides toward their career goals.
He's the author of The Power of Teams: How to create and lead thriving school teams.
FocusED Show Notes with Sam Crome
Sam saw a lot of competition in the world of education, not necessarily using teamwork, which is why he wrote the book.
Here's what Sam wants to know: how do a group of people come together to seamlessly strive toward a common goal? 
Sam talks about learning to coach and the impact that the process had on his work with leaders. The form of coaching that he mentions is "non-directive."
Don't miss what he says about his former self in terms of his past perspective on teams and what he believes now. 
We ask Sam about what makes for a great team and how to lead a team. You'll want to hear this. 
He describes a "team debrief" as a critical aspect of teamwork. We discussed the need for Before Action Reviews and After Action Reviews. 
Sam talked about the reasons why teams aren't effective. 
He mentions a simple remedy to team meetings: planning. We talked about this with Dr. Liz City. 
Don't miss him describe his BIG secret–start every meeting with a short burst of learning. Plus, this should be enjoyable and not too sensitive. 
Teams have to believe that what they say they're going to do at the meeting is what they actually do after the meetings. This means that the leader has to start meetings with an update about what has happened since the last meeting. 
Sam talks about accountability from the leader for the people who attend meetings. 
The survey data that he talks about is incredible.
Sam talks about the ResearchED Network and getting so much value from that group. 
We asked Sam about what he would do to support the student experience, and he talked about a disruptive-free learning zone. Students need safety and belonging for learning to take place.
Related School Leadership Content Based on This Show
We wrote about teams in an early blog. Check it out and comment on the site. 
_________________________________________
Thanks for listening to FocusED, an educational leadership podcast brought to you by TheSchoolHouse302 @ theschoolhouse302.com, where we publish free leadership content. Go to the site, subscribe, and you'll get all of our content sent directly to your email. 
FocusED is your educational leadership podcast where our mission is to dissect a particular focus for teachers and school leaders so that you can learn to lead better and grow faster in your school or district. Let us know who you would like to hear from next.