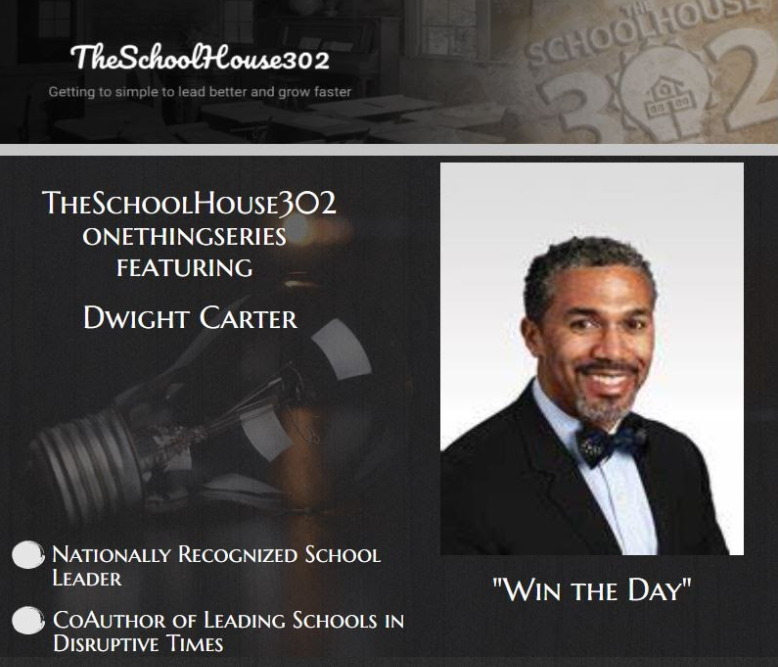 Who Is Dwight Carter?
Dwight Carter is a nationally recognized school leader from Central Ohio and has been an educator for 27 years. Because of his collaborative and innovative leadership, in 2010, he was inducted into the Jostens Renaissance Educator Hall of Fame. He was also named a 2013 National Association of Secondary School Principals Digital Principal of the Year, the 2014 Academy of Arts and Science Education High School Principal of the Year, the 2015 Ohio Alliance of Black School Educators Principal of the Year, and a 2021 Columbus Afrocentric Early College Sankofa Emerging Leader Award winner. He is currently the Director of Student Support Systems for the Eastland-Fairfield Career and Technical Schools District. 
 He is the co-author of three books: What's In Your Space? Five Steps to Better School and Classroom Design (Corwin, 2015), Leading Schools in Disruptive Times: How to Survive Hyper-change (Corwin 2017), and the second edition of Leading Schools in Disruptive Times (Corwin, 2021).
Major Takeaways from Our Interview with Dwight Carter
Dwight dives into how we have to move past our feeling that these are "unprecedented times" so that we don't inadvertently limit our schools and classrooms in ways that we may not even be aware of.
He specifies that students need consistency and safety. Don't miss how he defines safety as multi-dimensional–emotional, social, and communal. Social and emotional learning wasn't created by the pandemic, but it's compounded by it. 
His perspective on the importance of having a system of accountability after implementing ways to connect with students is critical for us to know every child. The conversation on the "dot exercise" is insightful and most importantly doable. 
We dive into the power of the Jostens Renaissance Education as a framework that Dwight uses with students. Don't miss what he has to say about finding out how we need to know how students want to be celebrated.
Listen to what Dwight has to say about hyper-change and to-do lists. 
Dwight willingly gets personal and describes what he wants to learn how to do, mainly because it's limiting family experiences. 
Dwight references The Big Leap by Gay Hendricks. You need this book if you don't have it already. 
Check out the VIA Assessment, something that Dwight uses to continue his leadership growth.
Let us know what you're reading and who else you want us to bring on the show by contacting us at contact@theschoolhouse302.com.
We can't wait to hear from you. 
This episode was brought to you by GhostBed, a family-owned business of sleep experts with 20+ years of experience. With 30K+ 5-star reviews, you can't go wrong with GhostBed. Their mattresses are handcrafted, and they come with a 101-night-at-home-sleep trial. For a limited time, you can get 30% by using our code — SH302 — at checkout. And, even if you tell someone about GhostBed, you can earn a $100 referral reward. Go to Ghostbed.com today and use SH302 at checkout.