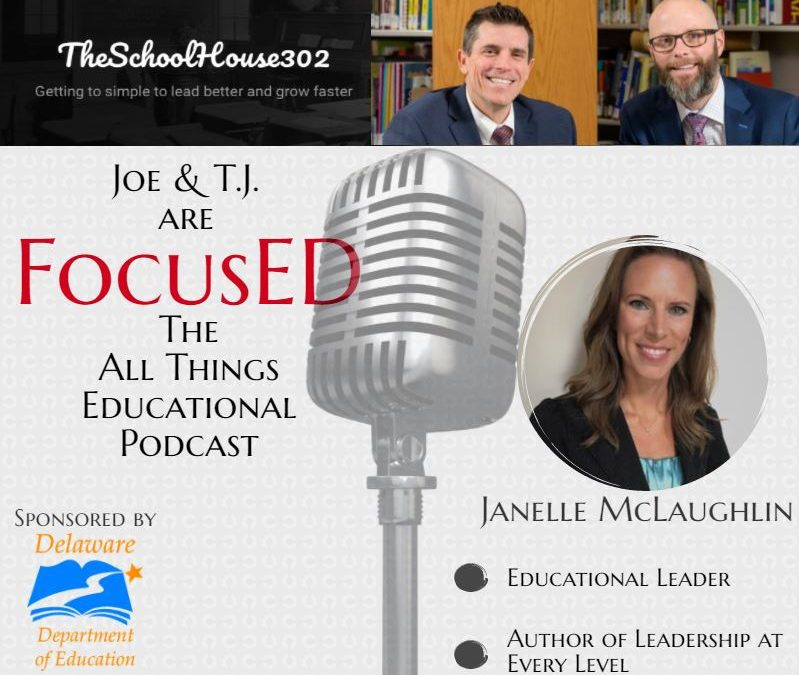 Janelle McLaughlin Joins FocusED to Discuss Leadership at Every Level in Schools
This is Season 3, Episode 10 of FocusED, and it features our guest, Janelle McLaughlin. It was originally recorded live for a studio audience in Delaware, provided as a professional development experience for Delaware teachers and leaders. Don't miss what Janelle has to say about the need for leadership at every level in schools…and so much more. 
_______________________________________
Janelle McLaughlin Brings Tons of Experience to FocusED Listeners
Janelle McLaughlin is an education consultant, presenter, coach, keynote speaker, and trainer.  Over the years she has been a classroom teacher and district administrator. Today, Janelle is also an entrepreneur, author, social media strategist, and tech geek (She can definitely geek out over Google Drive workflow solutions). 
These passions and experiences led her to begin her own company, Innovative Education Solutions. She is now a coach at Advanced Learning Partnerships. She gets to use her teaching talents by working with schools and other businesses to make their jobs easier and more efficient, while focusing on the people. Specialties include: Blended Learning, 1:1 implementation, technology integration, G Suite, Chromebooks, process management, and organizational leadership. 
Her new book is called Leadership at Every Level: Five Qualities of Effective Classroom, School, and District Leadership. 
___________________________________________________
FocusED Show Notes with Janelle McLaughlin
Janelle started by addressing the problems with silos between levels of leaders, including the classroom teacher, the school administrators, and those at the district office. She wants these roles to be transparent so that everyone knows why the decisions are being made the way they do. 
Janelle lands on five key areas of leadership that make the biggest difference. 
Her book is set up to do a book study. Get your copy today. 
Janelle talks about fostering what you're already good at but also maximizing the time we spend on our areas of need. She recommends ranking the five traits and then choosing which one feels right to tackle first. 
Growth always starts with reflection. ~ Janelle McLaughlin 
Reflection questions to start with: "what's working well right now?" and "what is not working and why?" Use a voice note to yourself. Janelle talked about the fact that reflection doesn't have to be complicated. 
3 things I learned recently 
2 questions I still have right now
1 action step that I'm going to take next 
Joe points out what Janelle says about an accountability buddy…listen to how Janelle responds. 
When asked about silos, mishaps, and themes in what leaders are missing, Janelle says that people want and need opportunities for growth. She's finding that administrators are saying that teachers can't handle more professional development right now but the teachers are craving it. There's a miscommunication between the two groups. 
Janelle mentions Todd Henry who wrote Herding Tigers and, of course, Brene Brown. 
Janelle wants to write a book about driving purposeful growth–owning your own professional learning plan. We can't wait to get our copy. 
Thanks for listening to FocusED, an educational leadership podcast brought to you by TheSchoolHouse302 @ theschoolhouse302.com where we publish free leadership content. Go to the site, subscribe, and you'll get all of our content sent directly to your email. 
FocusED is your educational leadership podcast where our mission is to dissect a particular focus for teachers and school leaders so that you can learn to lead better and grow faster in your school or district with more knowledge, better understanding, and clear direction on what to do next.
This episode was brought to you by GhostBed, a family-owned business of sleep experts with 20+ years of experience. With 30K+ 5-star reviews, you can't go wrong with GhostBed. Their mattresses are handcrafted, and they come with a 101-night-at-home-sleep trial. For a limited time, you can get 30% by using our code — SH302 — at checkout. And, even if you tell someone about GhostBed, you can earn a $100 referral reward. Go to Ghostbed.com today and use SH302 at checkout.