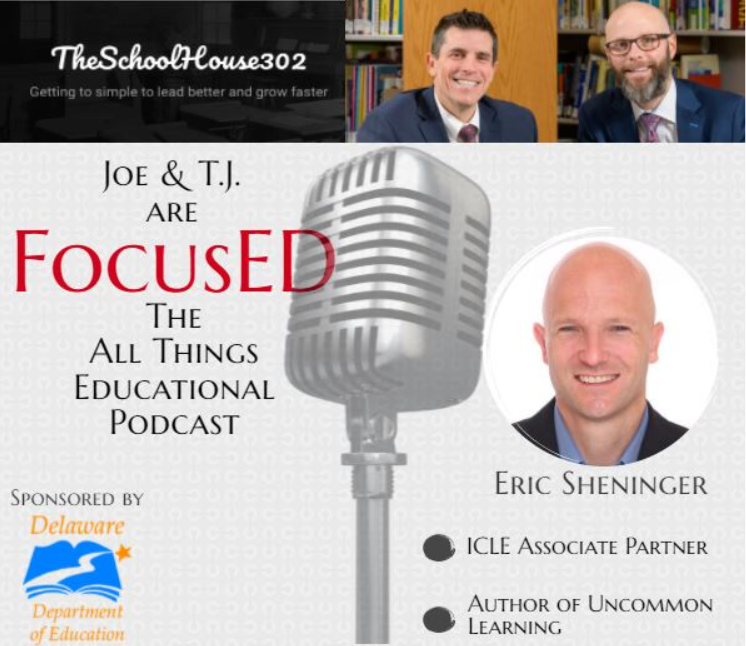 Author Eric Sheninger Joins FocusED to Discuss What it Means to Prepare Learners for Their Future
This is Season 3, Episode 6 of FocusED, and it features our guest, Eric Sheninger. It was originally recorded live for a studio audience in Delaware, provided as a professional development experience for Delaware teachers and leaders. Don't miss what Eric says about comfort being the enemy of growth and so much more.
Eric Sheninger Brings Tons of Experience to FocusED Listeners
Eric Sheninger is an Associate Partner with the International Center for Leadership in Education (ICLE). Prior to this, he was the award-winning Principal at New Milford High School. Under his leadership, his school became a globally recognized model for innovative practices. Eric oversaw the successful implementation of several sustainable change initiatives that radically transformed the learning culture at his school while increasing achievement. 
His work focuses on leading and learning in the digital age as a model for moving schools and districts forward. This has led to the formation of the Pillars of Digital Leadership, a framework for all educators to initiate sustainable change to transform school cultures. As a result, Eric has emerged as an innovative leader, best selling author, and sought after speaker. His main focus is using research and evidence-based practices to empower learners, improve communications with stakeholders, enhance public relations, create a positive brand presence, discover opportunity, transform learning spaces, and help educators grow professionally in the digital age. 
Eric has received numerous awards and acknowledgments for his work. He is a CDE Top 30 award recipient, Bammy Award winner, NASSP Digital Principal Award winner, PDK Emerging Leader Award recipient, winner of Learning Forward's Excellence in Professional Practice Award, Google Certified Innovator, Adobe Education Leader, and ASCD 2011 Conference Scholar. He has authored and co-authored the following books: 
Learning Transformed: 8 Keys for Designing Tomorrow's Schools Today
Uncommon Learning: Creating School That Work for Kids
Digital Leadership: Changing Paradigms for Changing Times
What Principals Need to Know About Teaching and Learning Science
BrandED: Tell your Story, Build Relationships, and Empower Learning
Communicating and Connecting with Social Media: Essentials for Principals 
Disruptive Thinking in Our Classrooms: Preparing Learners for Their Future 
Thanks for listening to FocusED, an educational leadership podcast brought to you by TheSchoolHouse302 @ theschoolhouse302.com where we publish free leadership content. Go to the site, subscribe, and you'll get all of our content sent directly to your email. 
FocusED is your educational leadership podcast where our mission is to dissect a particular focus for teachers and school leaders so that you can learn to lead better and grow faster in your school or district with more knowledge, better understanding, and clear direction on what to do next.
This episode was brought to you by GhostBed, a family-owned business of sleep experts with 20+ years of experience. With 30K+ 5-star reviews, you can't go wrong with GhostBed. Their mattresses are handcrafted, and they come with a 101-night-at-home-sleep trial. For a limited time, you can get 30% by using our code — SH302 — at checkout. And, even if you tell someone about GhostBed, you can earn a $100 referral reward. Go to Ghostbed.com today and use SH302 at checkout.