This is TheSchoolHouse302's monthly #review&reflect, wrapping up our focus on Tribal Forces–3 Vital Elements in the Creation of Your Tribe. Our review and reflect offers readers the opportunity to take a deep dive into our leadership content by taking time to reflect and identify the skills you need, to explore how you can learn those skills, and to connect with industry leaders to follow to gain greater expertise.
Skills I need…
Everyone needs to be a part of a strong, reliable, and productive community. Not only do we need to be a part of one, but we have a deep desire to belong to something terrific that can make a difference and fill us with purpose and meaning. The question is, does your tribe, those you associate with both personally and professionally, make you a better and more effective individual?
Review: There are three vital elements associated with harnessing people and leveraging the power of what we call Tribal Forces.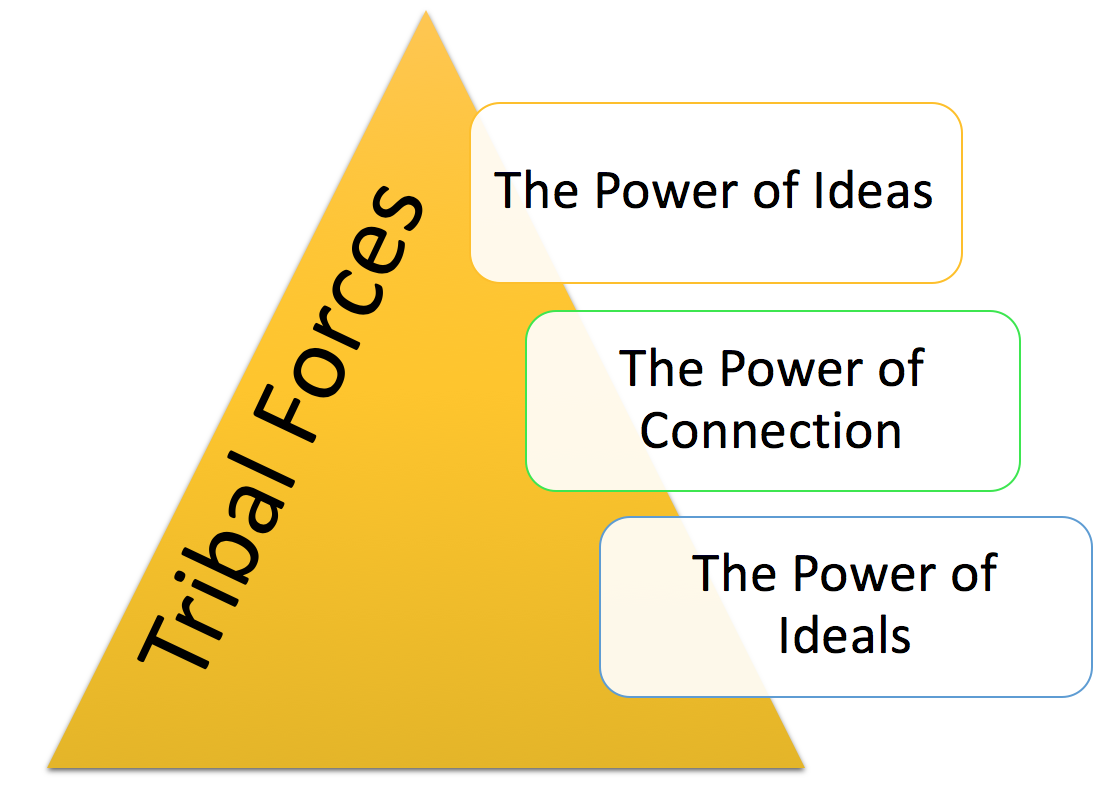 Each part of the model represents a key aspect of a productive and powerful tribe. The first, The Power of Ideas, recognizes that we live in an age of excessive information; however, filtering and gleaning key ideas from multiple sources can generate momentum and lead to growth. The second, The Power of Connection, identifies our need for socialization and community. Leveraged correctly, strong relationships lead to a high degree of synergy and reinforces our overall purpose. The third, The Power of Ideals, is our guiding light, which ensures that our work stays on course and that we are directed by our core values. Together, all three create a powerful trifecta that can mobilize any team by creating powerful relationships that yield tremendous results.
We also acknowledged, though, that there are tribal traps that can thwart any leaders best intentions. These traps, or leadership flaws, can surface at any time and are the exact opposite characteristics and qualities that create a powerful tribe:
Tribal Forces versus Leadership Flaws:
Ideas and open-communication versus isolation and lack of transparency.

Connection and relationships versus rules and over-bearing policies.

Values and beliefs versus rationality and a bottom line.
Reflect: The beauty of the Tribal Forces Model is that it leverages what is most important to people and the qualities that are advantageous for organizations. People don't work well together when they feel disconnected. And, no one can move forward when the guideposts aren't clear on the road ahead. The good news is that leaders can decide today to embrace them and make a difference in themselves and the community they create.
Take 3 Minutes to reflect on your ability to create a strong tribe.
How does your team currently share ideas and problem solve?

What actions do you need to take to create a stronger connection among your team members?

What distinguishes your team and your organization from others?
How do I learn those skills…
What should I read to create stronger Tribal Forces in life?
Review: In our #readthisseries we featured the work of authors who clearly articulate the power of tribes through practical strategies and tools that anyone can adopt:
SmartTribes: How teams become brilliant together  by Christine Comaford
Fish: A proven way to boost morale and improve results by Stephen Lundin, Harry Paul, and John Christensen
Born to run: A hidden tribe, superathletes, and the greatest race the world has never seen by Christopher McDougall
You can't miss our #readthisseries on 3 books you need to read for a stronger tribe.
Self Assessment:
Effective and productive leaders recognize the power of ideas, connection, and ideals. Based on the 3-part assessment, and using a 5-point scale, 1 being ineffective and 5 being highly effective, rate yourself:

Based on the questions above, which aspect of the Tribal Forces Model do you need to develop further?
Who should I follow…
What does an expert have to say about tribes, optimal performance, and compassionate leadership?
Review: For our #onethingseries, we interviewed Christine Comaford. Christine is the author of three bestselling business books: Power Your Tribe: Create Resilient Teams in Turbulent Times, SmartTribes: How Teams Become Brilliant Together, and Rules for Renegades.
Action: Christine identifies three critical areas that we are constantly craving as humans–Safety, Belonging, and Mattering. She breaks down these areas, including the 10 powerful questions you can ask to assess your own environment so that people are functioning at an optimal level. The question is, what can you do to ensure that your team feels safe, has a sense of belonging, and know that they matter?
Let us know!
Listen to the entire podcast on iTunes, One Thing Series, and please rate and like (it helps).
That's our #review&reflect for Tribal Forces–3 Vital Elements in the Creation of Your Tribe. Take a look back to take a step forward.
TheSchoolHouse302 is about getting to simple and maximizing effective research-based strategies that empower individuals to lead better and grow faster.
Please let us know how our leadership posts are working for you, what you are reading to improve yourself, and your thoughts on leadership and growth here on our blog and Twitter. Follow our #onethingseries podcast on iTunes and our #readthisseries on YouTube.