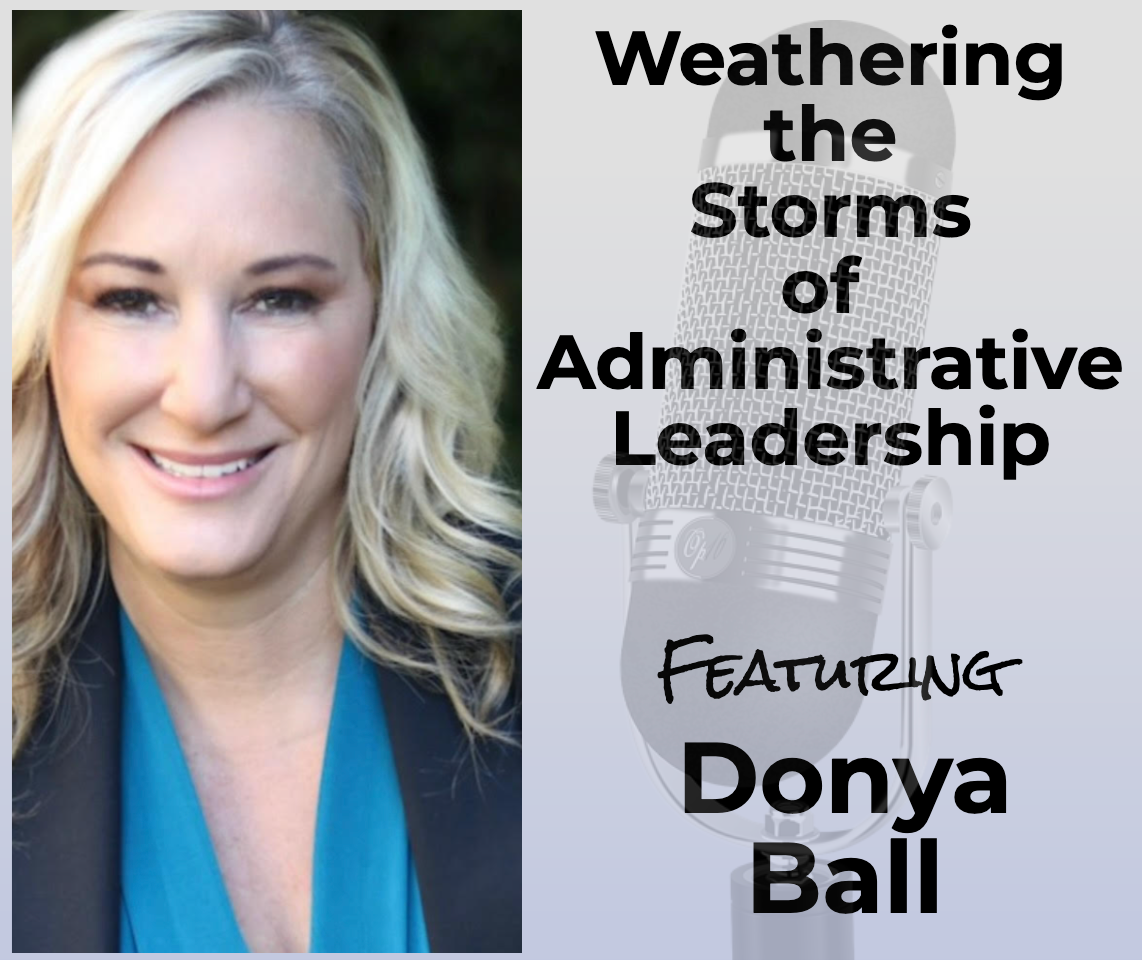 About Donya Ball
Dr. Donya Ball is a leader, author, and national keynote speaker. She currently serves as a superintendent of schools in California and, for over two decades, has been a change-maker in public education. 
Dr. Ball is a professor of both educational administration and teacher education. She is passionate about studying, writing, and speaking about overcoming leadership hardships. 
Her first book of the leadership series, Adjusting the Sails: Weathering the Storms of Administrative Leadership, was published in 2022. Her second book, Against the Wind: Leadership at 36,000 Feet, will be released this January.
What You'll Find in this Episode with Donya Ball
Donya starts with a story about her experiences working through various positions and the fact that we tend to talk a lot about "the stuff," but there isn't enough "real talk" in books. She wanted her work to get to the real talk. We call that "real talk for real leaders." 
Listen to Donya's thoughts on why we're so reactionary in educational leadership.
She has unique ideas about writing and conveying her message, particularly how she combines her love for reality TV and what needs to be in books for school leaders. 
One "sail" we talked about adjusting is the negative reviews in books. 
Joe tells the story of how TheSchoolHouse302 was born because it relates to Donya's take on the need for "real talk."  
One inspiration for her book is the need to discuss career rejection; it happens, but not enough of us are actually talking about it. 
Don't miss her story about her dad, who was born in Iran, and how he had to establish a new life. We all need to become fighters! 
Donya talks about the need for branding…our perception of ourselves is not always in alignment with the public perception of us. 
Listen to her describe how branding is an obstacle and how we need to do an assessment of our social media accounts. What message are we sending to our school community? 
Donya says that we need to embrace the crises when they occur, not shield ourselves and others from them. 
Don't miss her analogy for the three types of leadership strategies with social media. 
Dismissive

Passive 

Engaged  
Donya tells us to follow Roni Habib at eqschools.com for inspiration and aspiration in the space of leadership and personal well-being. 
Great leaders ask this question daily: "Are my people taken care of?" This transcends resources, facilities, pay, etc. She wants to know if those she leads truly feel taken care of.
Don't miss what she says about "raw, authentic, heartfelt conversations." 
Donya wants to master the art of patience. Joe says that TJ is not a person to ask for help in this area. 
She talked about growing as a leader and why it's imperative to surround yourself with people who are different from you–political leaders, community leaders, thought leaders in various fields. 
She delivered a great call to action: We need to get outside of our comfort zones when it comes to bringing people into our circle. 
She recommends Blindspots: Hidden Biases of Good People for school leaders who want to uncover their own biases and move past them. 
Donya admits that she used to think about short-term results and getting quick wins on accountability metrics, but she's shifting her thinking to more long-term approaches to teaching, learning, and leading that have a lasting impact on the world. 
The Leading Better & Growing Faster with Joe & T.J. Show
Let us know if there's a guest who you want us to have on the show by leaving a comment below or by contacting us at contact@theschoolhouse302.com. And don't miss our leadership content updates every week by subscribing to the site.
We can't wait to hear from you.