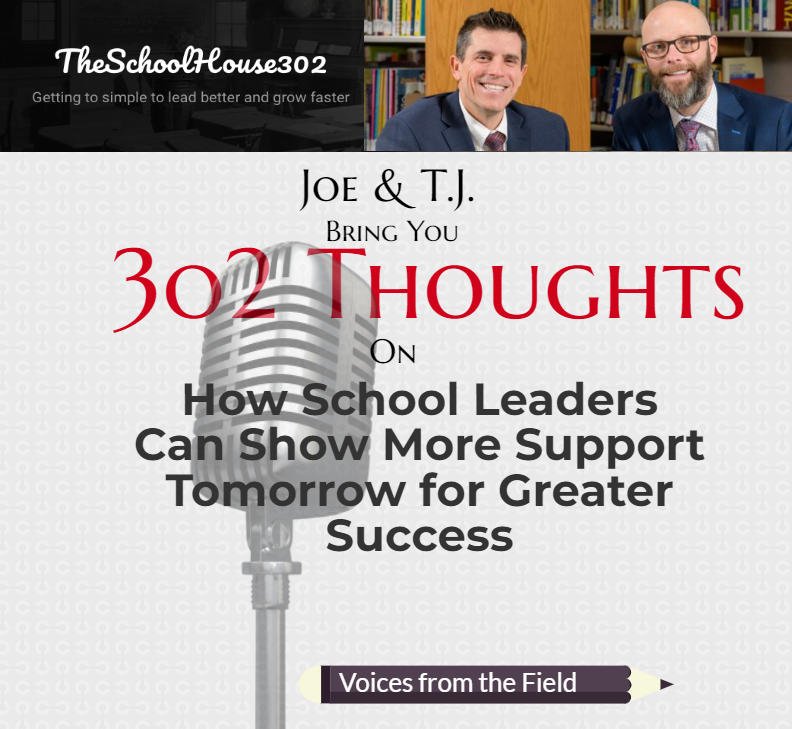 In this episode of 302 Thoughts, Joe and T.J. tackle a common topic in education–support.  Although common, it's an elusive concept because it means so many different things for so many different people. It is also challenging to do in a systematic and organized way. 
We also should clarify that we are not talking about showing support when needed, but rather building a culture of support. In this type of environment, support isn't an afterthought, but, rather, it is a core value and integrated into the culture. Listen to Joe and T.J. take a deep dive into how school and district leaders, at all levels, can rethink support in schools. 
They begin this episode with an overview of their Voices Model. 
Joe and T.J.'s model for this month is called Voices.  
Joe goes on to explain that this is an important model because it is really about listening. We cannot fall into the trap of supporting individuals based on what school leaders deem important or necessary without hearing the voices from the field. The support should be aligned to the goals and values of the school but should also be tailored toward each individual. That is how many organizations fall short; management shows support in the ways it deems best and it is not necessarily speaking "the language" of the employee. 
Listening also means that people feel comfortable talking. To do so, TJ explains the 5 critical areas of support in schools. These areas are taken right from the research we did for Building a Winning Team and Retention for a Chance:
Welcome ideas and suggestions from everyone.
Feeling comfortable to share difficult issues.
Providing time and space to listen.
Feeling like we're on a team. 
Ensuring people have the resources to do their jobs well.
Although each of the 5 are independent of one another, listen to TJ explain how they are interconnected and work to build the culture of support through meaningful dialogue and conversations. The last point is of critical importance because if people lack the resources needed to do their job well, it will be a constant source of pain and frustration, which will make people feel unsupported. 
Each of these are necessary to get to the core of what is on people's minds and how they can be further supported by school leaders. Remember, the model is built around teachers, personnel, and students. Each group is unique. 
Let us know if there's a topic you want us to cover by leaving a comment below or by contacting us at contact@theschoolhouse302.com. And don't miss our leadership newsletter every week by subscribing on the site. 
We can't wait to hear from you. 
This episode was brought to you by GhostBed, a family-owned business of sleep experts with 20+ years of experience. With 30K+ 5-star reviews, you can't go wrong with GhostBed. Their mattresses are handcrafted, and they come with a 101-night-at-home-sleep trial. For a limited time, you can get 30% by using our code — SH302 — at checkout. And, even if you tell someone about GhostBed, you can earn a $100 referral reward. Go to Ghostbed.com today and use SH302 at checkout.