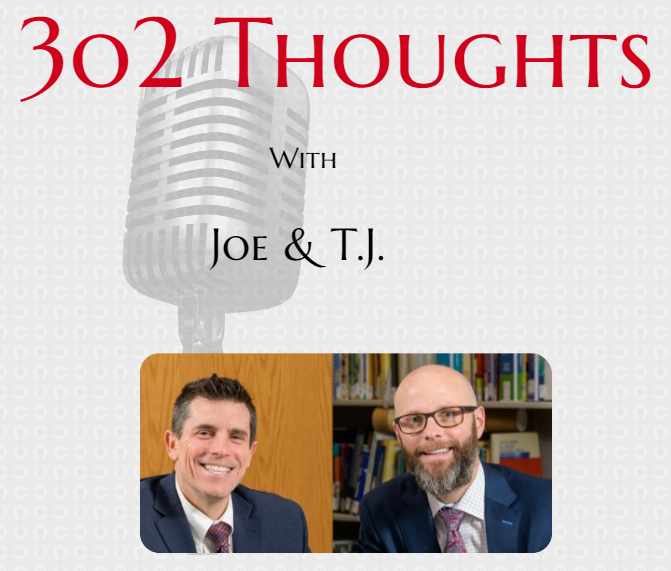 In this episode of 302 Thoughts, Joe and T.J. dig into how school leaders can turn adversity into opportunity. Every leader will face issues and how they perceive those problems often determines how they will approach them, which can be the difference between success and failure. 
Listen to Joe describe the power of It's Possible. This isn't just wishful thinking but an earnest belief that regardless of the situation there is a silver lining. Inspired by Les Brown, Joe makes a compelling case for using this same belief and attitude in education. We know that every school and district is facing issues, whether it's attracting and retaining teachers, student mental health needs, limited resources, unfunded mandates, etc. Take your pick, the list is long. 
T.J. ties this winning mindset to these perennial problems, and if we want to solve the most difficult issues facing education, leaders are going to need the proper mindset. T.J. mentions the crisis mindset definition that we created, which can be found in our upcoming book, 7 Mindshifts for for School Leaders: Finding New Ways to Think About Old Problems.
Crisis Mindset Definition: An unfiltered 360° view and approach to solving problems with urgency that abandons conventional wisdom and accepted restraints until a meaningful solution is found, implemented, and sustainable.
Lastly, they talk about a critical leadership hack: make it tangible. Too often, issues seem abstract and elusive. One way to combat this is by writing the problem on a sheet of paper and setting it in the center of the table for everyone to see. This strategy seems odd, but it allows the group to focus and deal with what is right in front of them. Try it and let us know how it works out.  
T.J. and Joe always provide the how with the what, enabling school leaders to lead better and grow faster. 
Let us know if there's a topic you want us to cover by leaving a comment below or by contacting us at contact@theschoolhouse302.com. And don't miss our leadership content updates every week by subscribing on the site. 
We can't wait to hear from you. 
This episode was brought to you by GhostBed, a family-owned business of sleep experts with 20+ years of experience. With 30K+ 5-star reviews, you can't go wrong with GhostBed. Their mattresses are handcrafted, and they come with a 101-night-at-home-sleep trial. For a limited time, you can get 30% by using our code — SH302 — at checkout. And, even if you tell someone about GhostBed, you can earn a $100 referral reward. Go to Ghostbed.com today and use SH302 at checkout.