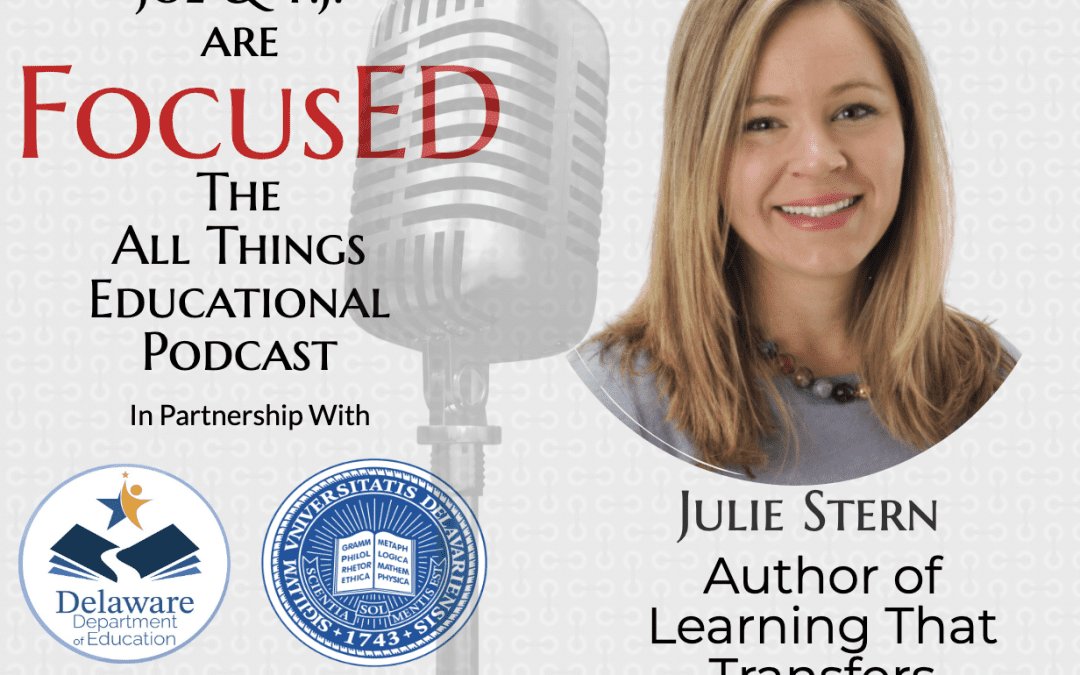 Julie Stern Joins FocusED to Discuss the Concept of Learning that Transfers…and More 
This is Season 4, Episode 2 of FocusED, and it features our guest, Julie Stern. It was originally recorded live for a studio audience in Delaware, provided as a professional development experience in collaboration with the Delaware Department of Education, the Delaware Academy for School Leadership, and The School House 302. Don't miss what Julie says in this episode about learning that transfers…and so much more.
_______________________________________
Julie Stern Brings Tons of Experience to FocusED Listeners
Julie Stern has nearly two decades of experience facilitating adult learning and feels lucky to partner with educators to take their practice to the next level. 
She is passionate about synthesizing the best of education research into practical tools that support educators in breaking free from the industrial model of schooling and moving toward teaching and learning that promotes sustainability, equity, and well-being. 
She is a four-time, best-selling author of Learning that Transfers, Visible Learning for Social Studies, The On-Your-Feet-Guide to Learning Transfer, and Tools for Teaching Conceptual Understanding, Elementary, and Secondary. 
She is a certified trainer in Visible Learning Plus and Concept-Based Curriculum and Instruction. She is a James Madison Constitutional Fellow and taught social studies for many years in Washington, DC, and her native Louisiana. Julie moves internationally every few years with her husband, a US diplomat, and her two children.
________________________________________
FocusED Show Notes with Julie Stern
Julie starts with a definition of "learning that transfers" — it's not what we might think in terms of taking learning from short-term to long-term — but rather transferring learning from one situation to another in application. 
The vast majority of teachers already have the tools to plan for learning that transfers. ~ Julie Stern 
Don't miss what she says about the first shift that we need to make and what needs to be at the heart of the lesson. 
You want to hear about what she says ISN'T transferable learning—isolated lessons that don't apply to an additional situation. 
Julie talks about common errors that teachers make often without even thinking about them. 
There's a big difference in the role that students and teachers take in classrooms where learning transfers. Students become pattern seekers. Teachers are no longer fact providers and sources of information. 
Julie talks about what it means to shift from subject matter to disciplinary literacy. 
Don't miss what she says about content disciplines being a way to look at the world. 
Assessments are the floor, not the ceiling. Rote learning doesn't work, even for standardized tests. ~ Julie Stern 
Go to LearningThatTransfers.com. Teachers, check out Chapter 8.
Check Out These Recommendations from Julie Stern: 
Brooke Castillo's The Life School Podcast. 
The Obstacle is the Way by Ryan Holiday
Happy Days by Gabby Bernstein
Thanks for listening to FocusED, an educational leadership podcast brought to you by TheSchoolHouse302 @ theschoolhouse302.com where we publish free leadership content. Go to the site, subscribe, and you'll get all of our content sent directly to your email. 
FocusED is your educational leadership podcast where our mission is to dissect a particular focus for teachers and school leaders so that you can learn to lead better and grow faster in your school or district with more knowledge, better understanding, and clear direction on what to do next.