Nothing great was ever achieved without enthusiasm. ~ Ralph Waldo Emerson
This is TheSchoolHouse302's monthly #review&reflect, wrapping up our focus on The Passion-Culture Formula.
Our review and reflect series offers readers the opportunity to take a deep dive into our leadership content by taking time to reflect and identify the skills you need, to explore how you can learn those skills, and to connect with industry leaders to follow to gain greater expertise.
Skills I need…
Passion is the fuel that drives every great leader to be their best and to influence the success of those around them.
Review: Passionate leaders inspire, develop, and achieve the organization's goals. First and foremost, though, they are committed to the process of achieving the organization's goals, not just the outcome or the bottom line. Their efforts and enthusiasm are contagious because their work transcends the routine policies and practices that are designed to drive a task; instead of working for assignment completion, they focus on values, the people, and the impact they are trying to achieve. Their work moves beyond the mundane toward significance and the daily interactions they have with others that create meaningful relationships over time (Dalio, 2017). Moreover, they are committed to the long-term, sustainable growth of the company by avoiding slash-and-burn management techniques that provide short-term results but potentially have long-term damaging consequences.
Passionate leadership is defined by a leader's keen ability to combine three key elements: a growth mindset, a strong work ethic, and a positive attitude. The P3 Model provides a method for leaders to practice each aspect of the model consistently.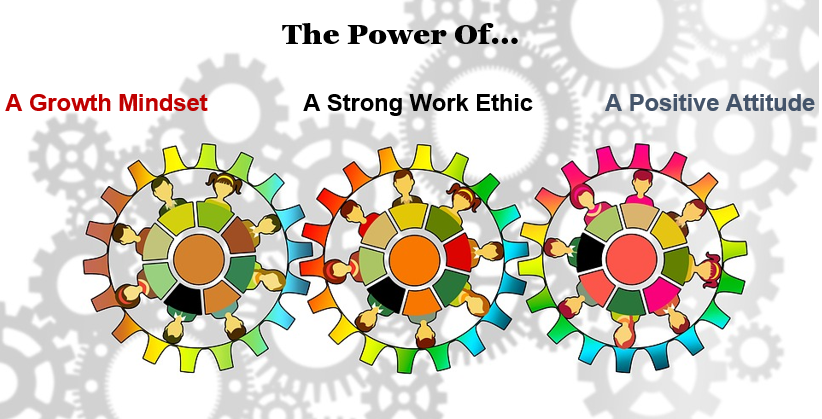 Reflect: The beauty of this model is the critical combination of a growth mindset, a strong work ethic, and a positive attitude. When combined, the impact is exponential. Regarding a growth mindset, passionate leaders believe two things: 1. They believe that they can and will grow as a result of professional learning experiences, and 2. They believe that growing is essential to leading better for the sake of others. Regarding a strong work ethic, passionate leaders never ask for a lighter load, instead they pray for a stronger back, which is the work ethic they invoke to overcome a challenge. Regarding a positive attitude, passionate leaders know that positivity is contagious within the culture of any organization. When the leader is positive, it's much more likely that everyone else will be too.
Take 3 Minutes to reflect on your P3 impact.
Do you have a growth mindset? Not only a desire to learn, but a commitment to learning so that you can improve and overcome even the most difficult of circumstances.

Do you have a strong work ethic? Not only a willingness to put in the time, but a commitment to obsess on those few things that have the greatest impact.

Do you have a positive attitude? Not only a friendly smile and warm greeting, but a commitment to lifting others and approaching situations grounded in purpose and value.
How do I learn those skills…
What should I read to strengthen my ability to leverage the passion-culture formula?
Review: In our #readthisseries we featured the work of authors who clearly articulate the power of passion in their work.
Scaling up: How a few companies make it…and why the rest don't  by Verne Harnish and the Team of Gazelles
When fish fly: Lessons for creating a vital and energized workplace by John Yokoyama
Fusion: How integrating brand and culture powers the world's greatest companies by Denise Lee Yohn
You can't miss our #readthisseries on 3 books you need to read for a stronger mental map.
Self Assessment:
Leadership is difficult. The path is always obstructed by issues, mistakes, fear, doubt, and, at times, a lot of critics. Great leaders realize, though, that the goal is much bigger than themselves. For this reason, they know the power of our P3 impact model. Based on the 3-part assessment, and using a 5-point scale, 1 being ineffective and 5 being highly effective, rate yourself:

Based on the statements above, which aspect of the P3 impact model do you need to develop further?
Who should I follow…
What does an expert have to say about infusing passion into your culture for a powerful and identifiable brand?
Review: For our #onethingseries, we interviewed Denise Lee Yohn.
Action: Denise explains that "you must cultivate a distinct culture that is fully aligned with your brand identity–that is so well integrated with it that it is hard to distinguish what you do internally from who you say you are externally." She also shared how she prepares herself daily to be most effective. Denise has a genuine approach to purpose and core values. She tells us that each morning she takes time to reflect, meditate, and pray to center herself so that her day's work is aligned to what she truly wants to accomplish.
Listen to the entire podcast on iTunes, One Thing Series, and please rate and like (it helps).
That's our #review&reflect for The Passion Culture Formula. Take a look back to take a step forward.
TheSchoolHouse302 is about getting to simple and maximizing effective research-based strategies that empower individuals to lead better and grow faster.
Please let us know how our leadership posts are working for you, what you are reading to improve yourself, and your thoughts on leadership and growth here on our blog and Twitter. Follow our #onethingseries podcast on iTunes and our #readthisseries on YouTube.