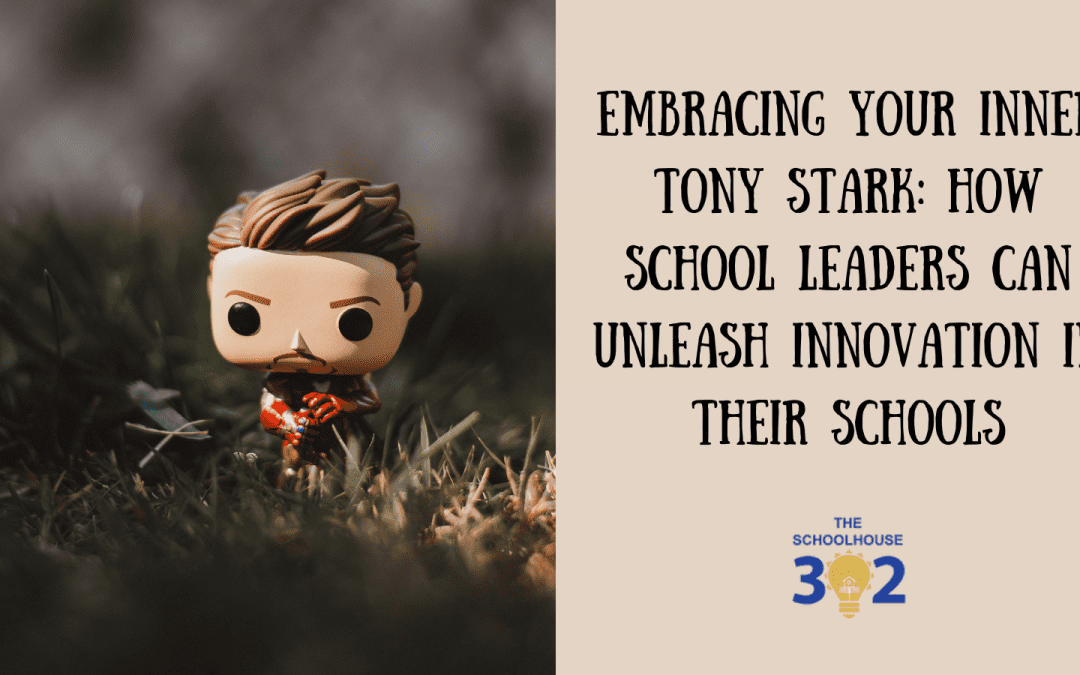 Sometimes you gotta run before you can walk. ~ Iron Man
As many readers will know, Tony Stark is a Marvel character and a founding member of the Avengers. He's also a brilliant inventor and CEO of Stark Industries. Stark invents Iron Man to help fight villains. And, if you have leadership on the brain no matter what you're doing–like watching a science-fiction movie–like we do, you take note of the ways in which Tony Stark is innovative. 
First, the number of suits that Stark creates demonstrates the diversity in his thinking, the multiple angles in which he views a problem, and the pursuit of never-ending improvement. Second, Stark explores an abundance of ideas with both speed and precision. And, third, maybe most importantly, he takes risks. He challenges himself to get better, be better, and grow stronger because his purpose is resolute. Granted, Stark definitely has character flaws. He is brash and arrogant, but his innovative ways undoubtedly make him a unique contributor to the team. 
You might not love Tony Stark or even the Avengers. But, school leaders must support innovation. We can't expect new and different results by continuing to do what we've always done. The problem is that a culture of innovation often feels like "one more thing" to staff, and comments about "the new shiny project" or "this too shall pass" can quickly take the wind out of your innovation sails. 
The difference between school leaders who successfully weave innovation into the culture and those who don't can be found in their approach to the three concepts that we draw from Stark. Let's explore the model and dive deeper into all three. 
A Culture of Innovation Requires Diversity 
The Google search rate for the definition of innovation exceeds 74,000 searches per month. People clearly want to know what it means to be innovative. Science, technology, and innovation can be at the center of economic development, which is one reason why STEM is so popular in schools. But innovation doesn't always mean science and technology. In fact, innovating in schools is often about doing something different versus just doing what we've always done and expecting different results. 
A first step, for any team that wants to drive innovation for change within the school culture, is to establish a definition of innovation. This makes it so that everyone is crystal clear what we mean when we talk about innovating. 
TheSchoolHouse302 Definition of Innovation 
Any new idea, program, project, or initiative that enhances or alters what we used to do, creating something new and different.  
One thing is for certain, leaders who want to drive innovative decision-making through a culture that embraces change, have to diversify the staff and the teams who are making the decision. Research finds that when teams are diverse, not only do they analyze and process facts more carefully–staying objective with the problem as opposed to subjectively inserting an opinion–they innovate at a greater speed. Homogenous groups, on the other hand, may be more comfortable for leaders to establish, but their conformity discourages innovative thinking.
School Leadership Tip #1: 
Reflect on the diversity of your staff. Consider their culture, race, age, gender, or expertise. Don't settle for the makeup of the team as it stands. Just because the team formed itself, or was already in place, doesn't mean that we can't add people to it to make it more diverse. Not only should you be hiring for diversity on your staff–recruiting as best you can–you should be using the diversity that you already have on staff to create more innovative teams. 
A Culture of Innovation Requires Open Dialogue 
For innovation to be a norm within your school culture, people need to be free to express new ideas in their peer groups and to their supervisors. This is unfortunately not the case in every school; new ideas are often stifled by staff who perceive their peers as creating more work for them with new ideas, and leaders can often thwart new idea generation by communicating that if new ideas don't come from them then they aren't as important. 
In a culture of innovation, every new idea is welcomed and celebrated. This is not to say that every new idea is implemented, but it is given the chance to be heard, tested, and reviewed for its merit. In these cultures, we find that leaders have a specific method–meeting structures, timelines, communication platforms, etc–for people to express new ideas. And, research, data, and evidence are almost always presented in a way that supports a change. This type of environment is collegial, and staff feel free to challenge each other and their supervisors in a productive way. 
School Leadership Tip #2: 
Actively create a culture of open dialogue. This will not occur on its own. Start by creating what Jennie Magiera calls a Critical Friends group. A first step to creating a culture where new ideas are free-flowing is to develop spaces and times for it to happen. These can be established and supported much like an Edcamp. These spaces and times will widen and expand as you continue to push people to challenge the status quo until one day you'll be surprised by how accepting people are of new ideas, and innovation will become a norm within the culture. 
A Culture of Innovation Requires Risk-Taking
Innovation in a school cannot rise above the leader's willingness to support it. Leaders who actively support and build a culture of innovation are also the ones who encourage staff to take calculated risks and fail faster as they implement. They do their best to create situations and scenarios where teachers can simulate and role-play as learners who are trying new strategies, but they also promote mistake-making and progress over perfection. 
School leaders cannot underestimate how stressful risk-taking is in schools. The status-quo is safe and known; innovation is the exact opposite. Leaders who create a culture of innovation are able to help staff recognize the power of innovation and how it improves their professional practice, which decreases stress as anxiety. It's a mindshift for staff that risk-taking is worth it, that it is exciting, and that it is one of the most important ways in which we make improvements. In this type of innovative culture, people view mistakes as valuable and don't worry about whether or not something is going to work well the first time. 
School Leadership Tip #3: 
Praise effort rather than always looking for quality execution. Leaders can learn to praise teachers for their effort and willingness to take a risk that rewards the implementation of a new idea even if it is not perfect the first time. Of course, we want new strategies to be effective, but the only way for that to happen is through the evolution of practice. You can grab our model for praise and use it right away for those who are willing to take a risk. 
From a Culture of WHY to a Culture of TRY 
A very recent movement in organizational design is for leaders to consistently communicate the WHY of the organization or even that of a project so that staff can embrace the rationale behind it. We embrace this type of vision setting strategy for school leaders, but we also know that it cannot stop there. Schools are dynamic and complex, and everyone is not going to share the same WHY, even when it's described in detail and is backed by research and evidence; as Doug Reeves says on our One Thing Series podcast, buy-in a myth. For this reason, school leaders should push past a culture of WHY and move to a culture of TRY.
Next time you focus on the WHY of your new innovative idea, be sure to include a "bias for action" and develop a culture of TRY. The key is to establish a small coalition of people who are willing to put something into practice before it's totally understood. These folks are typically the ones who know that the current system is broken. They may not be Gung Ho! about the new idea, but they are passionate about change. They'll go first, and they're movement will be what others see. This public display of "trying something new" is sure to spread, which is what changes the culture from wanting to know the WHY to a willingness to give something new a TRY. Use the following three action steps to put this school leadership model for innovation into practice in your school. 
The Innovative School Leadership Model in Action:
Reflect on the diversity of your team.

Actively create a culture of open dialogue.

Praise efforts for trying something new.
Reputable, Effective, Perception Survey for Schools
Support (REPSS)
Innovation Questions
The staff at our school is made up of a diverse group of people. 

My colleagues challenge my thinking in productive ways.

I am encouraged to take instructional risks in the classroom. 

I use data to alter my methods of teaching to improve student achievement. 

I used what I learned in professional development this year. 

I was recognized for being innovative with our practices. 

Overall, innovation is a norm at our school. 

I feel comfortable expressing new ideas to my colleagues.

I feel comfortable expressing new ideas to my administration.

Our school has a method for me to express new or different ideas. 
As always, let us know what you think of this with a like, a follow, or a comment. Find us on Twitter, YouTube, iTunes, Facebook, & SoundCloud. And, again, if you want one simple model for leading better and growing faster per month, follow this blog by entering your email at the top right of the screen.
TheSchoolHouse302 is about getting to simple by maximizing effective research-based strategies that empower individuals to lead better and grow faster.
This blog post was brought to you by GhostBed, a family-owned business of sleep experts with 20+ years of experience. With 30K+ 5-star reviews, you can't go wrong with GhostBed. Their mattresses are handcrafted, and they come with a 101-night-at-home-sleep trial. For a limited time, you can get 30% by using our code — SH302 — at checkout. And, even if you tell someone about GhostBed, you can earn a $100 referral reward. Go to Ghostbed.com today and use SH302 at checkout.