Walk into any school and you'll find countless different types of work being done. Yes, teaching and learning are at the heart of what we do, but a great school culture, one where teaching and learning can thrive, is about so much more. Creating this kind of culture places a huge demand on countless people who are doing exciting work. But, at times, with all of the spinning plates, it can also be overwhelming.
It's easy to get caught up in the fast-paced, whirlwind of initiatives and responsibilities that can tax even the most formidable educator. The goal is to successfully lead initiatives, striving to achieve the goals of the school, yet without burnout looming. This requires the effective use of proven leadership strategies along with a collaborative approach, paving the way for successful implementation.
That's why we picked these two books as our recommendations for school leaders who want to implement initiatives well. They provide the tips, tools, and tricks for the necessary learning and insight to do just that.
Joe and T.J. Recommend that School Leaders Read These Two Books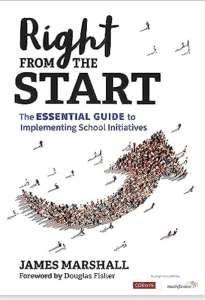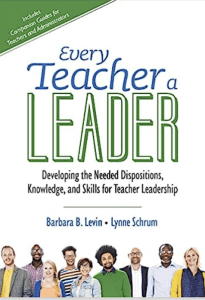 These two books are powerful reads that can transform how you operate and manage initiatives in your schools.
T.J. tells us that one major takeaway that we had from Right From the Startwas to find bright spots. Jim Marshall tells us that school leaders often look for gaps to fill, but the bright spots show us the places that need replication. The bright spots are those areas that are working well and performing optimally. We often want to fix things, but it is within the bright spots where we identify what is working and potentially what can be reproduced elsewhere.
Don't miss what we say about the power of preplanning as well!
In our recommendation that school leaders read Every Teacher a Leader we emphasize the need to build teacher leaders and to invest in the capacity to influence others. School administrators cannot do it all, and they certainly won't do it well without the help of teachers. Schools are constantly implementing initiatives and that reality should prompt every school leader to embrace this mindset–the need for teacher leaders–and drive change through their development.
The classroom is the most important space in a school, and at the end of the day, teachers need to be inspired and empowered to teach, learn, and lead.
Our reading tip for this month is simple: find reading material and books that support the ancillary aspects of what you are trying to achieve. For example, if you are implementing restorative practices in your school, don't only read books on that topic. Yes, it's critical to become highly skilled in that space, and there are great books to help you on that journey, however, digging into Chip and Dan Heath's book Switch, which covers the psychology of change, can prove to be invaluable. Pick something up that isn't in the typical school leader's library or playlist.
Enjoy these books to lead better and grow faster as school leaders. We always appreciate a like, a follow, a comment, or a share. And, if you read our newest book, please rate it on Amazon. It helps.
Let us know what you're reading by contacting us at contact@theschoolhouse302.com. And don't miss our leadership newsletter every week by subscribing to the site.
We can't wait to hear from you.