What better conversation to have in August than the very best ways to engage students this school year. Our focus throughout this school year must be on the whole child–an academic intensity coupled with social and emotional development. You will hear us often say that our students need to know that our care for them is just as important as our curriculum. To ensure this focus, we developed the 6 Key Classroom Practices Model.
This model encompasses each necessary element that we must reflect upon, and, if needed, make a change to ensure that we are leveraging the practice to its fullest extent. In this fireside chat, T.J. begins by breaking down the model with details about how educational leaders, and, in particular, principal leaders, can use these 6 categories to ensure that student achievement remains our central focus throughout the school year. Each element is interconnected and strengthens the other.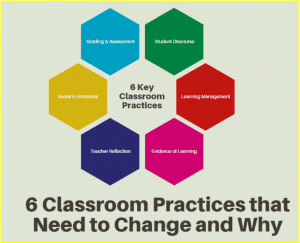 In addition to breaking down this comprehensive model, Joe discussed the critical importance of  capacity building. We rarely have a discussion on leadership and not discuss personal growth and capacity building at some point. One important result of a leader who embraces being a learning leader is that they are far more receptive to ideas and advances because they naturally see opportunities and possible connections to the overall vision.
Critical Ideas from our 302 Thoughts: A Deeper Dive
In light of time, for this podcast episode and live broadcast, we decided to hone in on three of the six practices that are simply a must in this post-pandemic educational world. They also provide a gateway for other practices to be used effectively. The first practice we delved into was the importance of an organized learning management system (LMS). 
An LMS can serve a few very important purposes. As a software application, it is designed to turn virtual learning into a reality. But, we've also discovered that it is very effective at providing direction and organization for students and parents, even during in-person learning. We often discuss creating transparency between the classroom and the home, and teachers who excel at using an LMS truly create clarity for families. 

Technical Tip: One aspect that we truly appreciate about an organized LMS is the connectedness it can have to what is being learned in the classroom. For example, with the ability to house information, teachers can create enrichment and remediation support directly tied to formative assessment results from class. 
Another vital aspect of learning for our students this year will be our consistent use of methods to determine their Evidence of Learning. The reality is that due to Covid19, many teachers' technological skills skyrocketed. Although we don't subscribe to one primary tool to assess students throughout the lesson, we do believe in Madeline Hunter's 10+2 method, ensuring that you're checking for understanding on a regular basis throughout the lesson.

Technical Tip: If you want to track formative performance in your grade book and not necessarily assign a grade, change the weight of the formative to "0" so it doesn't impact the overall average. 
Lastly, we didn't want to overlook the power of reflection for teachers. Not only is this a great way to learn and grow as a professional, we also tie this into the social and emotional well-being of staff. Recognizing how much growth we've all experienced in our profession is inspiring, and we need to continue to experiment, reflect, and grow within

a learning culture in all of our schools

. 

Technical Tip: Create specific PLC time for reflection on very specific topics. In these instances less is more and be sure to effectively train the facilitator. Leading effective meetings and PLCs requires training. Don't assume that because someone is a good teacher, or even an effective department head, that they can lead every conversation. For more on the power of teacher leaders and candid conversations, check out our book,

Candid and Compassionate Feedback

. The third section of the book is dedicated to teacher leaders. 
Join Us for the Next Live Session of 302 Thoughts 
This was our second live 302 Thoughts and we were thrilled with the turn out and look forward to our next episode on September 22nd at 7:30 EST. We are going to be talking about social and emotional learning and how to build a school culture that supports SEL for students and staff. Register today. 
We can't wait to hear from you. 
PS — If you have a topic you want us to cover or need recommendations on books to read in a particular area of leadership, just send us a tweet or an email. 
This episode was brought to you by GhostBed, a family-owned business of sleep experts with 20+ years of experience. With 30K+ 5-star reviews, you can't go wrong with GhostBed. Their mattresses are handcrafted, and they come with a 101-night-at-home-sleep trial. For a limited time, you can get 30% by using our code — SH302 — at checkout. And, even if you tell someone about GhostBed, you can earn a $100 referral reward. Go to Ghostbed.com today and use SH302 at checkout.