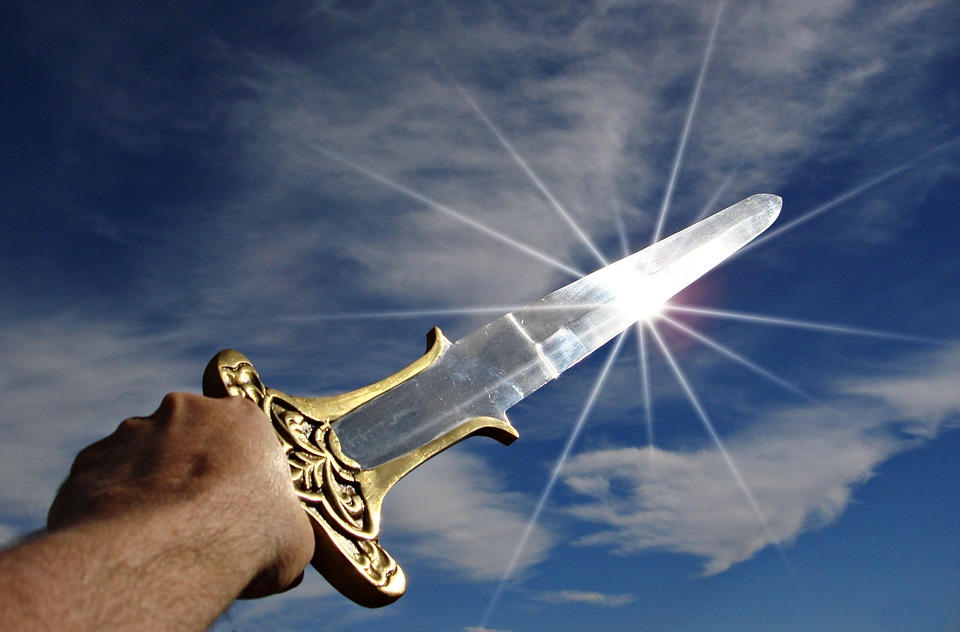 Success is the progressive realization of a worthy ideal. ~ Earl Nightingale
Conquering Your Demons
The valiant knight stood over the bones of his fallen enemies, having collected them all for the keeping. Seven in total, he slain over the last ten months. He pursued them each, one-by-one, willingly and eagerly, knowing that by conquering them it brought him closer-and-closer to achieving his goals.
But imagine that these enemies are not people, but rather the hopes and desires that we each have, the ones that haunt us at night for fear that we won't achieve them. The inability to grasp them creates the very obstacles that keep us from making gains toward their achievement. We need but only the slightest doubt in ourselves, and we fall prey to obstructing our own vision of success with relentless hesitation. It's the knight who never waivers from his mission and who will seek and find his betrayers knowing that conquering them will lead to success.
Goal Setting and Renewal
January is traditionally a month for goal setting, often believed to be a time of renewal. We're big supporters of this because it helps people to move forward, dismissing what has held us back thus far. But we also know how often goals are not achieved. The failure rate for New Year's Resolutions is upward toward 80 percent of the time. This means that 8 out of our 10 readers of this post will not achieve their goals. There are ways, though, that we can stay true to our passion and gain access to something we desperately want. So that you can lead better, grow faster, and reach your goals in 2020, we developed the model below. The phases are not meant to be steps, which means that they can overlap and repeat. Follow the model and slay any temptation to surrender to your enemies.
The Phases of Success Through Goal Setting 
Phase 1: Set One Big Important Goal. Identify one goal that you are passionate about. Start with one thing that eclipses everything else. This is not a lukewarm desire; this is something that wakes you up at night that you need to accomplish.
Phase 2: Bring It to Life. Write your goal down in words. You can use your phone, a journal, or a 3×5 card, but your goal needs to be with you daily so that you can review it in the morning and then again before bed. The only way that a goal is real, beyond a thought or idea, is when you bring it to life by writing it down.
Phase 3: Create A Master Plan. Create a master plan designed with the details about what your goal looks and feels like once achieved as well as the deadlines for each of the moving parts. You'll know if your goal is big enough when it overshadows other problems that can derail you throughout the day. We all get sidetracked by common problems, even thoughts that creep into our minds. The minute you find yourself thinking back to the goal, you know it's both important and necessary.
Phase 4: Be Accountable. Get an accountability partner. This has to be someone who will initiate a check-in once per day. It can be as quick and simple as a text, but it has to be daily and you have to respond with an update on your progress toward the first deadline from Phase 3.
Seeking Satisfaction Through Reflection
To help with your goal setting process in Phase 1, we remind you about TheSchoolHouse302 Blockchain of Life. It provides the categories of success that are necessary for happiness and satisfaction in life and work. Use it to reflect as you set your one big important goal and then move forward to Phase 2.
TheSchoolHouse302 Blockchain of Life
Wellness–your fitness, health, energy levels, and overall feeling of wellbeing.
Spirituality— your faith, religion, self-reflection, and a feeling of connectedness to the world.
Family–your relatives who you keep closest in heart and mind.
Friendships–the people you rely on for social activities, fun, and candid conversations.
Work–your role in the organization, your impact on the vision, and your financial earnings.
Growth–your personal and professional development.  
That's this month's model for turning goals into results for greater success as a leader. Remember, the phases are meant to keep you on track, but they often cycle backward. Keep yourself focused and don't let distractions and mistakes create restrictions or skepticism. Stay tuned for challenges, nuggets of wisdom, reflection questions, and more. Follow us at theschoolhouse302.com to join thousands of others who get alerts, resources, podcasts, and more.
Let us know what you think of this #SH302 post with a like, a follow, or a comment. Find us on Twitter, YouTube, iTunes, Facebook, & SoundCould. And, again, if you want one simple model for leading better and growing faster per month, follow this blog by entering your email at the top right of the screen.
TheSchoolHouse302 is about getting to simple by maximizing effective research-based strategies that empower individuals to lead better and grow faster.