This is TheSchoolHouse302's monthly #reviewandreflect, wrapping up our focus on Feedback: Growing Your Teacher Leaders.
Our Review and Reflect series embraces the powerful sentiment from Soren Kierkegaard: "Life can only be understood backwards; but it must be lived forwards." Throughout this post, we take a deep dive into our leadership content so that you can develop the skills you need to lead better and grow faster.
Skills I need to develop so that I can better prepare my teacher leaders…
In our travels, we rarely meet anyone who isn't looking to improve in some aspect of his or herself. Yet, despite this desire within so many people, it's incredibly difficult to take advantage of the most powerful way we learn and grow–listening and acting on critical feedback. Not only is it hard to receive feedback, it's often even harder to give it. Given how effective it can be to provide and accept feedback, it's fascinating to think that we would avoid it. As the Japanese proverb states, "better than a thousand days of diligent study is one day with a great teacher."
Knowing the tenuous relationship that people have with feedback, yet understanding its incredibly influential nature, we developed a comprehensive feedback model. Our model specifically focuses on an often overlooked group of educators who need comprehensive feedback, training, and development to grow in the roles–teacher leaders. This is a group that administrators often take for granted because they are typically impressive in the classroom, but not investing in them as leaders is shortsighted and costly.
Effective administrators know that they can't do it all themselves. Teacher leaders can grow as a very specialized and skilled group within every school. But, they need training and feedback on their leadership skills. That's why we provide the Leadership Development Continuum Model. It allows leaders to differentiate the four types of training that teacher leaders need as they grow from novice to expert.
If you want to go fast, go alone. If you want to go far, go together. ~ African Proverb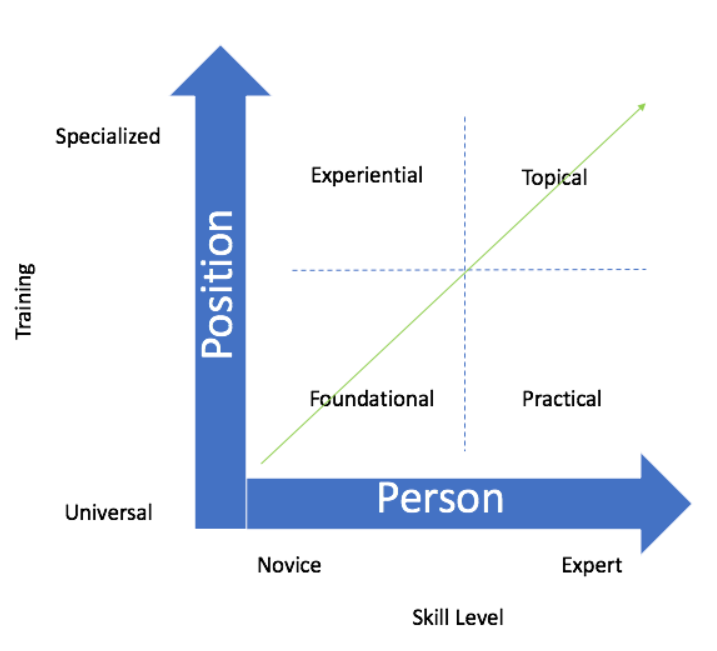 Quadrant 1–Foundational: The first level of leadership development is simply foundational. These are the building blocks of leadership traits and qualities. These structural elements range from effective communication to delegation. To satisfy this quadrant, we recommend doing a book study with your team.
Quadrant 2–Experiential: The next level of training is far more specialized. Experiential leadership training is designed to provide teacher leaders with job-embedded learning. Including teacher leaders during instructional rounds and other administrative work give them the experiences they need.
Quadrant 3–Practical: This level of leadership development is geared more toward an advanced or advancing teacher leader. Practical leadership development always involves a coach or supervisor who conducts a focused observation and then provides direct feedback to the teacher. You can use your department meetings as a time to observe your teacher leaders in action.
Quadrant 4–Topical: The most advanced leadership development scenario on the continuum is for leaders to attend a session at a conference (or other off-site seminar) on a topic that is specific to her developmental needs. This type of training is reserved for an expert leader who needs specialized training in something that cannot be delivered within the school or district. Remember, this isn't about teaching; it's about leading.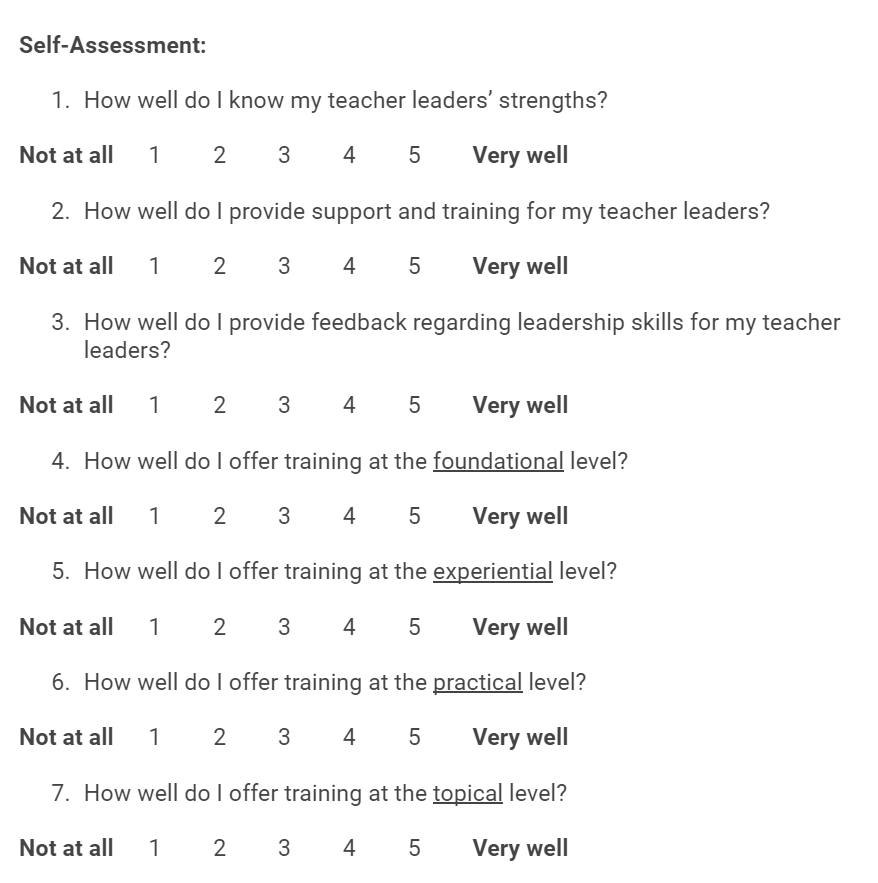 Wherever you find yourself on the scale for each area, we encourage you to immerse yourself into some powerful literature to lead better and grow faster in the concept of feedback.
Great Leaders Are Avid Readers
Review: In our #readthisseries we featured practical books that offer actionable information to improve your feedback skills.
Our first recommendation is The feedback imperative: How to give everyday feedback to speed up your team's success. If you want to take the mystery out of giving feedback, check out Anna Carroll's book.
Our second recommendation is from Johnson, Liebowitz, and Perrett, The coach approach to school leadership: Leading teachers to higher levels of effectiveness. This is a terrific book for school and district leaders who are ready to lead the necessary change in their organization.
Our final recommendation is Thanks for the feedback: The science and art of receiving feedback well. This book by Stone and Heen captures the essence and importance of receiving feedback and how we can improve this aspect of ourselves.
Let us know if these great reads change your leadership practices and deliver real results.
Who should I follow…
What does an expert have to say about feedback? Anna Carrol's book, which is practical, readable, and research-based, provides many of the answers we need to take our feedback to another level. We truly appreciate her book, The feedback imperative: How to give everyday feedback to speed up your team's success. What we really like is how she spends time explaining the feedback loop and the critical importance of accurate feedback.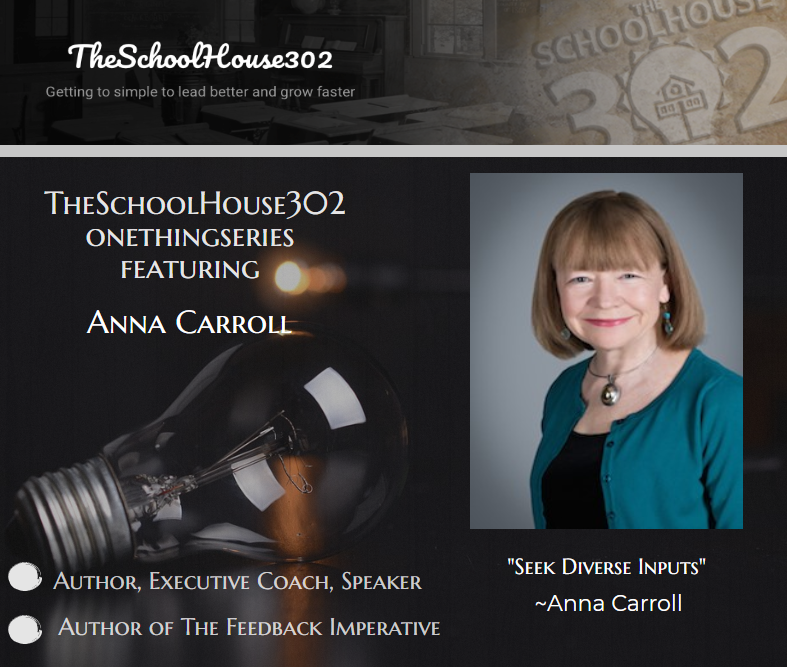 Action: Throughout this month during our Three Minute Challenges we asked you to take decisive action to improve the level of training you are offering your teacher leaders. All of those actions require a sound assessment of the strengths and weaknesses of your team. 
Our TPA: A Framework for Growth Through Reflection, is a powerful tool for you to take time and evaluate the current skill level of your teacher leaders and the level of professional learning you are offering them. Reflect on the self-assessment survey you just completed and identify those areas that you need to develop with greater focus. Start today and let us know how well you are doing!
That's our #review&reflect for feedback. Take a look back to take a step forward.
Please subscribe!
Listen to the entire podcast on iTunes, One Thing Series, and please rate and like (it helps).
TheSchoolHouse302 is about getting to simple and maximizing effective research-based strategies that empower individuals to lead better and grow faster.
Please let us know how our leadership posts are working for you, what you are reading to improve yourself, and your thoughts on leadership and growth here on our blog and Twitter. Follow our #onethingseries podcast on iTunes and our #readthisseries on YouTube. 
PS–We have a book on feedback for educational leaders as well. Check it out.