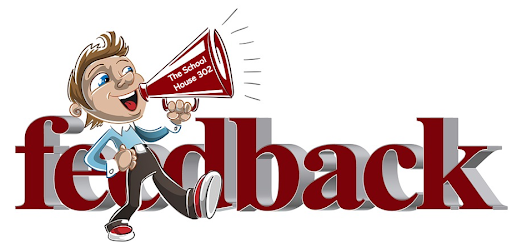 True intuitive expertise is learned from prolonged experience with good feedback on mistakes. ~ Daniel Kahneman
Dave is a Teacher Leader
The whole meeting lasted only seventeen minutes, but it felt like three rounds in a cage fight. No, I wasn't bloody or bruised, I wasn't even out of breath. I was overheating, and I could feel my pulse in my temples. What's amazing is that my visceral reaction was over just a few points that I needed to make about Dave's leadership and his last department meeting, "Dave, this meeting needed a stronger agenda to keep everyone on task…"
Teacher Leaders Need Feedback 
The fact is that providing leadership training and feedback to help teacher leaders grow is challenging. Many would argue that giving feedback is actually more difficult than receiving it, and many supervisors struggle to give quality feedback on lesson delivery, let alone teacher leadership.
But, great administrators know where their people are on the leadership development continuum, and they tailor professional development accordingly. Because the idea of growth is often nebulous, it can be reduced to traits and skills that are critical to be an effective leader, but are not always organized and taught in a systematic fashion. As a result, many individuals never fully develop into great leaders. When developing teacher leaders, it is vital to identify the proven leadership qualities and skills that each person must possess, to evaluate their levels in each of the areas, and to then tailor their leadership development to meet their needs. Teacher leaders are typically selected because of their teaching skills, not necessarily their leadership abilities, which means that we must focus on them if they're going to be effective in the role.
This process of development highlights the differences between a beginner, intermediate, and expert leader, which allows for competency development to occur on a continuum. Great leaders differentiate professional development experiences for their people so as to target their specific needs. General leadership training is fine for novice leaders, but as each person on the team learns and grows, she needs refined teaching to hone and sharpen specific skills.
That's why we provide the Leadership Development Continuum Model. It allows leaders to differentiate the four types of training that teacher leaders need as they grow from novice to expert. 
Leadership Development Continuum Model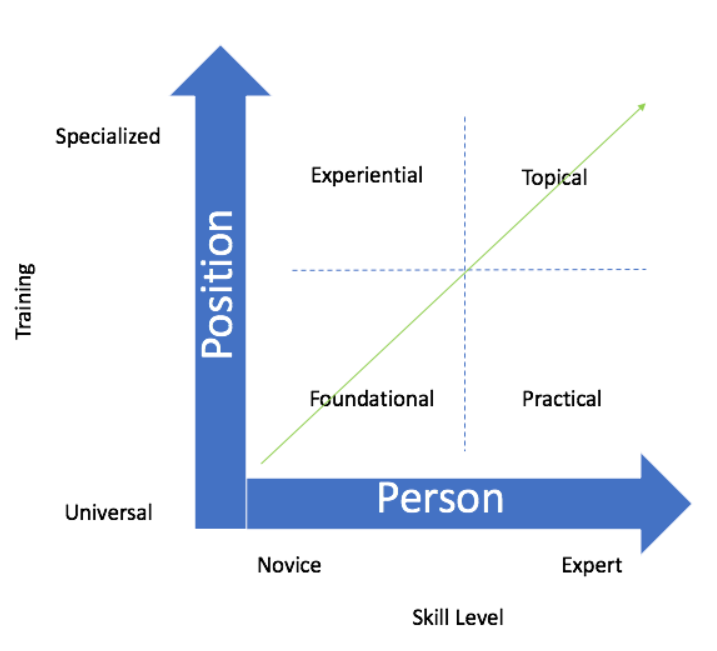 Four Types of Leadership Development 
Foundational: The first level of leadership development is simply foundational. If teacher leaders are getting any type of leadership training, it's usually at this level. This type of training is universal, which means it will benefit everyone on the team. Example: Book studies.
Key Success Driver: The key to foundational training for teacher leaders is to make sure that it's on the agenda for every meeting. If 30-50% of your leadership team meetings aren't spent on leadership development, the rest of the time you spend on initiatives and programs is wasted.
Experiential: The next level of training is far more specialized. Experiential leadership training is designed to provide teacher leaders with job-embedded learning. Most teacher leaders are still spending the majority of their time in the classroom with their "leadership" time during planning periods and after school. Experiential training is the first step to breaking down the barriers of isolation for teachers to learn and lead outside of the classroom walls. Example: Instructional rounds with administrators, specialists, or coaches to include feedback conversation thereafter.
Key Success Driver: The key to experiential leadership development is for the teacher leader to be an eye-witness to the problems-of-practice and challenges that teachers and students face. We must bring the teacher leader to the table to discuss theories-of-action and next steps regarding professional development and feedback for the staff. Providing time outside of the classroom is key for teacher leaders to gain perspective as they learn and grow.
Practical: This level of leadership development is geared more toward an advanced or advancing teacher leader. It's still universal enough in that it can be done within the school, but it's definitely specific to the person and not just the position they hold. Practical leadership development always involves a coach or supervisor who conducts a focused observation and then provides direct feedback to the teacher. Example: Feedback after observing a department meeting.
Key Success Driver: Typically, when we think of observation and feedback cycles in schools, we focus on instruction, instructional delivery, and planning. But, for leaders to grow, like any other area of skill development, they need feedback. The key is for the coach (outside consultant or administrator) to observe the teacher "leading" and then provide specific written and/or verbal feedback on a predetermined leadership skills (such as clear communication).
Topical: The most advanced leadership development scenario on the continuum is for leaders to attend a session at a conference (or other off-site seminar) on a topic that is specific to her developmental needs. This type of training is reserved for an expert leader who needs specialized training in something that cannot be delivered within the school or district. Example: Attend a restorative practice conference.
Key Success Driver: The key to this level of leadership development is not just that it's off-site; the conference, course, or seminar must be specific to the needs of the leader or the school. Too often, when we send our teachers to conferences, we don't provide a specific focus or strand for them to target. And, we generally send teachers to "teaching conferences." In this case, we're sending the teacher leader to a leadership conference or seminar with a specific focus on one aspect of their leadership development or expert knowledge that they need in their role.
That's this month's model for teacher leadership development. Remember, teacher leaders need training to be at their best, and that happens within the continuum of leadership development. Stay tuned for challenges, nuggets of wisdom, reflection questions, and more. Follow us at theschoolhouse302.com to join thousands of others who get alerts, resources, podcasts, and more.
Let us know what you think of this #SH302 post with a like, a follow, or a comment. Find us on Twitter, YouTube, iTunes, Facebook, & SoundCould. And, again, if you want one simple model for leading better and growing faster per month, follow this blog by entering your email at the top right of the screen.
TheSchoolHouse302 is about getting to simple by maximizing effective research-based strategies that empower individuals to lead better and grow faster.
Our newest book is available on Amazon. We can't wait to hear what you think. Click the cover and order your copy today. Thank you for the support.