This is TheSchoolHouse302's monthly #reviewandreflect, wrapping up our focus on Decision-Making.
Our Review and Reflect series embraces the powerful sentiment from Soren Kierkegaard: "Life can only be understood backwards; but it must be lived forwards." Throughout this post, we take a deep dive into our leadership content so that you can develop the skills you need to lead better and grow faster.
Skills I need to develop for improved decision-making…
If you're reading this post, which we are very grateful that you are, you probably made about five decisions just to get to this point. You may have asked yourself, should I read it on my phone or laptop? At my desk or on my couch? Should I grab a cup of coffee first? Will I take some notes or just screenshot what really jumps out at me? The point is that we constantly make decisions every second. Some of them are significant and critically important, while others are common and ordinary. Regardless of the type of decision, we make over 30,000 of them per day.
Because we are rapidly deciding on one thing or another all the time, we need to establish the right environment to improve our decision-making skills and align them to our core values and purpose. That may sound simple, given that we are the ones making the decisions for ourselves, but we know how easily influenced we can be by friends, co-workers, social media, and marketing techniques.
For stronger alignment with your values, we ask you to use C.A.R.E. when making decisions. It's a formula to ensure better decision-making in life and work. 
#1. Core Values–If someone were to ask you, "what are your Core Values" could you answer them clearly and succinctly? If not, don't read another word before identifying them.
"If one does not know to which port one is sailing, no wind is favorable." ~ Seneca
#2. Automate Routines–If someone were to ask you, "what does your morning routine look like that sets you up for success" could you tell them? If not, stop reading and identify what your morning routine will be from this day forward.
"Either you run the day, or the day runs you." ~ Jim Rohn
#3. Rely on a Trusted Few–If someone were to ask you, "who do you really trust and can seek their wise counsel when needed" could you readily identify them? Take a minute, grab a pen, and write their names down, then call them and let them know how much you appreciate their advice.
"We need people in our lives with whom we can be as open as possible. To have real conversations with people may seem like such a simple, obvious suggestion, but it involves courage and risk." ~ Thomas Moore
#4. Evaluate the Impact–If someone were to ask you, "how do you know if the decisions you make are any good" could you show them the results? If not, take a few minutes right now and evaluate if a decision you recently made turned out the way you had expected.
"Reflective thinking turns our experience into insight." ~ John Maxwell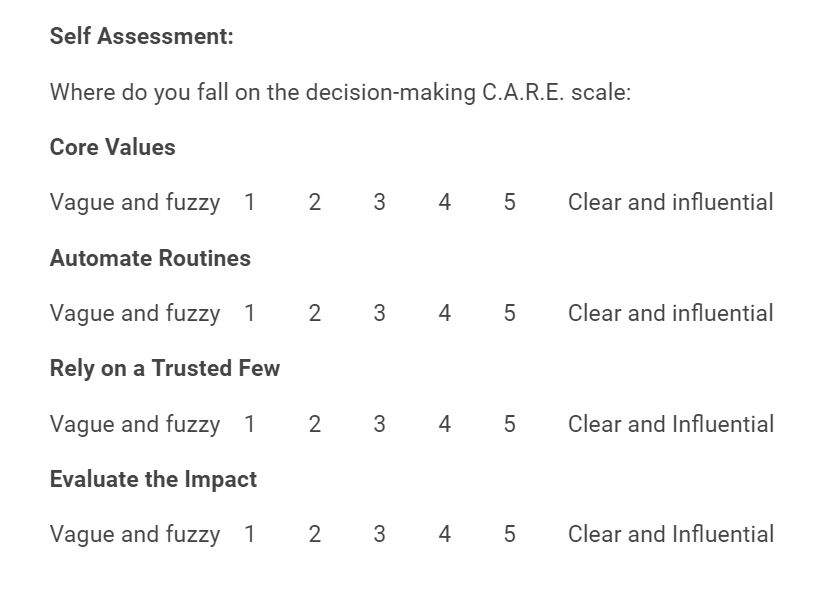 Wherever you find yourself on the scale for each area, we encourage you to immerse yourself into some powerful literature to lead better and grow faster in the area of decision-making.
Great Leaders Are Avid Readers
Review: In our #readthisseries we featured practical books that offer actionable information to improve decision-making.
Our first recommendation is The one thing: The surprisingly simple truth about extraordinary results. If you're tired of thinking about what needs to be done, and you are ready for real results, read this!
Our second recommendation is from Doug Reeves, Leading change in your school: How to conquer myths, build commitment, and get results. This is a terrific book for school and district leaders who are ready to lead the necessary change in their organization.
Our final recommendation is Leading with focus: Elevating the essentials for school and district improvement. What we truly respect about Mike Schmoker is that he cuts to the chase and provides real examples. If you don't have a lot of time but want to read incredible stories about real schools, pick this up!
Let us know if these great reads change your leadership practices and deliver real results.
Who should I follow…
What does an expert have to say about decision making? Toni Faddis is the real deal. We truly appreciate her book, The Ethical Line: 10 Leadership Strategies for Ethical Decision-Making. Strategy #6, Unifying Around a Collective Vision, is just one aspect that all leaders need to read. She walks you through an organizational values audit that is quite telling.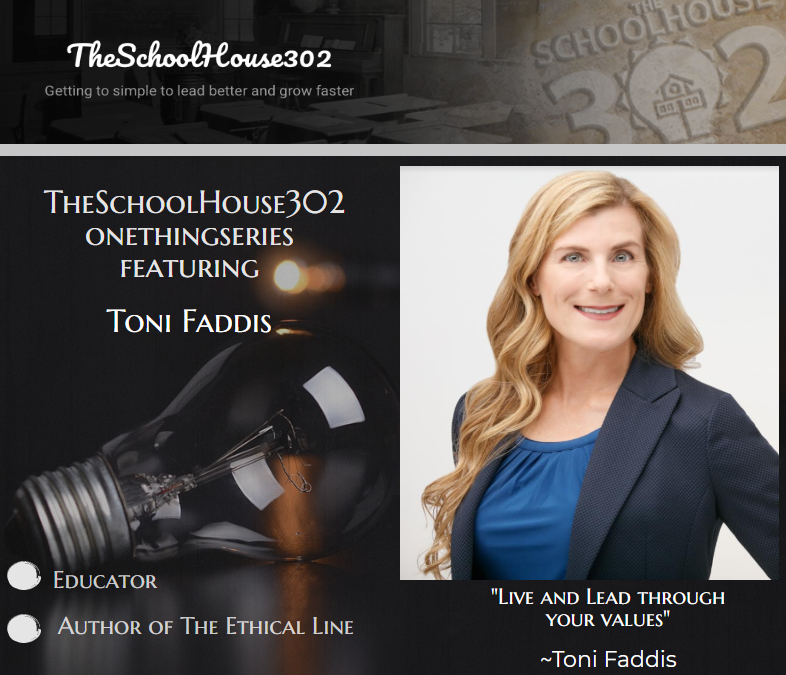 Action: Throughout this month during our Three Minute Challenges we asked you to take decisive action to improve your level of C.A.R.E.
Our TPA: A Framework for Growth Through Reflection, is a powerful tool for personal development and growth. Reflect on the self-assessment you just completed and identify those areas that you need to develop with focus.
Please subscribe!
Listen to the entire podcast on iTunes, One Thing Series, and please rate and like (it helps).
That's our #review&reflect for decision-making. Take a look back to take a step forward.
TheSchoolHouse302 is about getting to simple and maximizing effective research-based strategies that empower individuals to lead better and grow faster.
Please let us know how our leadership posts are working for you, what you are reading to improve yourself, and your thoughts on leadership and growth here on our blog and Twitter. Follow our #onethingseries podcast on iTunes and our #readthisseries on YouTube.