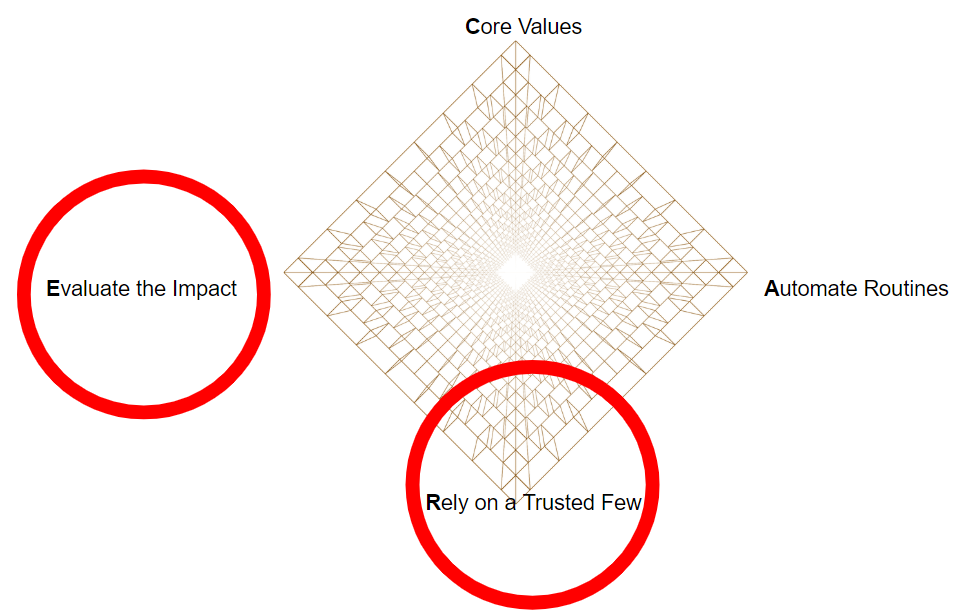 Throughout this month we delved into the dynamic topic of decision-making. It's fascinating to think that we make more decisions in a day then we take actual
breaths
. Although that's hard to believe, human beings are built to be decision-making machines. And the types of decisions we make in a single day cover the full spectrum of complexity, importance, and significance. Some decisions are profound, with lasting effects on our lives, while others are merely inconsequential. Taking all of this into account, our goal is to provide a simplistic methodology for you to create an environment that helps you, and others, make the most of every decision you make.
As educators and leaders, we are intrigued by
decision theory
and why people make one decision over another, the process they use to make a decision, and how circumstances dictate so much of the outcome. This is why it is necessary to take a step back and look at your decisions over time to help guide future situations. Whether it's through a personal or professional lens, we are all subject to the realities decision-fatigue, which is the reason why core values and routines are so important. Without them, when we face challenging times, we tend not to make the best choices.
The humbling truth is that leadership can be lonely, but that doesn't mean that we have to take charge alone. Our decision-making prowess improves when we can employ the last two parts of the model. This requires us to
rely on a few trusted
individuals who can help us when making tough decisions and then to
evaluate the impact
of our decisions by measuring the effectiveness of their outcomes.
Fortunately, not every decision requires consultation, nor does every decision necessitate evaluation. Take time for the following two challenges–only three minutes each–and you'll uncover some of your own reasoning and patterns within the decisions you make.
#1: Evaluate the who, when, and why of your decisions — Trust is an essential element to any productive relationship. The more we trust an individual or group, the more apt we are to share our thoughts, feelings, ideas, and challenges. Unfortunately, we've all experienced a lack of trust at some point in our lives. The difficulty with not having trusting relationships in an organization is that time and energy are given to protection and secrecy instead of transparency and openness. The former halts success and increases suspicion, while the latter accelerates achievement and reinforces the mission. Take a few minutes to evaluate the level of trust within your organization as it pertains to the who, when, and why of your decisions:
Who do you rely on to help you make important decisions?

When do you include them in the decision-making process–in the beginning, when the issue is fresh, in the middle when you get stuck, or at the end when you have a fixed idea and you're just looking for confirmation?

Why do you seek out those individuals as trust-agents over others who also may by helpful?
#2: Evaluate the how, where, what of your decisions — It can be said that the sum total of our life is what we accomplish is the culmination of all of our decisions. What we expect from ourselves and others usually determines our results. The challenge before us is in determining whether or not our decisions are moving us and our organization in the right direction. Take a few minutes to analyze the effectiveness of your decisions as it pertains to the how, where, and what of making them.
How do you know if a decision that you made was good or that it achieved the desired result? How do you take the necessary time to analyze the results?

Where, in terms of physical space, do you find the most success with your decision-making circumstances?

What aspect of the decision-making process do you need to improve–values, routines, people, or impact?
Stay tuned for our upcoming Review and Reflect where we take you through the entire month to synthesize the information to empower you to make better decisions. Find us on Twitter, YouTube,
iTunes
, Facebook, & SoundCould. And, again, if you want one simple model for leading better and growing faster per month, follow this blog by entering your email at the top right of the screen.
TheSchoolHouse302
is about
getting to simple
by maximizing effective research-based strategies that empower individuals to lead better and grow faster.
Joe
&
T.J.