This is TheSchoolHouse302's monthly #review&reflect, wrapping up our focus on Motivation.
Our review and reflect series offers readers the opportunity to take a deep dive into our leadership content by taking time to reflect and identify the skills you need, to explore how you can learn those skills, and to connect with industry leaders to follow to gain greater expertise. 
Skills I need to develop for stronger motivation…
This month we've focused on the critical topic of motivation. The goal in striving to learn and grow, both personally and professionally, is not to be a better you, but the best you. Despite motivation being a popular topic, with a lot of literature to support it, many people still struggle with being motivated on a consistent basis. Knowing this reality, we offer a simple and memorable formula, The Three Cs of Motivation: Clarity, Consciousness, and Commitment.
#1: Clarity of Purpose–The first step is always to identify what you truly want to achieve, your why.
#2: Consciousness of Ourselves–The second step to reflect on your strengths and weaknesses. This allows us to see where we can take advantage of our natural abilities, and it helps to forecast any potential pitfalls or missteps.
#3: Commitment to Accountability–The third step is to hold yourself accountable, both by having the will to continue after you fail and by systematizing a way to ensure that you stay consistent.
Self Assessment:
Below is a simple 3-question assessment to determine where you fall on the motivation formula scale.
Leadership is difficult, but it's even more challenging when our own self-understanding is blurry. Take a moment to answer and reflect on the following questions.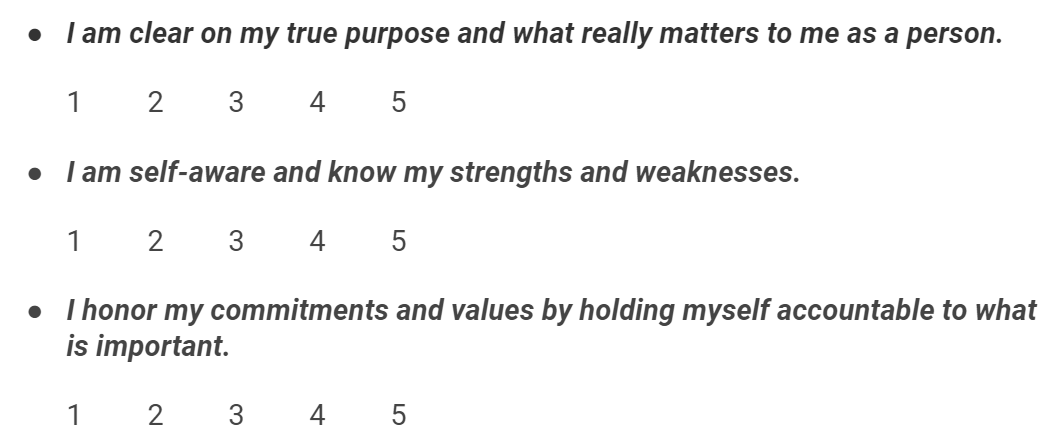 Based on these three simple questions, what do you need to work on starting today? Much of motivation lies in the simple act of doing. Each step we take towards our purpose, every act we commit that is aligned with our values, increases our motivation.
Great Leaders Are Avid Readers
Review: In our #readthisseries we featured books that highlight real people who we can emulate and real wisdom for the courage we need to succeed as leaders.
What should I read to gain a better understanding of myself and the realities surrounding motivation?
Mindset: The new psychology of success. By Carol Dweck
Better than before: What I learned about making and breaking habits. By Gretchen Rubin
Springboard: Launching your personal search for success. By Richard Schell
[youtube https://www.youtube.com/watch?v=2tiwcVxzUeM&w=1013&h=570]
You can't miss our #readthisseries on 3 books you need to read to motivate yourself and others.
Who should I follow…
What does an expert have to say about motivation? Our #onethingseries this month featured expert Kaley Klemp.
Review: For our #onethingseries, we interviewed Kaley Klemp. Kaley is an Enneagram specialist, helping organizations outperform their competitors by unlocking a deeper understanding of what motivates and drives people. Self-discovery is a process and if you feel that you are sometimes your biggest obstacle then you definitely have to check out Kaley's site.
Action: This month we asked you to get RAW. The harsh reality is that motivation isn't something that happens to us through external means. Yes, a song may fire you up or you may get pumped about a positive situation, but those external forces are fleeting.
Genuine motivation requires you to Reflect, Act, and Write.
To become clearer on your why, you must complete this #ThreeMinuteChallenge.
To become more conscious and self-aware, you must complete this #ThreeMinuteChallenge.
To become more committed and stay the course to achieve success, you must complete this #ThreeMinuteChallenge.
Please subscribe!
Listen to the entire podcast on iTunes, One Thing Series, and please rate and like (it helps).
That's our #review&reflect for Motivation. Take a look back to take a step forward.
TheSchoolHouse302 is about getting to simple and maximizing effective research-based strategies that empower individuals to lead better and grow faster.
Please let us know how our leadership posts are working for you, what you are reading to improve yourself, and your thoughts on leadership and growth here on our blog and Twitter. Follow our #onethingseries podcast on iTunes and our #readthisseries on YouTube.