Success is not final, failure is not fatal: it is the courage to continue that counts. ~ Winston Churchill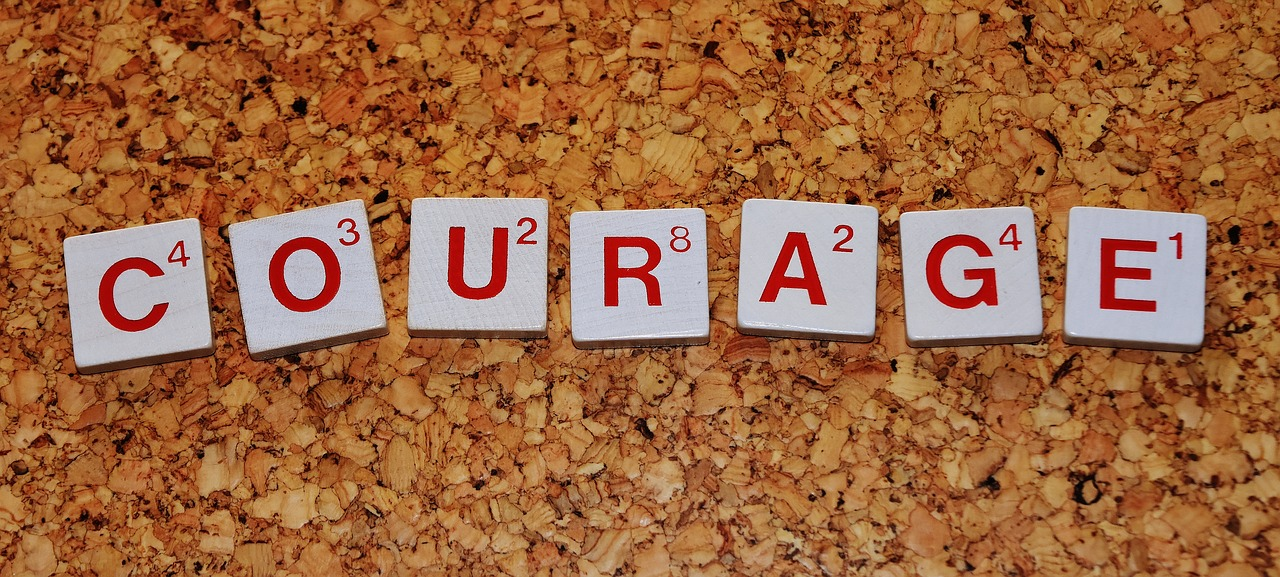 This is
TheSchoolHouse302
's monthly #review&reflect, wrapping up our focus on
Courage
.
Our review and reflect series offers readers the opportunity to take a deep dive into our leadership content by taking time to reflect and identify the skills you need, to explore how you can learn those skills, and to connect with industry leaders to follow to gain greater expertise.
Skills I need…
Courage is the characteristic that initiates and sustains action. ~ TheSchoolHouse302
Courage is doing things in the face of fear and fighting the desire to withdraw, hold back, or disengage. The courage we demonstrate often comes in the form of a gut-check that tests our fortitude. The goal is for you to constantly pursue what you set your mind to accomplish, despite the highs and lows and the good and the bad. To stay the course, courage is necessary for you navigate the difficult times and push forward. Just as resilience helps us to bounce back after a tough patch, courage inspires us to stay strong when our fear can overwhelm us and our protective part of the brain tells us to give up.
The crazy thing about courage is that it is not a static quality that consistently resides within us. The reality is that it can wane if we don't use it often. To have the resolve to muster up your courage and develop your courageous muscles, we offer our four-part model: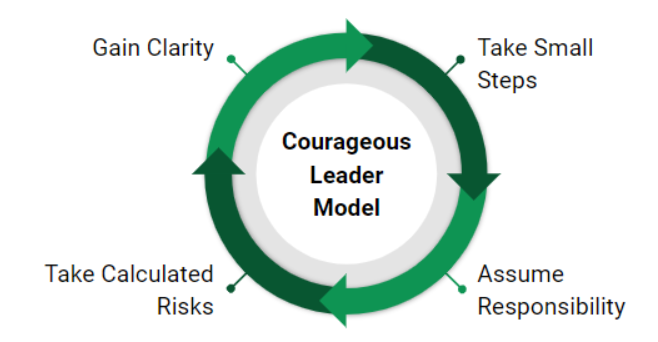 Review: There is a great quote in the original Point Break blockbuster film in which Bodhi says, "fear causes hesitation, and hesitation will cause your worst fears to come true." Despite this character being a bank robber, which we don't advocate in any way, there is real wisdom in his words. Our fears can reduce us to inaction, which is why our Courageous Leadership Model is grounded in 4 key actions that a leader needs to take to move forward.
Gain Clarity

–Courageous leaders identify the problem, challenge, or situation that they need to face head-on.

Take Small Steps

–Courage is not a single large act, but more so the culmination of small courageous decisions that present themselves as a singular courageous move.

Assume Responsibility

–Courageous leaders take ownership of issues that need to be solved.

Take Calculated Risks

–Courageous leaders weigh the evidence to push forward in a measured, courageous fashion.
Reflect:
Having and displaying courage can be exhibited powerfully in a variety of circumstances. We often believe that qualities such as courage, faith, and grit are innate, but in reality they all require focus, deep commitment, and constant attention. Of the four areas of our model, with which one are you most comfortable? And, with which one are you least comfortable?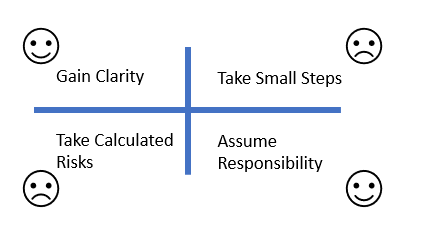 How do I learn to be a more courageous leader…
Learning to be courageous requires practice and reflection on the past to identify areas where you can improve. One way that this is achieved is through gaining the mental clarity needed in challenging yourself to see where you can fill in your own leadership gaps and courageously look at yourself to discover your own weaknesses.
You can discover more about yourself by reading powerful and insightful books that challenge your thinking and stretch you to improve.
What should I read to strengthen my ability to be a more courageous leader?
Review: In our #readthisseries we featured books that highlight real people who we can emulate and real wisdom for the courage we need to succeed as leaders.
Cage-busting leadership by Frederick Hess
Leaders eat last: Why some teams pull together and others don't by Simon Sinek
#AskGaryVee: One entrepreneur's take on leadership, social media, and self-awareness by Gary Vaynerchuk
[youtube https://www.youtube.com/watch?v=vWlY-qKb45Y&w=1013&h=570]
You can't miss our #readthisseries on 3 books you need to read for stronger courage.
Self Assessment:
Leadership is difficult and self-leadership is also incredibly challenging. Our path is often obstructed by issues, mistakes, fear, doubt, and, at times, a lot of critics. Great leaders realize that courage is a quality that we need to develop and nurture. Based on the assessment below, and using a 5-point scale, 1 being ineffective and 5 being highly effective, rate yourself in the areas of the four-part model.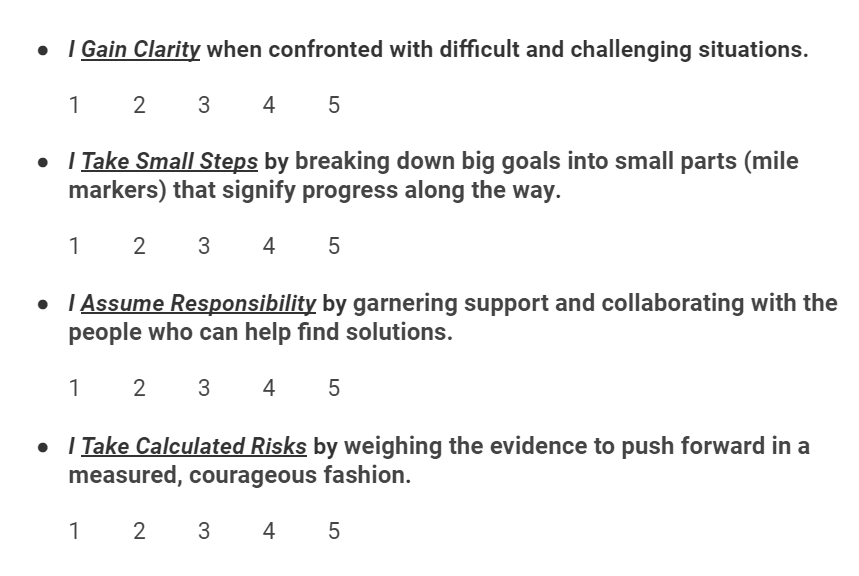 Based on the model, what do you need to develop further?
Who should I follow…
What does an expert have to say about courage and bravery? Kimberly Davis effectively breaks down the power of authenticity and how leaders develop trust.
Review: For our #onethingseries, we interviewed Kimberly Davis.
Action: An expert on authentic leadership, Kimberly Davis shares her inspirational message of personal power, responsibility, and impact with organizations across the country and teaches leadership programs world-wide, most notably, through her program "OnStage Leadership," which runs in New York and Dallas.
Kimberly is a TEDxspeaker and her new book, Brave Leadership: Unleash Your Most Confident, Authentic, and Powerful Self to Get the Results You Need, has been named as the number one book to read by Inc. Magazine's "The 12 Most Impactful Books to Read in 2018."
Listen to the entire podcast on iTunes, One Thing Series, and please rate and like (it helps).
That's our #review&reflect for
Courage
. Take a look back to take a step forward.
TheSchoolHouse302
is about
getting to simple
and maximizing effective research-based strategies that empower individuals to lead better and grow faster.
Please let us know how our leadership posts are working for you, what you are reading to improve yourself, and your thoughts on leadership and growth here on our blog and Twitter. Follow our #onethingseries podcast on iTunes and our #readthisseries on YouTube.
Joe
&
T.J.