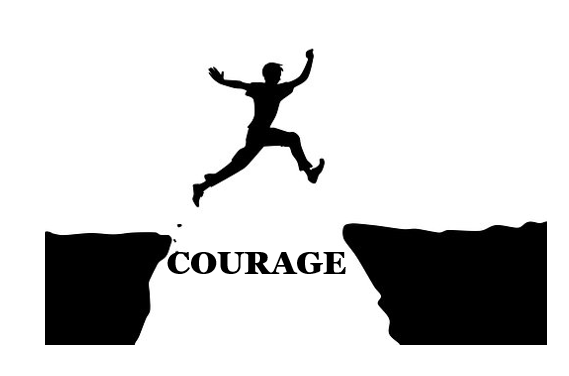 All you need is the plan, the road map, and the courage to press on to your destination. ~ Earl Nightingale
Everyone has faced a moment where they've had to demonstrate courage–doing something unpopular, pushing forward through adversity, or confronting a negative situation. Courage is doing those things in the face of fear and fighting the desire to withdraw, hold back, or disengage. The courage we demonstrate often comes in the form of a gut-check that tests our fortitude to make a difference when we're called upon.
Throughout May, we focused on the power of resilience and and we follow up in June as we take a deep look at what is often considered the most important leadership characteristic of all–courage. Pearse (2017) says that "without courage you can't make a difference. Without courage you can't have the right conversations that lead to change. Without courage you won't even get off the starting block as a leader." This quote resonates with us because it's simple yet true. Whatever you set your mind to accomplish, courage is the primary characteristic that will help you navigate the difficult times to push forward. Just as resilience helps us to bounce back after a tough patch, courage inspires us to stay strong when our brains tell us to give up.
Courage is the catalyst for the athlete to chase her dreams, for the CEO to build an incredible company, or for the school teacher to stand up as an advocate for marginalized groups of students. In 2012, Girls Who Code was born from the courageous idea in closing the gender gap that exists within the field of computer science. Reshman Saujani, founder and CEO, had the courage to "change the image of what a programmer looks like and does." Through their intense summer immersion program and other avenues "Girls Who Code has reached 185,000 girls…and 100 million people through its campaigns, advocacy work, and 13-book New York Times best-selling series (GirlsWhoCode, 2018).
Courage comes in many forms and in different shapes and sizes. We often think of courage as we face massive undertakings, like changing the face of computer science around the world, but, in reality, courage is a virtue that anyone can exercise on a daily basis. And, developing your own courage muscles simply takes deliberate practice. We provide the key strategies highlighted within our Courageous Leader Model as follows:
Courageous Leader Model
#1: Gain Clarity–Identify the problem, challenge, or situation that you need to face head-on. The first step in being courageous is in limiting distractions, including the ways we procrastinate when we know a challenge is looming. Jast, author of Laser-Sharp Focus, posits that too much of our energy is spent concentrating on the wrong problems (2016). It's only when we can gain clarity by targeting the critical issues at hand that we will truly be productive, courageously tackling real issues rather than all of the superfluous aspects of life and work.
#2: Take Small Steps–Courage is not a single large act, but more so the culmination of small courageous decisions that present themselves as a singular courageous move. "When we think about progress, we often imagine how good it feels to achieve a long-term goal or experience a major breakthrough. These big wins are great–but they are relatively rare" (Amabile & Kramer, 2011). The point is that huge courageous endeavors are mostly mythical. Courage starts with taking the first step toward a scary goal. Each small win makes for a giant leap into something you never thought possible. For this reason, great leaders learn to break down big goals into each of the mile markers that signify progress along the way.
#3: Assume Responsibility–Courageous leaders take ownership of issues that need to be solved. Don't wait for others to solve problems, but, rather, garner support and collaborate with the people who can help find solutions. For the ultimate guide on dedication and bravery, we turn to Extreme Ownership by Willink and Babin (2017). Courageous leaders never avoid responsibility. In fact, they inspire trust by assuming the burden of their duty whenever possible. When leaders care about and protect their people, the team will consistently put themselves in harm's way. Conversely, leaders who protect themselves and restrain themselves against the dangers of the work will find their teammates doing the same.
#4: Take Calculated Risks–Nothing great was achieved without taking risks. Positive change brings with it uncertainty and possibilities for failure. Wise leaders weigh the evidence to push forward in a measured, courageous fashion. Coates (2012) reminds readers that taking risks actually tells your body, in a biological sense, that you're entering into a scenario where you're likely to be threatened in some way. But, great leaders learn to identify the threats that risks pose, including the emotions of euphoria or despair that come from potential profits and perils. By understanding their own responses to risky scenarios, as well as the possible gains or losses that may be the outcomes, leaders learn to calculate risks to courageously move forward through balance and bravery. The more risk that leaders are able to take over time, the more they learn to calculate accurately, cycling them back to the clarity needed to identify the true problems that need to be solved in the first place.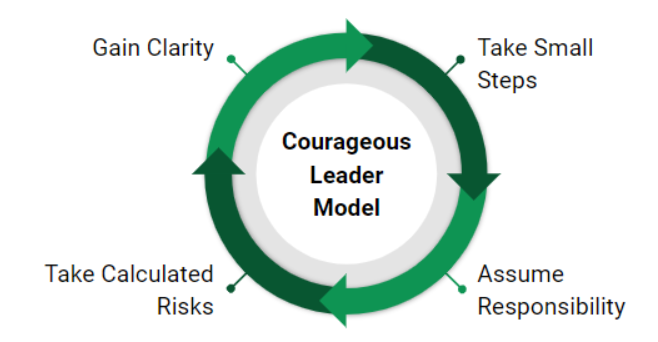 To develop your own courageous leadership attributes, we pose our two Courageous Leader Challenges:
Challenge One: David Goggins, a retired Navy Seal and endurance athlete, in his raw and unforgiving book, Can't Hurt Me (2018), discusses the importance in really taking a hard look at our goals and where we are falling short. He describes standing in front of the "accountability mirror" to admit to yourself, without reservation, the critical areas where you need to improve in life and work. The challenge–stand in front of a mirror in your home, talk to yourself about the key areas of your life where you need to be more courageous. Identify one area and take action. Tell us what you learned through reflection and what you did to take action using #CourageousLeaderChallenge on Twitter.
Challenge Two: Bill George, Senior fellow at Harvard Business School, uses the phrase "the courage cohort" (2017) in identifying courageous leaders who took risks and effectively built global companies. The challenge–identify one or two leaders who you want to study and emulate in your own role. Ask yourself what makes them a courageous leader. When a few attributes emerge, try to imitate that behavior in your own life. Tell us what you learned through your studies and what you did to take action using #CourageousLeaderChallenge on Twitter.
Learning to be courageous takes practice, and it's often the result of the mental clarity in challenging yourself to see where you can fill your leadership gaps and where you can "act" in the ways that the courageous leaders of the past and present inspire us to be more and do better. Being courageous may feel complicated and daunting, but following our Courageous Leadership Model helps to make it simple so that you can be the leader you need to be even when tough times present themselves. All it takes is clarity, small steps, responsibility, and a little risk.
Let us know what you think of this #SH302 post with a like, a follow, or a comment. Find us on Twitter, YouTube, iTunes, Facebook, & SoundCould. And if you want one simple model for leading better and growing faster per month, follow this blog by entering your email at the top right of the screen.
TheSchoolHouse302 is about getting to simple by maximizing effective research-based strategies that empower individuals to lead better and grow faster.
References
Amabile, T. & Kramer, S. (2011). The power of small wins. Harvard Business Review.
Coates, J. (2012). The hour between dog and wolf: Risk taking, gut feelings, and the biology of boom and bust. New York: The Penguin Press.
George, B. (2017, April, 24). Courage: The defining characteristic of great leaders. Forbes.com.
Girls Who Code (2018). The future is sisterhood. Girls who code annual report 2018.
Goggins, D. (2018). Can't hurt me. Lioncrest Publishing.
Jast, J. (2016). Laser-sharp focus: A no-fluff guide to improved concentration, maximised productivity and fast-track to success.
Pearse, S. (2017, May, 29). Courage, the most important leadership virtue. Huffpost.
Willink, J. & Babin, L. (2017). Extreme ownership: How U.S. navy seals lead and win. New York: St. Martin's Press.