The human capacity for burden is like bamboo – far more flexible than you'd ever believe at first glance. ~ Jodi Picoult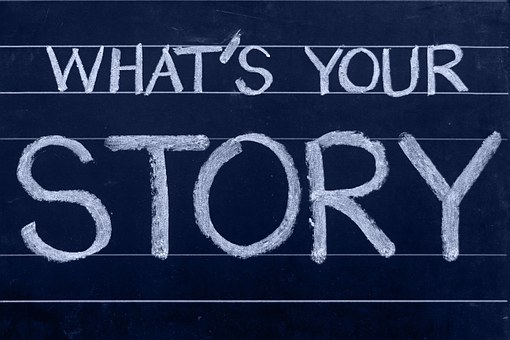 This is
TheSchoolHouse302
's monthly #review&reflect, wrapping up our focus on
Resilience
.
Our review and reflect series offers readers the opportunity to take a deep dive into our leadership content by taking time to reflect and identify the skills you need, to explore how you can learn those skills, and to connect with industry leaders to follow to gain greater expertise.
Skills I need…
Resilience is the defining quality that prevents someone from accepting the status quo.
Being resilient, possessing the ability to withstand various challenges and then quickly bouncing back from setbacks and adversity, regardless of their magnitude, is something we all desire to have in our leadership toolbelt. Life is a series of issues that can weigh us down and create great feelings of vulnerability. We love the quote by Vince Lombardi: "fatigue makes cowards of us all," because fatigue manifests in many forms–physical, emotional, mental, and so on. The goal is to build your resiliency muscles to push through walls, blast past boundaries, and climb to new heights.
To do so we offer insight into how to develop the qualities necessary to enhance your ability to be more resilient. The six techniques are housed within the acronym R.E.S.I.S.T. to serve as a mnemonic to call upon in times of need.
Review: We chose the word R.E.S.I.S.T. to serve as a quick way to remember key ways to help develop resilience. It's also designed to help you remember to R.E.S.I.S.T. the temptation to give into circumstances and situations in which you are tempted to wallow, creating self-doubt or self-pity. We never deny the hardships people face on this planet; there are a tremendous places of darkness, ready to consume anyone. However, what we know is that in order to truly live with passion and lead with courage, you need to be in a resourceful state. The following reflection is designed to help you live in a productive place or self-worth and persistence:
Reflect: Developing resilience requires action. We often want to think that qualities such as courage, faith, and grit are innate, but in reality they all require focus, deep commitment, and constant attention. The following mnemonic is simple way to remember the key characteristics to actively help you refocus, stay centered, and remain poised.
Regulate your self-talk by using positive and forgiving language.
Exercise discipline over the things you can control and let go of the things you can't.
See potential in every situation to make a positive impact.
Interpret challenges with a measured perspective and a belief that the situation can be improved.
Solidify your core values and key principles.
Take decisive action with purpose and clarity.
How do I learn those skills…
We find incredible value in the power of reading and not only learning about specific topics but also the people within the pages of the books we read. This month we featured three books that dive deep into the human spirit and how great leaders lived a resilient life. In many cases, the greatest of leaders have done so amid very difficult times.
What should I read to strengthen my ability to remain resilient?
Review: In our #readthisseries we featured books that highlighted real people that we can emulate that all showed great resilience in very different ways.
A wrestling life: The inspiring stories of Dan Gable by Dan Gable
Leadership in turbulent times by Doris Kearns Goodwin
Endurance: Shackleton's Incredible Voyage by Alfred Lansing
You can't miss our #readthisseries on 3 books you need to read for a more resilient mindset.
Self Assessment:
Leadership is difficult and self-leadership is also incredibly challenging. Our path is often obstructed by issues, mistakes, fear, doubt, and, at times, a lot of critics. Great leaders realize that resilience is a skill that can be learned. Based on the assessment below, and using a 5-point scale, 1 being ineffective and 5 being highly effective, rate your resilience based on your ability to R.E.S.I.S.T.: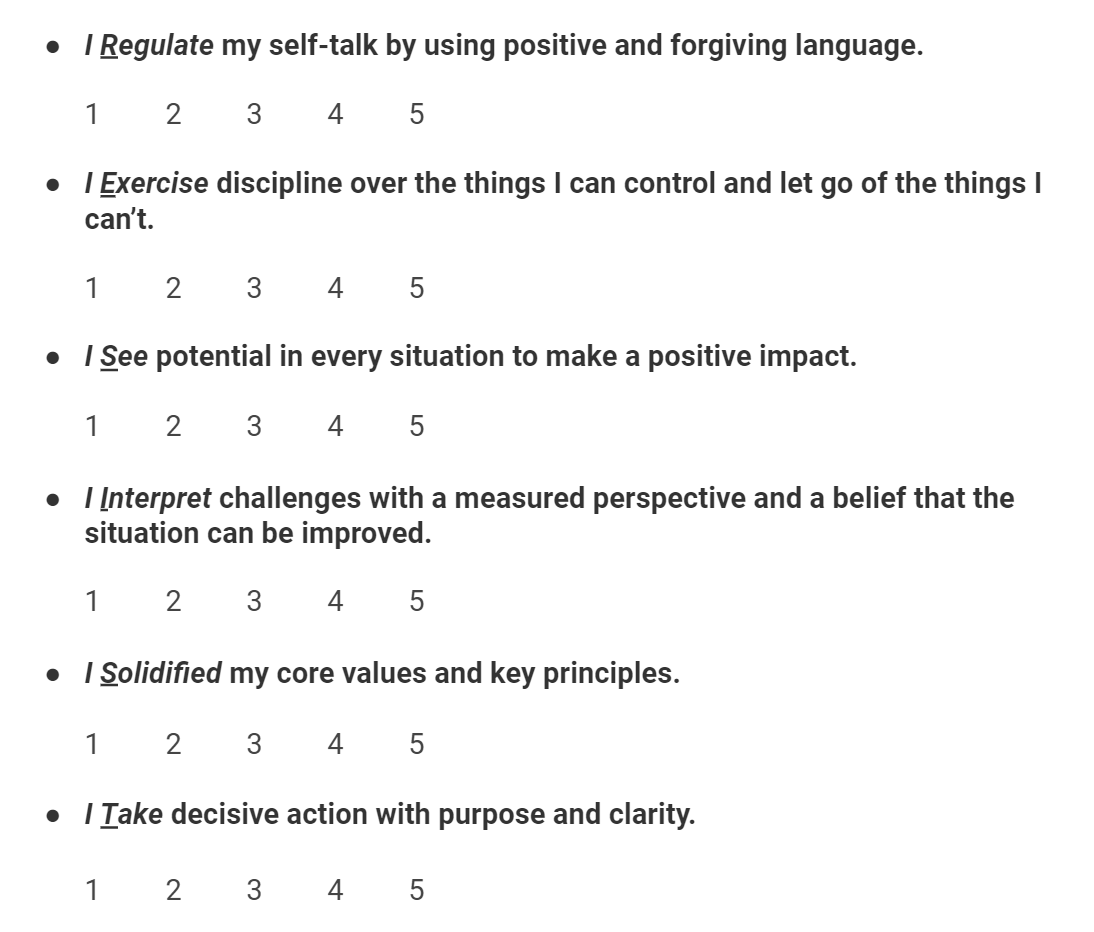 Based on the statements above, which aspect of the R.E.S.I.S.T. model do you need to develop further?
Who should I follow…
What does an expert have to say about resilience and learning to persist in harsh environments?
Review: For our #onethingseries, we interviewed John Beede.
Action: John is an expert on peak performance, resilience, and leadership, many of the lessons he learned while pursuing his life's biggest dream: reaching the summit of Mount Everest. We were truly impressed with John and his outlook on life. He told us that the mountains are his inspiration. Climbing keeps him centered as a person. He also took time to explain how he values himself and creates a lifestyle that honors his values.
Listen to the entire podcast on iTunes, One Thing Series, and please rate and like (it helps).
That's our #review&reflect for
Resilience: 6 Techniques for Bouncing Back
. Take a look back to take a step forward.
TheSchoolHouse302
is about
getting to simple
and maximizing effective research-based strategies that empower individuals to lead better and grow faster.
Please let us know how our leadership posts are working for you, what you are reading to improve yourself, and your thoughts on leadership and growth here on our blog and Twitter. Follow our #onethingseries podcast on iTunes and our #readthisseries on YouTube.
Joe
&
T.J.