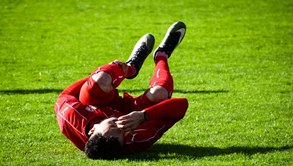 Being resilient, possessing the ability to withstand various challenges and then quickly bouncing back from setbacks and adversity, regardless of their magnitude, is something we all desire to have in our leadership toolbelt. Life is a maze of new ground to traverse, and if we are not careful, we can quickly lose perspective, dwell on a mistake, or become overwhelmed with doubt and fear. We all want to be resilient, persevere, and endure the shots. Despite circumstance, we want to stay laser focused on our values and purpose. Fortunately, it is possible to have the capacity to be resilient. There are tons of examples throughout human history, and we can use those examples to create our own techniques for bouncing back when things get tough. Although we offer a formula for helping you learn the needed skills, one thing that remains pivotal in our own understanding of resilience is that some of the most talented people, both living and dead, have suffered tremendously. There are stories of terror and defeat and yet so many leaders still find a way to move forward. As an example, Lincoln is heralded for his unwavering courage and steadfastness in one of the darkest periods of the United States. We often look to him with inspiration and admiration. Rarely discussed, though, is the fact that,
During a bleak winter in 1840, thirty-two-year-old Abraham Lincoln fell into a depression so profound that his friends feared he might kill himself…Most troubling to Lincoln was the realization that his reputation had been compromised. (Goodwin, 2018)
After Lincoln had promised a better economy for Illinois, the state experienced a devastating recession and much of the community infrastructure that he guaranteed fell through with Lincoln shouldering much of the blame. As time passed, and with the help of key people, Lincoln rebuilt himself, started a law firm with a partner and soon thereafter married. The incredible lesson we learn from this story is that even in the darkest times we can survive and position ourselves to make the impact our communities need and deserve. Lincoln, and many others, show us that resilience is primarily a product of our ability to resist our own faults and fear becoming our personal prison.
The truth is that we may not face the grim reality that Lincoln encountered, but as leaders we are constantly subjected to pressures, conflict, and resistance that can become a heavy burden that can negatively impact our performance. In the profound book, Flow, by psychologist Mihaly Csikszentmihalyi (Me-high-Cheek-sent-me-high), the primary message about resilience is clear: "of all the virtues we can learn, no trait is more useful, more essential for survival, and more likely to improve the quality of life than the ability to transform adversity into an enjoyable challenge" (2008). To offer some insight into how to develop the qualities necessary to enhance this ability, we offer six techniques housed within the acronym R.E.S.I.S.T. to serve as a mnemonic to call upon in times of need. The goal is to resist falling into states-of-mind and negative behaviors that are unproductive and potentially damaging to ourselves, our careers, and the people around us. These tools are gleaned from various sources and incredible experts on the topic, such as Martin Seligman from the University of Pennsylvania's Positive Psychology Center. Learning to find your focus, gain perspective, and remain or quickly re-enter a resourceful state is what we are trying to achieve at all times, especially when we hit a period of interference with our goal attainment.
Regulate your self-talk by using positive and forgiving language.
In Jon Gordon's The Positive Dog (2012), he discusses the notion that we should talk to ourselves in a positive manner versus listening to our negative self-babble. The difference is profound. We can either choose the words we use when we address ourselves or passively listen to whatever comes to mind when we make a mistake. We have two dogs gnawing away at our souls, a positive dog and a negative dog. You need to choose which one to feed (Gordon, 2012).
Challenge: Next time you make a mistake and you find yourself kicking yourself, take a quiet moment to: 1. Identify the error and its "real" impact, 2. Expose how or why you made the mistake, and then 3. Decide what to do differently in the future. Write all three down on a piece of paper, then crumple it up and throw it away. Tweet #MasteredMyMistake @TSH302 to let us know that you used this technique.
Exercise discipline over the things you can control and let go of the things you can't.
International bestselling mental strength author, Amy Morin reminds us that "you can't force your spouse to change, you can't prevent a storm from happening, and you can't control how other people feel…sometimes all we can control is our effort and attitude" (Morin, 2017). That's actually good news, especially for control freaks who often try to control everything but find themselves unable to control anything. Resilience, especially in the worst of times, is often defined by how a leader responds in terms of their work ethic and/or their positive outlook. When times get rough, leader often try to control more, micromanage the situation, or frustrate themselves with what everyone else is doing, thinking, and feeling. Resist the urge, and let it go.
Challenge: When we feel out-of-control, we must be reminded that our best point of control is own effort or attitude. We must learn to let everything else go. Next time you find yourself trying to control a situation when you can't or worrying about something incessantly that is out of your control, take a deep breath: 1. Realize what you are trying to control, 2. Note that it is not helpful, and then 3. Identify the space where your effort and attitude will mean the most. Write all three down on a piece of paper, then crumple it up and throw it away. Tweet #ILetItGo @TSH302 to let us know that you used this technique.
See potential in every situation to make a positive impact.
"In the face of uncertainty, people who conform pull away to a safe place to protect themselves. Adaptable leaders who make leadershifts lean into uncertainty and deal with it head on" (Maxwell, 2019). The biggest difference between leaders who accept the status quo versus those who push forward for positive impact is in the ability to see potential even when faced with fear and uncertainty.
Challenge: Work hard to see the potential positive outcomes versus the negative repercussions in any situation. Next time you are faced with an unpredictable or particularly worrisome scenario: 1. Don't retreat no matter how strong the urge may feel, 2. Look for all potential outcomes and silver linings, and then 3. Pick the most positive impact and work toward that as the goal. Write all three down on a piece of paper, then crumple it up and throw it away. Tweet #PotentialPositiveImpact @TSH302 to let us know that you used this technique.
Interpret challenges with a measured perspective and a belief that the situation can be improved.
"If we want to be able to select the reality that will lead to greater productivity, engagement, and revenue growth, we first need to recognize that we have control over how we choose to interpret the objective facts in our external world" (Achor, 2013). Using a measured perspective that any situation can be improved means shutting out the thoughts and preconceived notions that you have about any scenario before entering into it. Achor (2013) tells readers to battle their perspective by pursuing the most valuable reality, which means that we must recognize alternatives. Realizing that there are more vantage points than the first one that comes to mind is the first step to measuring multiple perspectives and choosing the best option.
Challenge: Let go of your predetermined beliefs about what the world should look like (Achor, 2013). Next time you feel yourself interpreting a challenge in one way: 1. Realize that your first perspective might not be the only reality, 2. Conjure up as many alternative perspectives as possible, and then 3. Pick one that best matches an improved future. Write all three down on a piece of paper, then crumple it up and throw it away. Tweet #MultiplePerspectives @TSH302 to let us know that you used this technique.
Solidify your core values and key principles.
"High-performing, values-aligned teams and companies embrace the promises they make to each other and to customers" (Edmonds, 2014). By solidifying your core values and key principles, you can hold yourself and others to the behaviors that are associated with the actions that you need to take to move forward. We can often become paralyzed by the ambiguity of day-to-day operations. We resist the emptiness of the mundane by having solid principles by which to live.
Challenge: A huge step in resisting the negativity that holds us back when we need to be resilient is in a reconfirmation of our core values. Next time you feel like your work or life is not making sense: 1. Reflect on the thing that seems to be distracting your work, 2. Go back to your core value statements or principles and highlight what matters most right now (write them out if you don't have them already have them), and then 3. Identify a key next step and move forward based on your passion and purpose. Write all three down on a piece of paper, then crumple it up and throw it away. Tweet #PassionateLeadership @TSH302 to let us know that you used this technique.
Take decisive action with purpose and clarity.
"Strategic decisiveness is one of the most vital success attributes for leaders in every position and every industry, but few leaders understand where it comes from or how to find more of it" (Tasler, 2013). The best way to make a solid decision is to go back to your purpose and clarify your next set of critical action steps. In times of doubt, leaders can easily get stalled and find fault in every decision they might think to make. The best course of action as a resilient leader is to take action and move forward.
Challenge: Resist the desire to back off or back down. When we doubt ourselves, we can be left with inaction. Instead take massive action. Next time you feel yourself questioning what to do: 1. Identify the decision that needs to take place, 2. Weigh your options with a clear list of pros and cons, and then 3. Pick the action that best aligns with your purpose and do it. Write all three down on a piece of paper, then crumple it up and throw it away. Tweet #MassiveAction @TSH302 to let us know that you used this technique.
Learning to resist is a process that takes time. Like learning to meditate or practicing any other process in furthering your mental acuity, it takes preparation, training, and tons of hard work. But resilient leaders know how to bounce back from even the most difficult circumstances in life and at work. The key is in using these six qualities to enable yourself to push past whatever is in the way of reaching your goals. We hope to hear from you regarding our model for R.E.S.I.S.T. Next time you feel the need to be resilient, use this model to bounce back with the best of them.
Let us know what you think of this #SH302 post with a like, a follow, or a comment. Find us on Twitter, YouTube, iTunes, Facebook, & SoundCould. And if you want one simple model for leading better and growing faster per month, follow this blog by entering your email at the top right of the screen.
TheSchoolHouse302 is about getting to simple by maximizing effective research-based strategies that empower individuals to lead better and grow faster.
References
Achor, S. (2013). Before happiness: The 5 hidden keys to achieving success, spreading happiness, and sustaining positive change. New York: Random House, Inc.
Csikszentmihalyi, M. (2008). Flow: The psychology of optimal experience. New York: Harper Row.
Edmonds, S.C. (2014). The culture engine. Hoboken, NJ: John Wiley & Sons.
Goodwin, D.K. (2018). Leadership in turbulent times. New York: Simon & Schuster.
Gordon, J. (2012). The positive dog: A story about the power of positivity. Hoboken, NJ: John Wiley & Sons.
Maxwell, J. (2019). Leader shift: 11 essential changes every leader must embrace. HarperCollins.
Morin, A. (2017, May, 13). 6 Ways to stop stressing about things you can't control. Retrieved from https://www.forbes.com/sites/amymorin/2017/05/13/6-ways-to-stop-stressing-about-things-you-cant-control/#4497024130db
Tasler, N. (2013). Just make a decision already. Harvard Business Review.