Introduction
Passion is the fuel that drives every great leader to be their best and to influence the success of those around them. Passionate leaders are contagious because their work transcends the routine policies and practices that are designed to drive a task; instead of working for assignment completion, they focus on values. Their work moves beyond the mundane toward significance and the daily interactions they have with others that create meaningful relationships over time (Dalio, 2017). Passionate leader do more than influence other individuals to achieve greatness. They create cultures of success, and they cultivate both a vision and a brand by taking action and showing the way. Through demonstrated passion, they integrate the brand of the organization with the purpose it serves for customers and employees alike. "You must cultivate a distinct culture that is fully aligned with your brand identity–that is so well integrated with it that it is hard to distinguish what you do internally from who you say you are externally" (LeeYohn, 2018). Leaders who can unite the people around a shared vision that speaks to the organization's values are those who will revolutionize any industry for the future, and they always possess the same three qualities. Passionate leadership is defined by a leader's keen ability to combine three key elements: a growth mindset, a strong work ethic, and a positive attitude. The challenge that passionate leaders face is that to maintain this critical combination, we have to learn how to overcome some of the counterintuitive aspects of practicing each consistently.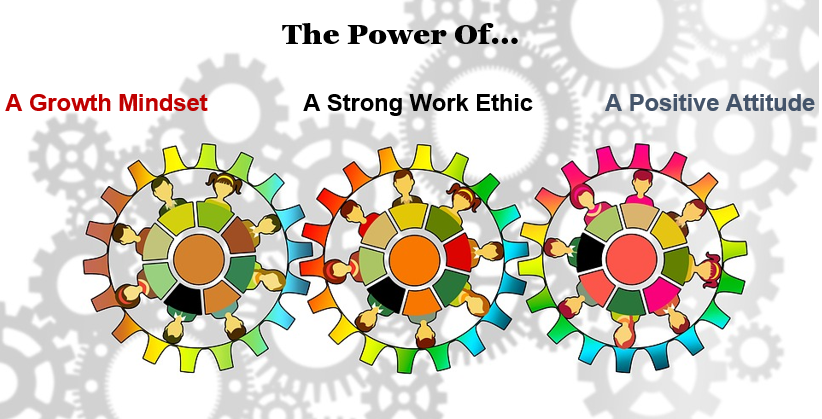 The Power of a Growth Mindset
The first element in the makeup of a passionate leader is the desire to grow as a person to increase one's overall effectiveness. Passionate leaders believe two things: 1. They believe that they can and will grow as a result of professional learning experiences, and 2. They believe that growing is essential to leading better for the sake of others. The growth mindset of a passionate leader is the power that they have in helping themselves to help others. They want to accomplish more by adding more value, and they know that they will succeed if they can improve their own capacity along the way. Their work permeates the culture so that everyone desires to do more and be more for the sake of the team. But, it doesn't happen when we only focus on growing the people who are doing the work; we have to intentionally spend time of self-leadership. As leaders we can fall into the trap that our job is to consistently develop others, but without self-development, leading ourselves first, we cannot be our best for everyone else  and the culture that our organization needs to be its best (Lawrence, 2017).
Spotlight: Justin Comegys and Ry Culver are two Delaware educators. They demonstrate the power of a growth mindset, and they inspire others to do the same. Both of these influencers are taking risks, creating curious environments for teachers and students, and sending the message that the learning systems of the past are not what students need in the future. They are not only creating success for themselves but working to create cultures of success for students in every classroom in the schools where they lead. You can find more from Justin and Ry on Twitter @twoguysde.
The Power of a Strong Work Ethic
When things get tough, passionate leaders choose to respond with more energy and enthusiasm. Often, when work piles up, we can be tricked into believing that systems, more support, and perhaps a better balance in our life will reduce stress and anxiety. The truth is that passionate leaders never ask for a lighter load, instead they pray for a stronger back, which is the work ethic they invoke to overcome a challenge. We tend to think that "work ethic" is doing more, digging into the thick of things to get unstuck, but that doesn't work to gain momentum. Spinning the wheels faster will rarely lift you into a better position for any given problem. The best examples of a real work ethic, alternatively, are when we stay focused, "obsessing" on what matters most to yield the greatest result (Hansen, 2018). Passionate leadership requires leaders to have precision in all of their resolve to produce results and create new outcomes within the current culture. It's all about a concerted effort in the right direction, and not just about doing more. It means working harder for a stronger capacity, not complacency, and it's not about one person. For organizations to be successful, passionate leaders create a culture of hard work that manifest is both beliefs and behaviors.
Spotlight: Cynthia Jewell is no stranger to hard work. In fact, when challenges surface, and the path seems to be getting even more arduous, Cynthia pushes forward with more grit and determination. She told us a story about a time at Stockbridge Elementary when she experienced a 40% teacher turnover due to a journey that the school began, which included a harder look at student performance, collaborative structures in PLCs, and frequent visits to classrooms to provide instructional feedback. The resistance, though, transformed itself to a newly found purpose and passion over time, and it came with better results and improved experiences for students and staff. She transformed the culture of her school through the passion she had, and it made all the difference for everyone on the team. You can learn more from Cynthia on Twitter @SESPRINCIPAL16.
The Power of a Positive Attitude
Positivity might be the most important ingredient in a leader, and it's a practiced skill. In fact, positive psychology has a growing body of research from which to draw. Researchers have typically been apt to study general patterns by ignoring outliers, but in the area of positivity, more is being done to look at how the most positive people behave that everyone else can learn to replicate (Achor, 2010). Although counter to what we might think about positivity, it can be learned and consistently applied, even during adverse situations (Breuning, 2007). And, positivity is contagious within the culture of any organization. When the leader is positive, it's much more likely that everyone else will be too. Positivity is not a fool's attempt to ignore reality, though, but it is a wise man's approach to confronting all situations. Passionate leaders always create a winning culture, not because they have great expertise, necessarily; their advantage, rather, is that they have learned how to keep a positive mindset, grounded in purpose and focused on achieving predetermined goals.
Spotlight: Taylor Armstrong is about as inspiring as any educator we've met. He is constantly lifting others and showing the way. As a "tech-guy," he developed networks of student-led tech teams to support a 1:1 movement in his district. The best part, as he explained, was the ways in which the students were celebrated. The positivity that Taylor brings to the work we do is what keeps himself and others on the fast track to success. He knows that it takes a positive attitude to change the culture of any school so he goes about his day influencing the culture to celebrate the people. That's how passionate leaders systematize positivity; they create a personal brand by being the change that they want to see in the world. You can join in on the fun by following Taylor on Twitter @TAYLOR_does_IT.
Making Mantras Matter
As leaders, we often need reminders about the important work versus what might get put on our plates as the urgent work of the day. We have to know that we are more than just a cog. We are living within a culture that needs clarity in our vision and purpose in our work. We like to use mantras as messages to ourselves regarding how to stay focused on our core beliefs. Valuing growth experiences, work ethic, and a positive outlook is a critical formula for success, but even more than knowing the formula is taking action. Great leaders are always focused on the intentional pursuit of excellence. It requires determination and daily impact. The definition of leadership is influence. The challenge of leadership is conflict. The result of leadership is change. We do not get to overcome conflict to make change through influence without learning to grow, working hard, and staying positive. We use the following three mantras on a regular basis to refresh our thinking and our intentions as we approach all of our tasks in work and life. They ignite our passion, and we hope you'll use them to ignite your own.
Today

I will grow by challenging myself to be the best I can.

Today

I will work harder than yesterday because there isn't anything more important than now.

Today

I will lift people through positivity.
Some of the content for this blog is inspired by our research for an upcoming book we wrote with Salome Thomas-EL, Passionate Leadership: Creating a Culture of Success in Every School, which is scheduled to be released in June 2019, by Corwin. It's a deep dive into what great leaders do, including real stories from the field of education, so that you can ignite your passion every single day. It's ready for pre-order, and we hope you'll check it out. Either way, we hope you like our passion-culture formula. Let us know how you use it.
Let us know what you think of this #SH302 post with a like, a follow, or a comment. Find us on Twitter, YouTube, iTunes, Facebook, & SoundCould. And if you want one simple model for leading better and growing faster per month, follow this blog by entering your email at the top right of the screen.
TheSchoolHouse302 is about getting to simple by maximizing effective research-based strategies that empower individuals to lead better and grow faster.
____________________
This blog post is adapted from a guest blog that we wrote with Salome Thomas-EL for the National School Transformation Conference. You can find it here. We hope to see you at the conference.
Joseph Jones is the Director of Assessment and Accountability in the New Castle County Vocational Technical School District in Delaware. He's a co-author of Candid and Compassionate Feedback: Transforming Everyday Practice in Schools and the forthcoming Passionate Leadership: Creating a Culture of Success in Every School.
Salome Thomas-EL is a nationally recognized speaker and the Principal of Thomas Edison Charter School in Delaware. He is the author of The Immortality of Influence and I Choose to Stay. He is a co-author of the forthcoming Passionate Leadership: Creating a Culture of Success in Every School.
T.J. Vari is the Assistant Superintendent of Secondary Schools and District Operations in the Appoquinimink School District in Delaware. He's a co-author of Candid and Compassionate Feedback: Transforming Everyday Practice in Schools and the forthcoming Passionate Leadership: Creating a Culture of Success in Every School.
References
Achor, S. (2010). The happiness advantage: The seven principles of positive psychology that fuel success and performance at work. New York: Random House, Inc.
Breuning, L.G. (2007). The science of positivity: Stop negative thought patterns by changing your brain chemistry. Avon, MA: Adams Media.
Dalio, R. (2017). Principles: Life and work. New York: Simon & Schuster.
Hansen, M. (2018). Great at work: How top performers do less, work better, and achieve more. New York: Simon & Schuster.
Lawrence, K. (2017). Your oxygen mask first: 17 habits to help high achievers survive & thrive in leadership & life. Lioncrest Publishing.
LeeYohn, D. (2018). Fusion: How integrating brand and culture powers the world's greatest companies. Boston: Nicholas Brealey Publishing.