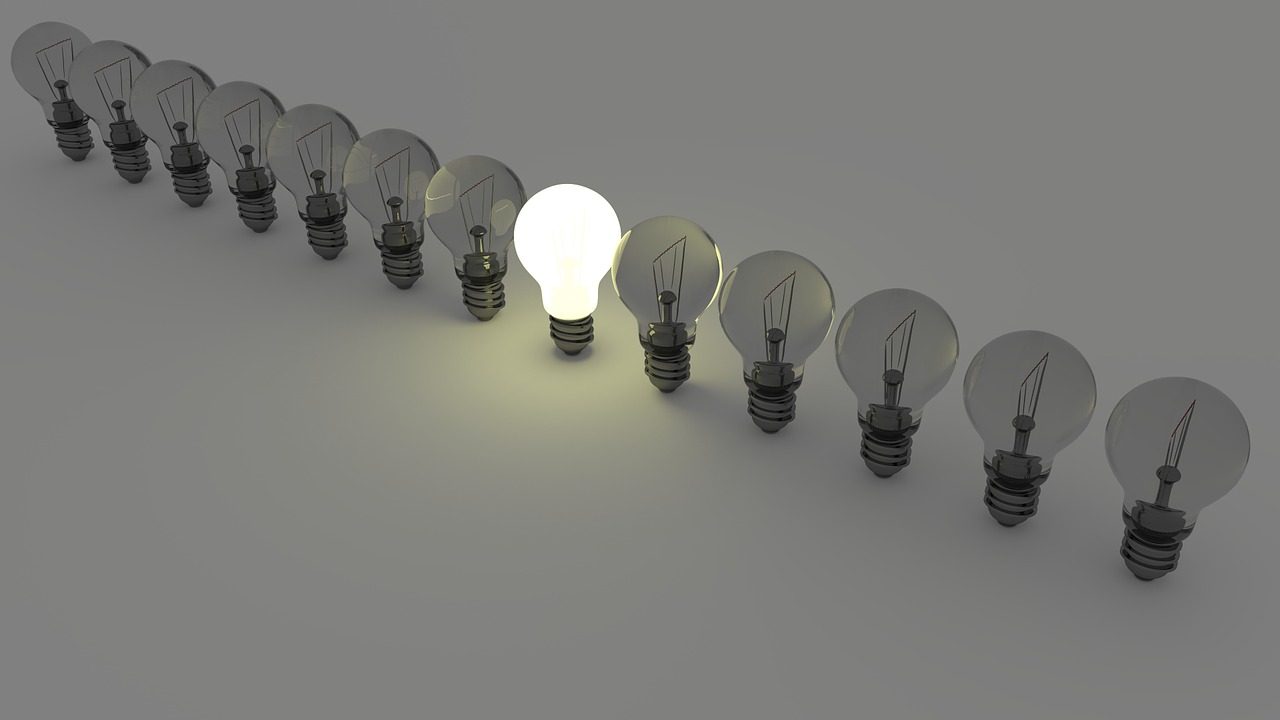 The month of March is home to a few very special events: 1. Joe's birthday (we'll leave out his age), 2. St. Patrick's Day, and 3. Some incredible college basketball. In the spirit of March Madness, and high functioning teams with masterful coaches, we want to take a deep dive into the leadership legacy of three legendary college basketball coaches who built phenomenal teams with winning programs.
Narrowing our list down to three coaches was not an easy feat. We looked at leadership qualities that attract and develop winning players and chose three coaches from the present and past that epitomize the ability to recruit and build. Our first choice is the famous John Wooden who is believed, by many, to be the greatest men's college basketball coach of all time, and. quite frankly. an all-around incredible person. John Wooden's influence and attention to detail is unparalleled. Known for having his team lace their shoes the same way, he built a team culture that translated to wins on the court. Our second pick is Michael Krzyzewski, known as Coach K, who has emerged as the face of college basketball and routinely demonstrates his ability to lead young men amidst the most formidable opponents. There is a reason why he has the most wins of any coach in college basketball history. Lastly, our third choice is a pioneer in women's college basketball and the former coach of the Lady Vols. Pat Summitt, who achieved greatness with over 1000 wins and eight national women's championships, is a leader among leaders. She is known for both her toughness as well as her ability to prepare her players.
Each coach mentioned above is a model leader with his or her own set of skills. One powerful way to grow as an individual is to look into the lives of great people, many of whom you may never know personally, and dissect the characteristics and qualities that set them apart from others. Psychologists have long realized the power in modeling behaviors, and the result it has on personal perceptions of self-efficacy (Bandura, 1977). Social learning theorists, such as Albert Bandura, revealed that humans are capable of emulating behavior by mimicking the qualities and actions of others. And, in doing so, attain those same characteristics and even attitudinal tendencies. The three coaches that we selected as models embody servant leadership, the ability to overcome doubts, and an unwavering commitment to excellence. You can harness the power of each to become a giant in your own field.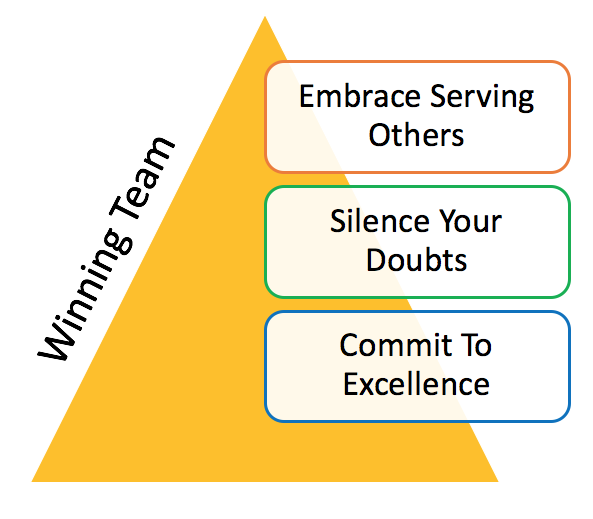 #1–Embrace Serving Others
Talent is God given. Be humble. Fame is man-given. Be grateful. Conceit is self-given. Be careful. ~ John Wooden
We first heard this quote in an interview with Tony Dungy during the 2010 Chick-Fil-A Leadercast and it immediately resonated with us on the importance of our role as a leader and how we must manage our self first. In order to successfully lead others, self-management is critical. Coach Wooden "won a record 10 national titles, including seven straight from 1967 through 1973. His teams reached 12 Final Fours, and they won 88 straight games between 1971 and 1974" (Araton, 2010). Despite his incredible success, he remained humble and embraced his success with gratitude and responsibility. Leaders are charged with influencing others to reach a desired goal. Achieving this is the art of leadership. Servant leaders embrace their position as an honor, and they always recognize that the greater the team they build, the greater their success will be. In Coach Wooden's case, the success he earned was an avenue to inspire and encourage other people, both professionally and personally. Wooden was not affected by the fame; his incredible success, and the fact that he only had one losing season throughout his career, actually increased his desire to serve others. His simplicity defines precision and reveals that we achieve our goals when we focus on what matters most—the team of people around us.
Leadership Challenge: The school year is half over, and this is a great time to reflect on how well you and your team are achieving the goals that were set forth in the beginning of the year. Coach Wooden was known for a unrelenting focus on the fundamentals. In schools, the most important space is the classroom. Instructional leaders always ask themselves the same question: how well are the fundamental aspects of instruction being implemented in every classroom, every day? Ask yourself this question, and then spend as much time possible in your important spaces.
Click here for more John Wooden.
#2–Silence Your Doubts
I think you're not human if you don't have doubts and fears. ~ Coach K
This quote demonstrates that even Coach K, a rock-solid winner, experiences doubts and fears. It's hard to imagine that a West Point graduate with an incredible record of success still has difficulty with uncertainty and angst. We often believe that because of his success, a coach like Mike Krzyzewski would be different–void of the trivialities that plague a common person. Coach K is heralded among basketball enthusiasts, and even if you are not a Duke basketball fan, it's hard to deny his leadership on the court. He embodies stoicism and maintains a discipline that many leaders desire but don't achieve. He exemplifies the art and science of teaching, coaching, and leading. His ability to take a group of individuals, each uniquely gifted with incredible talent, and mold them into a single high functioning unit, both at the college level and among NBA superstars, is astounding. But that doesn't mean that he's absent of the unease that is the paradox of extreme greatness. In fact, the most successful people often have the worst demons when it comes to the personal pressure that they place on themselves (Maddock, 2019).
We all face challenges with insecurity and an internal dialogue that can be "downright self-destructive" (Morin, 2014). The difference is that some of us learn to silence the inner chatter that can cause a stumble or even a fall. Our confidence and courage naturally wane during difficult times, and when that happens, our passion and goals become blurry. In order to persevere, we need to understand the fickle nature of confidence and allow our principles to be our own guide with the courage necessary, no matter what, to pursue each goal we set, regardless of the circumstances. The key is to know your why and that when we put our why into words, it "provides the emotional context" for every decision (Sinek, 2009). Keeping the end in mind and staying focused are success strategies that work every time.
Leadership Challenge: Regardless of your role within a school, whether you are support staff, a teacher, or an administrator, continual growth should be everyone's goal. Identify a doubt or fear that you need to move past to be a better leader. Write it down on a sheet of paper, connect with the doubt or fear by analyzing the worry down to its root and then walk over to a paper shredder and destroy it. This physical act of destruction can help you move beyond the doubt so that it literally no longer exists. Making the doubt tangible and then shredding it creates mental space for you to move forward. Always remember Tony Robbins' advice, "everything you need is already within you." Our thoughts don't have to be our reality unless we allow them to be.
Click here for more about Coach K.
#3–Commit to Excellence
Here's how I'm going to beat you. I'm going to outwork you. That's it. That's all there is to it. ~ Pat Summitt
In only a few short phrases, this quote from Coach Summitt demonstrates her style in a nutshell. Her work ethic, and the work ethic that she demanded from her players, is legendary. Expecting excellence requires a relentless intensity and focus, two qualities that Coach Summitt possessed for herself and every team she coached. She distinguished herself, on and off the court, as a fierce competitor and a pioneer in women's basketball and sports in general. Summitt began coaching in 1974, and her success was jaw-dropping; up until 2012, when she decided to retire due to an early onset of Alzheimer's disease, Pat Summitt was truly a remarkable coach with a stunning commitment to excellence.
She certainly had her fair share of critics, due to her on-court style of coaching and her unwavering demand for quality. But, these same attributes were the very tools that she used for ground-breaking excellence. In a powerful piece published by Forbes, Akhtar (2016) revealed two specific behaviors used by Coach Summitt, which directly impacted the performance of her players. First, Summitt's discourse and feedback with her players was overwhelmingly instructive. She consistently gave her players real-time feedback to improve. Second, she praised her players often. Interestingly, this finding contradicts much of the public perception of Coach Summit; nonetheless, a closer looks finds that her specific praise guided her players to precision, even when her outward approach seemed abrasive.
Leadership Challenge: Each year we have expectations of ourselves to execute at a high level and achieve our school and district's goals. Take an hour or so, sit down, and reflect on someone with whom you work. What is excellent about the outcomes of their work? Plan to give them specific praise about their performance. This should be something unique and powerful that makes them an exceptional educator. Leaders who give specific praise are able to encourage others to feel pride and repeat their performance for continued success.
Click here for more on Pat Summitt and the Pat Summitt foundation.
Leadership is difficult. The path is always obstructed by issues, mistakes, fear, doubt, and, at times, a lot of critics. Great leaders realize, though, that the goal is much bigger than themselves. For this reason, they remember to serve others first, to remain humble yet confident, and to take comfort in knowing that today's mistakes are tomorrow's lessons. They embrace servanthood, silence their own doubts, and commit to greatness. Life truly is analogous to playing a game, like basketball, where having a team to surround you is the first step in being able to make the right moves. Leaders know that to win we must maximize the talents of every player, move about the whole court without limitations or fear, and take every opportunity to reach our fullest potential. When we learn how to lead better and grow faster by modeling from the giants, we gain clarity in what we must do for our teams to reach their goals.
Let us know what you think of this #SH302 post with a like, a follow, or a comment. Find us on Twitter, YouTube, iTunes, Facebook, & SoundCould. And if you want one simple model for leading better and growing faster per month, follow this blog by entering your email at the top right of the screen.
TheSchoolHouse302
is about
getting to simple
by maximizing effective research-based strategies that empower individuals to lead better and grow faster.
Joe
&
T.J.
References
Akhtar, V. L., (2016, July, 8). What I learned about leadership from Pat Summit. Retrieved from
https://www.forbes.com/sites/johnkotter/2016/07/08/what-i-learned-about-leadership-from-pat-summitt/#6bcb5d2b459a
Araton, H. (2010, June 5). Wooden Journeyed Far, Anchored By His Roots. Retrieved from
https://www.nytimes.com/2010/06/06/sports/ncaabasketball/06araton.html
Bandura, A. (1977).
Social Learning Theory
. New York: General Learning Press.
Morin, A. (2014, November, 6). Taming Your Inner Critic: 7 Steps To Silencing The Negativity Retrieved from
https://www.forbes.com/sites/amymorin/2014/11/06/taming-your-inner-critic-7-steps-to-silencing-the-negativity/#156135d87feb
Maddock, M. (2019).
Plan D: Lessons from the world's most successful disruptors
.
Sink, S. (2009).
Start with why: How great leaders inspire everyone to take action
. New York: NY Penguin Group