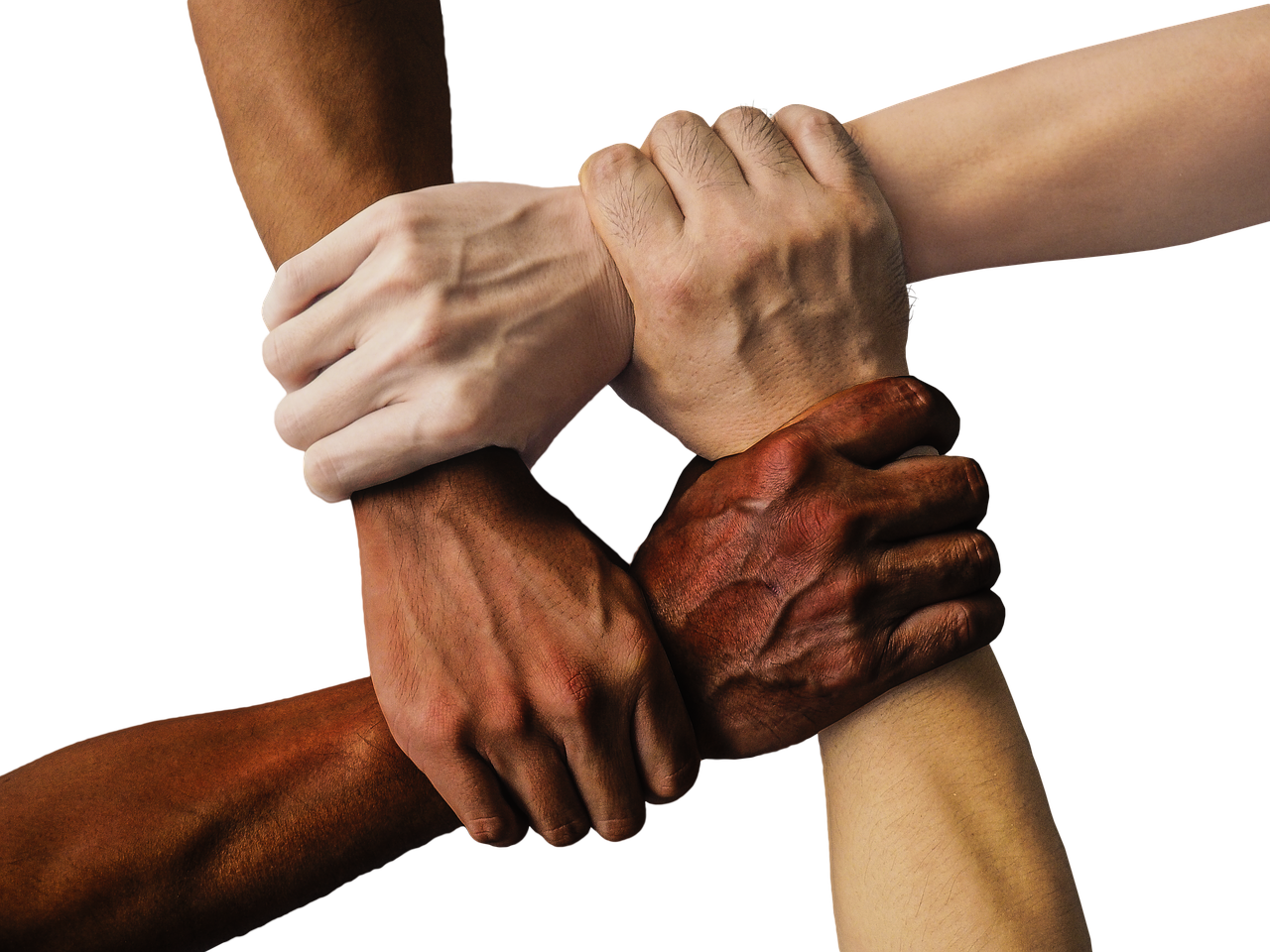 "A tribe is a group of people connected to one another, connected to a leader, and connected to an idea. For millions of years, human beings have been part of one tribe or another. A group needs only two things to be a tribe: a shared interest and a way to communicate." ~ Seth Godin
The Tribal Force: A Compelling Cause
The magnetic force of great relationships is unbelievable. Perhaps the bond comes from something simple, even crazy, like an idea, a belief, or even hopefulness and the possibility of a future. Regardless of what it is, as Seth Godin (2008) writes, "human beings can't help it: we need to belong." This desire to belong is based on wanting to make a difference, and it is born from passion. As humans, we have a tremendous need to connect, to be a part of something meaningful and powerful that can inspire and transform people and communities. We see this in every sector of life, where people come together to be part of something that gives them meaning, hope, identity, and a cause. Within the professional realm, and as a leader, the power of your cause must be so compelling that it harnesses an unbridled belief that drives the work. The cause lives in the gap between good environments and great ones. There are three vital elements associated with harnessing people and leveraging the power of what we call Tribal Forces. But, be careful because each tribal force has its own tribal trap.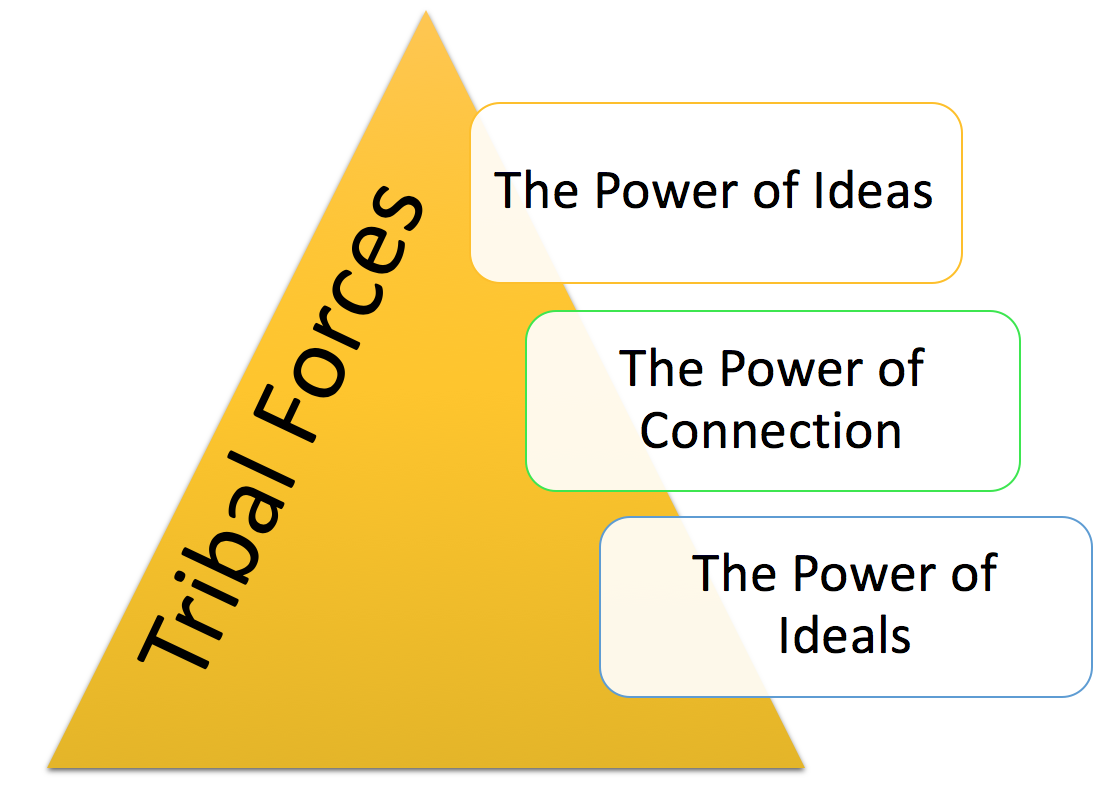 The Power of Ideas
We live in a world with a great deal of information, and it can be challenging to filter the noise so that we can more clearly hear the important messages amidst all of the clamor and commotion. Consider YouTube as a world provider of instructional videos and a massive messaging outlet for people of all ages. With over 400 hours of content uploaded every minute, YouTube has over 1 billion hours of material watched every day. Despite the enormity of idea-sharing available on the platform, there is one video that over 5 million people have enjoyed, posted by Derek Sivers in 2010, called the First Follower: Leadership Lessons from the Dancing Guy. The essence of this 3-minute recording demonstrates that for great ideas to grow, they must always attract a first follower. To have power and the ability to develop a strong tribe, ideas must generate momentum. The first follower supports the movement by actually inviting others to be included. In this case, we're talking about a wacky dance, but any idea can be the force that forms a tribe of people. The clear communication of a concept coupled with only a few early adopters is precisely what makes for a viable audience and a shared acceptance for one another. "If the leader is the flint, the first follower is the spark that makes the fire." Sharing an idea is always the first step in creating a tribe.
Tribal Trap #1: A Dangerous Leadership Flaw
Many leaders operate in isolation, lacking transparency and subsequently failing to attract those who will support and champion the work. The Dancing Guy was available for everyone to see, which ultimately engaged the first follower, and, in turn, drew a massive crowd. Too many leaders are trapped by a lack of openness. To break the barrier, we must share ideas, which means that we might fall prey to ridicule and judgement. If you study The Dancing Guy, you realize that prior to the first follower there were plenty of jeering, laughter, and even taunting around his peculiar dance moves. But real leaders always keep dancing despite any disparagement or scorn. Don't fall into the trap of isolation just because your first follower hasn't arrived yet. Next time you feel the need to shut yourself off from the world to get the work done, ask yourself who else should be on the team: Is there a movement, or am I alone?
The Power of Connection
Isolation not only limits the power of an idea, it also dramatically diminishes a leader's ability to influence. Humans are inherently social, and we thrive in networks of association. Benjamin Hardy, author of Willpower Doesn't Work, reminds readers of a 75-year study of two groups, conducted by Grant and Glueck at Harvard University. The study revealed that relationships have an incredible impact on both health and wellbeing, to include longer, happier lives when they're strong, especially in later years and in marriage. The devastating reality is that our current social constructs encourage too much independence and a greater emphasis on individualism. According to Sebastian Junger (2017) much of our psychological stress is due to the growing social insistence that we must be unique in every way. But, we must fight against the urge to create our own avatar by using the force of connection with others. A strong community helps people live and cope with the harsh circumstances that we face each day in life and work. Our very nature is designed for fellowship, and although a world of social media might seem "social," it limits our personal connections. Humans thrive on a sense of purpose, which includes the ability to contribute to a larger cause. The one common ingredient that separates great leaders from average leaders is their emotional intelligence and their distinct ability to connect with all walks of life. Highly influential leaders are responsive to the needs of their people because of their ability to empathize deeply. Through the building of strong social networks, they increase everyone's sense of belonging to one another and the work. They spark the force of a tribal connection.
Tribal Trap #2: A Dangerous Leadership Flaw
Too often leaders overly rely on their cognitive prowess and technical expertise to lead their organization. Although both are critical, it is only by harnessing the power of the people, through strong interpersonal connections within the organization, that we truly yield tremendous results. By listening and remaining sensitive to key signals, an attuned leader will hear far more than just what is being said. The trap is in thinking that technique, protocols, policies, and procedures are what govern important outcomes, and that's not the case. It's relationships. If we're not thinking together, we're not working together. Next time you have an inclination to create a new policy or protocol, stop and ask yourself if everyone is on the same page: Are we a community, or am I the expert?
The Power of  Ideals
On this very day, January 6, 1941 (the day of this post), Franklin D. Roosevelt delivered his powerful "Four Freedoms" speech. FDR's state of the union address was truly a cry to uphold our greatest ideals by fighting for freedom against enemy forces to protect our global tribe. His call for the U.S. to end neutrality and engage in war epitomizes the sacrifice that needs to be made when we truly believe in, and are guided by, our beliefs. Most leaders will never have to face the grave decision of going to war, but all leaders will need to make the difficult decisions to ensure alignment to their company's ideals. Christine Comaford is an applied neuroscience expert in the field of behavioral modification and organizational development. She teaches that it's only through focus, clarity, accountability, influence, and sustainability that leaders can create a culture where progress can take place rapidly and still maintain alignment. The critical difference that distinguishes progressive companies from those who lag behind in any given industry is through leadership practices and decisions that reinforce the organization's purpose. This means that ideals have to be front-and-center in the decision-making process so that everyone, particularly the leaders, are grounded in what matters most. When we operate within a set of defined ideals, we are positioned to take risks, working faster and harder within our organizational community. Communicating ideals, just like FDR did in 1941, creates an incredible force that binds a tribe together so that they can rally together and progress faster as a group.
Tribal Trap #3: A Dangerous Leadership Flaw
Leaders can often get trapped by thinking that logic and reason should guide the work. In doing so, we can be convinced that the most coherent path is the most rational and therefore sensible way to go. But that's not true when it comes to what guides people, especially groups of people who have a specific task to complete. This is where ideals are most critical because they bring decisions into focus. Next time you begin to respond to a problem with analysis and reason, stop to check that core values are guiding your thinking: Is this the logical next step, or is it the next best step based on our values?
Conclusion: Tribal Forces Trifecta
When people are connected through their passion for a particular topic of interest, through a social connection where they can relate to one another, and through a common set of ideals, they create an organizational environment that is forecasted to consistently win. A movement occurs when an idea spreads. People don't follow when they don't feel connected. And, no one can move forward when the guideposts aren't clear on the road ahead. The challenge is that leaders need to protect themselves from being isolated, from thinking that expertise alone is enough, or from making decisions with reason only. The good news is that leadership is skill that can be practiced and sharpened, which is best done by relying on the tribe. Those of us who desire to lead better and grow faster can do so by deliberately practicing within our organizations, focusing on our strengths, reflecting on our capacity, and developing a tribe around us.
Let us know what you think of this #SH302 post with a like, a follow, or a comment. Find us on Twitter, YouTube, iTunes, Facebook, & SoundCould. And if you want one simple model for leading better and growing faster per month, follow this blog by entering your email at the top right of the screen.
TheSchoolHouse302 is about getting to simple by maximizing effective research-based strategies that empower individuals to lead better and grow faster.
References and Resources
Comaford, C. (2013). SmartTribes: How team become brilliant together. New York: Penguin.
Godin, S. (2008). Tribes: We need you to lead us. New York: Penguin.
Hardy, B. (2018). Willpower doesn't work: Discover the hidden keys to success. New York: Hachette Books.
Hardy, B. (n.d.). This 75-year Harvard study shows how to have a lifetime of joy. Thrive Global.
"Sebastian Junger: 'Tribe: On Homecoming and Belonging' | Talks at Google." YouTube, YouTube, 10 Nov. 2017, www.youtube.com/watch?v=kHosF5Wzyd4.
Sivers, D. (2010, February 02). First Follower: Leadership Lessons from a Dancing Guy. Retrieved December 26, 2018, from https://sivers.org/ff
Goleman, D. (1996). What Makes a Leader? Reprinted in The essentials. (2011). Boston, MA: Harvard Business Review Press.