This is TheSchoolHouse302's monthly #review&reflect, wrapping up our focus on Avoiding the Performance Trap: Staying Focused to Improve Time, Energy, and Efficiency. Our review and reflect offers readers the opportunity to take a deep dive into our leadership content by taking time to reflect and identify the skills you need, how you can learn those skills, and industry leaders to follow to gain greater expertise.
Skills I need…
Everyone seems to be moving at the speed of light, busier than ever. This reality makes learning how to work efficiently, effectively, and productively a key to anyone's success. The challenge is not falling into the Performance Trap, a place where we are achieving at high levels, but in many respects, our life is out of control. The question is, how well do you manage yourself and your obligations, so that your work is intentionally focused on the most important responsibilities each day?
Review: This month we focused on the Performance Trap and how you can stay focused on the things that are most important throughout your day. We introduced our readers to Jonathan, a highly successful business executive who is just finding way too much work at the end of the week. Despite his best efforts, he is often derailed by incoming emails, text messages from colleagues, unplanned phone calls, and what seems to be an endless run of meetings. He has his own work to accomplish, but the uncontrollable amount of "emergency" questions and additional problems find their way to his office on a regular basis, leading to longer days and nights.
Jonathan needs to manage what he has within his direct and indirect control, and he needs to release the items that he cannot control. But like many leaders who are caught in this trap, he doesn't see how things ended up like this, let alone how to begin making his way out of it.
The remedy we propose is to T.E.E. Up Your Day:
T.E.E. Model for Managing Your Day Effectively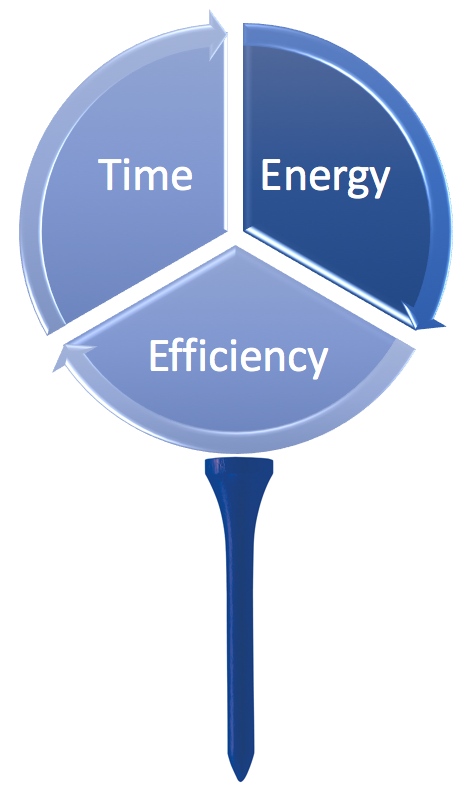 Reflect: The beauty of this model is that it includes the areas over which we have control. T.E.E. Up Your Day is a focusing-strategy that enables leaders to gain clarity around what matters, staying crystal clear with time, energy, and efficiency so that you can lead better and grow faster intentionally.
Teeing it up is not only about staying focused, it's about being a better leader for yourself and others by taking control of the areas of your life that you can always manage, which is a strength-based approach to leading.
The first step is a focus on Time–Block Fill Your Calendar. Every position has recurring tasks, so identify all them in your current role, estimate the time the task takes, and then add it to your calendar. This seems simple enough, but many leaders do not take the time to schedule repetitive events, meetings, and tasks that eat up a lot of time if not accounted for within the day. This simple strategy helps create a realistic picture of the available time you actually have throughout your day and week. The second step focuses on Energy–Have a Bucket. This is a simple tool, whether a notecard, notepad, or electronic device to record all the random thoughts and ideas that pop into your head throughout the day. Putting these ideas, reminders, and thoughts in a "bucket" simply frees up space in your mind for other thoughts and ideas to live and develop. The third strategy is a focus on Efficiency–Don't Do the Same Work Twice. Just think about how many times you have looked at the same email or memo not knowing what to do with it. This can be a major time crusher; the key is to decide, today, to develop a system for how to handle incoming information, especially those items that you are unsure of that sit in your inbox for days on end.
T.E.E.-ing up your day is not a silver bullet, rather it provides proven simple strategies that are effective in creating a realistic picture of your workload and avoiding unnecessary but common time crushers.
Take time to reflect on your daily work and productivity and decide where exactly you can T.E.E. up your day.
How do I learn those skills…
What should I read to become more focused, intentional, and effective?
Review: In our #readthisseries we featured the work of authors who clearly articulate the power of staying focused through practical strategies and tools that anyone can adopt:
Presence: Bringing your boldest self to your biggest challenges by Amy Cuddy
Time management from the inside out: The foolproof system for taking control of your schedule by Julie Morgenstern
Attention pays: How to drive profitability, productivity, and accountability by Neen James
You can't miss our #readthisseries on Staying Focused, Paying Attention, and Being Present in the Moment.
Reflect: Do you have control over your work day? Do you feel like each day you don't accomplish what you need to? Are you frustrated with your productivity due to interruptions?
Effective and productive leaders recognize how precious time is and quickly learn effective strategies to maximize their day.  How well do you control and manage your time and your productivity? Based on the 3-part assessment, and using a 5-point scale, 1 being ineffective and 5 being highly effective, rate yourself:

Based on the questions above, which aspect of three-part model for how to T.E.E. up your day do you need to focus on immediately?
Who should I follow…
What does an expert have to say about staying focused?
Review: For our #onethingseries, we interviewed Neen James. Neen is the author of Folding Time™ and her latest book Attention Pays™ is available at bookstores around the world. Over the past two decades, Neen has been advising some of the coolest companies in the world, including Viacom, Comcast, Paramount Pictures, and even the FBI, on how to improve their strategic planning, communication, and leadership development.
Reflect: Throughout the interview, Neen emphasized the need to prioritize our priorities and how 15 minutes a day can truly make all the difference in the world. She talks about the common mistakes that we tend to make regarding time management, and she reminds us that it's our attention that we manage, not our time.
Listen to the entire podcast on iTunes, One Thing Series, and please rate and like (it helps).
Do your daily habits set you up for success? Why or why not? What could you change right now that would make a strategic difference in your ability to stay focused?
That's our #review&reflect for Avoiding the Performance Trap: Staying Focused to Improve Time, Energy, and Efficiency. Take a look back to take a step forward.
TheSchoolHouse302 is about getting to simple and maximizing effective research-based strategies that empower individuals to lead better and grow faster.
Please let us know how our leadership posts are working for you, what you are reading to improve yourself, and your thoughts on leadership and growth here on our blog and Twitter. Follow our #onethingseries podcast on iTunes and our #readthisseries on YouTube.