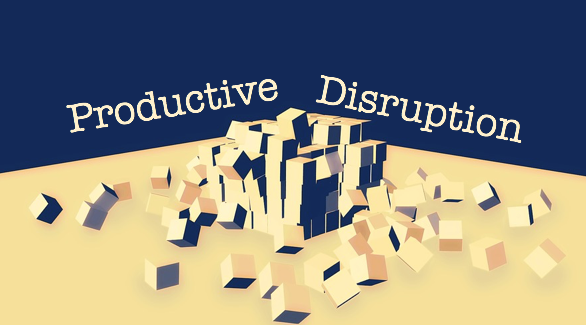 This is TheSchoolHouse302's monthly #review&reflect, wrapping up our focus on Productive Disruption: Cultivating Organizational Growth through Solution-Driven Ideals. Our review and reflect offers readers the opportunity to take a deep dive into our leadership content by taking time to reflect and identify the skills you need, how you can learn those skills, and industry leaders to follow to gain greater expertise.
Skills I need…
Moving forward in a productive, efficient, and effective way is the goal of every organization. Targets are set and efforts are employed. The reality is that the path toward the goals we work to achieve is riddled with obstacles and challenges that require unique and different insights if we want to arrive at new possibilities and impressive results. The question is, how well do you create an environment that embraces ideas with the intent to birth innovation?
Review: This month we focused on productive disruption. Who better to feature than the controversial but undeniably master disruptor himself, Steve Jobs? Jobs was driven, profound in his thinking, possessed an uncanny ability to say no, and cared deeply about the collaborative process. We feature him not only because of his leadership prowess and incredible impact on Apple and Pixar, two companies where he was CEO, but mainly because of his contribution to our society. Job reminds us that the potential to disrupt is available to everyone and every organization. It is not limited to a select few, but rather to those who decide to skillfully leverage problems as opportunities by creating a culture that demands people to willingly identify and fix areas that need to be improved. This fosters an environment where innovation and ideation are the norm rather than the exception.
With a desire to understand this process, TheSchoolHouse302 synthesized the research, collected the evidence, and developed a three step process to embrace innovation and create a path toward success that everyone can follow.
Productive Disruption Model
Reflect: The beauty of this model is that it combines proven approaches to solving issues but adds additional processes because we recognizes how those efforts are limited in solving more systemic issues throughout an organization. The first step is to Problem Solve. We promote the "yes, and" approach to collaborative problem solving because it accepts the common or typical solution and takes it a step further by asking for more. This deliberate style of collaboration requires participants to add more: more thinking + more ideas = more solutions. The second step is a little more challenging because it requires Constructive Dissonance. This is challenging because we live in a world that is very afraid to offend others, and unfortunately, we are more apt to ignore an issue than solve it if it means inciting potential conflict and inflicting emotional pain. Until we work in an environment where we can respectfully share our ideas, thoughts, perceptions, and critiques, we will limit our ability to innovate due to the invisible ceiling our behavior creates. We recognize dissonance is difficult, but it is a servant-based leadership quality; at its core lives humility, transparency, and vulnerability. If this type of work culture can be created, then the the third step of our disruption model can flourish, which is Break It. This step embraces the fact that things may be going great, but improvement and breakthroughs are achieved through risk and the desire to confront challenges as unprecedented opportunities. Incorporating Step Three into your organization requires extreme focus on three areas:
How we support people.

How we establish culture.

How we create space for productive disruption to occur.
The following ideals are critical to building an organization that values innovation as a central purpose. These three ideals are each grounded in evidence and research, and they represent true leadership.
"Break It" Ideals Model
As a leader, are you willing to live by these three ideals to do what it takes to build a culture of innovation?
How do I learn those skills…
What should I read to enhance my ability to disrupt and to foster an environment where others are willing to speak out against the status quo?
Review: In our #readthisseries we featured the work of authors who clearly articulate the power of productive disruption through practical strategies and tools that anyone can adopt:
Rebel Talent: Why it Pays to Break the Rules at Work and in Life by Francesca Gino
Linchpin: Are You Indispensable by Seth Godin
David and Goliath: Underdogs, Misfits, and the Art of Battling Giants by Malcolm Gladwell
You can't miss our #readthisseries on Learning to Disrupt and Break Rules Productively.
Reflect: Do you have a good pulse on your work environment? Do you and others feel comfortable sharing ideas? Do you and others have the opportunity to problem solve and offer different ideas?  Of the three part model for how to create an innovative environment, which area will you start focusing on today?
Great leaders recognize that ideas can emerge from anywhere and that employee voice is powerful. How well do you create an environment that creates productive disruption for the betterment of the organization?  Based on the 3-part Break It model, and using a 5-point scale, 1 being ineffective and 5 being highly effective, rate yourself:

Who should I follow…
What does an expert have to say about productive disruption?
Review: For our #onethingseries, we interviewed Francesca Gino who is the Tandon Family Professor of Business Administration in the Negotiation, Organizations & Markets Unit at Harvard Business School and the author of Sidetracked: Why Our Decisions Get Derailed and How We Can Stick to the Plan and Rebel Talent: Why It Pays To Break The Rules At Work And In Life.
Reflect: Throughout the interview, Dr. Gino emphasized the need to rethink and reframe our understanding of "rebels" in the workplace. She shares the 5 key talents that rebels possess and how leaders can encourage rebelliousness by creating an environment that inspires people to push boundaries in a positive and healthy way. Listen to the entire podcast on iTunes, onethingseries, and please rate and like (it helps).
Does your organizational culture and leadership style promote rebel behavior? Why or why not?
That's our #review&reflect for Productive Disruption. Take a look back to take a step forward.
TheSchoolHouse302 is about getting to simple and maximizing effective research-based strategies that empower individuals to lead better and grow faster.
Please let us know how our leadership posts are working for you, what you are reading to improve yourself, and your thoughts on leadership and growth here on our blog and Twitter. Follow our #onethingseries podcast on iTunes and our #readthisseries on YouTube.