This is TheSchoolHouse302 monthly #review&reflect, wrapping up our focus on professional dialogue, taking the fear out of giving feedback.
Skills I need…
Communication is at the heart of everything we do. We are constantly sending messages, both verbally and non-verbally, communicating to others, sharing our thoughts, ideas, expectations, and more.  In our professional circles, if we want individuals to perform at their best and organizations to function optimally, clear communication must govern all aspects of our work. The question is, how well do you communicate as a leader?
Review: This month we focused on common issues leaders face when communicating, particularly on how to provide constructive feedback to an employee who is doing well, but certainly can grow in other areas. We featured an all too common scenario in many organizations. Dan, the manager in our story, struggles with giving Samantha, one of his direct reports, feedback for a variety of reasons. Primarily, despite her personal productivity, her tremendous energy, and charisma, unfortunately, her efforts, at times, are misplaced and detract from the focus of the team. So, to help Dan, we offer our 5Cs of Professional Dialogue, which not only concentrates on the power of communication, but also the critical importance of relationships.
The 5Cs of Professional Dialogue is a model for ongoing professional conversations. It's meant to demonstrate the need for clear and ongoing communication with an overarching emphasis on providing feedback to people within your organization for growth and development to reach goals.
Openly

Communicate

throughout the organization to create transparency and productive discourse.

Does your communication style create dialogue to open up avenues for you to easily approach others and for them to approach you?

Always communicate

Clearly

so that everyone is on the same page.

Are your organization's goals clear enough to use in a conversation regarding performance?

Use

Candor

to reduce confusion, add clarity, and achieve success.

Is your feedback specific, candid, two-way, and ongoing?

Be in their

Corner

to help them grow and develop.

Does your feedback communicate that you're in the person's corner no matter what you're saying?

Demonstrate

Care

so that everyone is working in an environment of support and growth with high expectations.

Do your words and actions demonstrate care for the people in your organization?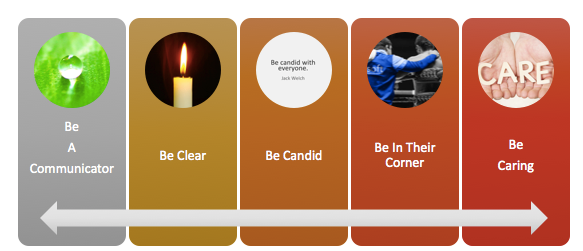 Reflect: Each C, whether it focuses on clarity or being in someone's corner, contributes to effective communication. Communication is complex and individuals possess strengths and weaknesses under this large leadership umbrella. To grow in your ability to communicate effectively, review each of the Cs and determine which one you need to focus on to improve your communication effectiveness. To grow systematically, we encourage you to adopt the same strategy Benjamin Franklin used to live a virtuous life. Franklin identified 13 virtues that he wanted to live by; each week, he focused on only one with the goal of developing that particular virtue. So, for the 5Cs, simply start with one of them and focus on that area throughout the week; then, each week thereafter, identify another one of the Cs and make it your focus. Over time, you will develop your skills to learn to do each effortlessly.
As a leader, are you willing to do what it takes to be a great communicator, to build relationships, to hear what others need to say, and to provide critical feedback to achieve the desired results of your organization?
How do I learn those skills…
What should I read to enhance my ability to communicate effectively and provide specific ongoing feedback to those I lead?
Review: In our #readthisseries we featured the work of authors who clearly articulate the power of effective communication through practical strategies and tools that anyone can adopt:
Conversational intelligence: how great leaders build trust and get extraordinary results by Judith Glaser
Crucial conversations: Tools for talking when stakes are high by Patterson, K., Grenny, J. McMillan, R. & Switzler, A.
Fierce leadership: A bold alternative to the worst "best" practice of business today by Susan Scott
You can't miss our #readthisseries on the Art of Communication and Feedback. Watch it again here.
Reflect: Do you have a clear understanding of how well you communicate? Have you asked someone you can trust to give you candid feedback on your skill level? How well do you create an environment of vulnerability where open communication is demanded? Of the five-part model, which area will you start focusing on today?
Great leaders understand that poor communication cripples organizational effectiveness.They also realize that open communication is a cultural norm that is reinforced and modeled by their actions and behaviors. The question is how well do you communicate?  Based on the 5-part model, and using a 5-point scale, 1 being ineffective and 5 being highly effective, rate yourself: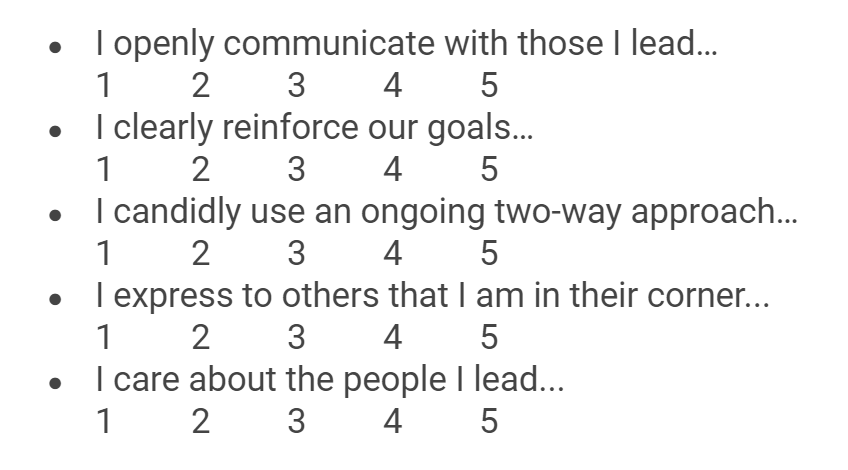 Who should I follow…
What does an expert have to say about effective communication?
Review: For our #onethingseries, we interviewed Judith Glaser, who is the world's leading authority on Conversational Intelligence®, WE-centric Leadership, and Neuro-Innovation.
Throughout the interview, Judith emphasized how we can move into richer, deeper conversations when we are truly invested in the people we lead. She spoke about how conversations can be powerful when we suspend judgment, when we desire to really hear what the person is saying, and when we adopt a co-creational approach to communication.
Reflect: Judith shared that she realized as a child that her thoughts and ideas were different. As a result, she made sure to develop her thoughts and gain a greater understanding about herself and the ways in which we communicate as humans. As a leader, we can adopt the same approach by allowing ourselves and others to think and share as freely as possible. The goal is to develop an organization where ideas and innovation are the result of clarity and safety.
Does your organizational culture allow for information and ideas to flow freely?
John Maxwell's (2007) law of the lid describes how an organization can only rise to the level of the leader. Essentially the leader will place a "lid" on the organization and those she leads. Mastering the art of communication immediately establishes a higher lid, or ceiling, for the organization to expand and reach new heights. We must willingly learn to master communication to take ourselves and others to a whole new level of performance.
That's our #review&reflect for Professional Dialogue. Take a look back to take a step forward.
TheSchoolHouse302 is about getting to simple and maximizing effective research-based strategies that empower individuals to lead better and grow faster.
Please let us know how our leadership posts are working for you, what you are reading to improve yourself, and your thoughts on leadership and growth here on our blog and Twitter. Follow our #onethingseries podcast on iTunes and our #readthisseries on YouTube.
Maxwell, J. C. (2007). The 21 irrefutable laws of leadership: Follow them and people will follow you. Nashville, TN: Thomas Nelson.