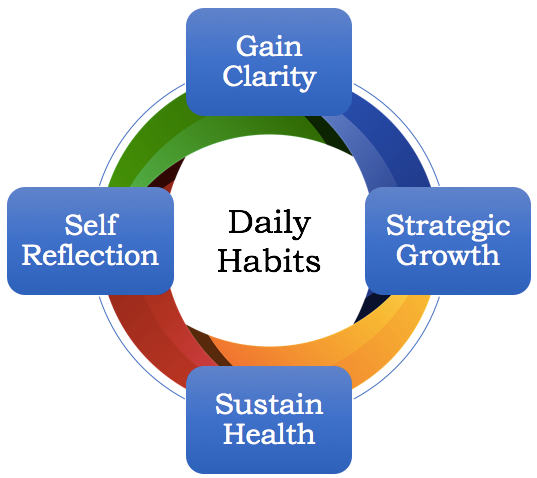 Lao-Tzu, father of the Chinese philosophy Taoism, is known for his brilliantly insightful quote: "The journey of a thousand miles begins with a single step." We love this saying because it captures the core of long-term success and the wisdom that it takes to not worry about how far there is to go, but rather to just start walking. Each step forward moves you closer to success, creating both opportunities and challenges, and the key is handling both successfully along the way. To do so, there are several daily practices that certainly give you a greater chance of prosperity and an edge when leveraged appropriately. We find that the following four buckets yield incredible results, are relatively easy to fit into your everyday routines, and are mentioned by many of our podcast guests, and other recognized experts, as must dos for effective leadership. There are tons of micro-habits and daily structures that lead to long-term success, but these four will maximize all of the other strategies you're using to improve your daily, weekly, and monthly outcomes.
#1 — Gain Clarity
Our first key aspect of a successful day is how to gain clarity. We all need clarity so that we know what to focus on, we know how to handle differing situations, and we know what decision to make when varying options present themselves. One way to gain clarity is to create space between your mind and the situation, and one great way to do that is through physical activity. For many, our day jobs are essentially desk jobs, constantly requiring mental focus and exertion. Exercise provides a much needed break from the daily mental marathon we run. Anyone who has ever been grappling with an important decision and finds clarity in the first half mile of a 6-mile run understands this concept from a practical standpoint, but the research is clear on movement and the mind (Cuddy, 2015). Studies find that movement, and even posture, has a distinct impact on attitude, learning, and creativity.
Clarity: Working Out.

Use physical activity to free your mind from the routine pressures and stresses of the day. Exercising releases endorphins that can create a positive feeling, reduce stress, and help you gain clarity.
Technical Tip: Schedule your workouts at the beginning of the week. Use Sunday evening to review your work schedule to ensure that you have sufficient workout time. Even when you find time to work out that wasn't on your schedule, go back and add it. Track the number of workouts you do per week to set minimum and maximum goals.
Resource: Check out BenGreenfieldfitness.com. Ben was voted America's top personal trainer in 2008.
#2 — Strategic Growth
Our second key habit to long term success is to learn from the great minds of the past and present by reading important literature. You have the opportunity everyday to learn, grow, and connect with incredible thinkers. Immersing yourself into reading and learning creates connections and "when you make connections, so does your brain, literally forging new pathways between regions in all four lobes and both hemispheres. Over time, these neural networks can promote quicker thinking and may provide a greater defense against the worst effects of cognitive decay" (Specktor, 2017). The best leaders are readers, and they develop the habit of reading on a regular basis, if not daily. The average CEO reads 60 books a year, and it may be the number one most important growth strategy there is for those of us who want to learn to lead better and grow faster.
Growing: Read.

Whether you read professional journals or books, take time to dive into literature to gain new perspectives and ideas on topics and issues related to your professional and personal life. Allow yourself to be immersed in the readings, and be sure to escape from the incessant interruptions from technology.
Technical Tip: Commit to reading a certain number of pages every day on a specific topic you desire to learn more about. Identify highly regarded books and journals on the topic and then dig in. If you read ten pages a day, which will take roughly 15 to 20 minutes, you will finish a book a month. The key is creating a standard number you must read and build the habit into your routine.
Resource: Audible.com is a great way to immerse yourself into literature and turn your car into a classroom.
#3 — Sustain Health
Our third daily habit is to sustain your health by eating well. When you take time to exercise and read, to stimulate the mind and body, you must fuel yourself with foods that power you through the day and night. Our goals should not come at the expense of our physical and mental condition. For long term success, the body must be cared for and sustained through quality nutrients. This seems simple, but it might be the most difficult aspect of our daily routines. It's too easy to fall prey to the temptation to reward yourself with something sweet that you know isn't going to help with your goals. The decision-making process might be complex, but it doesn't have to be complicated. Macro- and micro-nutrients are so important to your health that you practically can't lead at all without fueling yourself the right way.
Sustaining: Nutrition.

Eat healthy foods to maximize your best effort and sustain yourself physically and mentally. We realize that "eating well" can get confusing very fast, considering how much information is published on the topic. Although, we don't champion one diet over another, we believe in listening to our bodies and determining the foods that make you feel great. To that end, we find organic whole foods, minimally processed, to be a great place to start. Foods with bright colors, vegetables, fruits, and lean meats are key.
Technical Tip: Although it may seem mundane and boring, consider eating the same meals for breakfast and lunch each day, at least for the first few weeks of a change in diet. This ensures that two, out of your three, meals are healthy and cover the nutrient spectrum your body needs. Since these meals are easily planned and prepared ahead of time, you give yourself a greater chance for success. Allow yourself some healthy variety for dinner, learning new meals as you progress and uncover more about nutrition and wellness. After a while, you will be able to introduce more creativity into your meals and still maintain high nutritional standards.
Resource: Rather than providing you with a single resource, the following site includes 32 of the top nutrition and fitness blogs. They range from vegan to paleo so you are guaranteed to find something that fits your needs, https://greatist.com/eat/best-food-blogs-2016
#4 — Self-Reflection
Our fourth key habit centers on realizing that everyday is truly an experiment, and you should write it down to think about it deeply. Journaling is an opportunity to sit down and reflect on your day. No day is perfect, but there are incredible moments each day, even the very minor moments represent Lao-Tzu's single step. Documenting these steps in a journal allows you to think about your journey so that you can reflect and grow. Almost all of the great leaders who we have interviewed have mentioned a strategic way that they self-reflect to learn and grow from their past, from mistakes, from failures, and from imprints they've made in their path to success.
Reflection: Journaling.

Take time to reflect on yourself as a leader and your daily actions to better understand your routine practices and daily behaviors. As Nancy Adler writes, "

l

eaders have a surfeit of opportunities but suffer a paucity of meaning (Adler, 2016). We have infinite access to our own thoughts but rarely use them to create change in ourselves. Journaling is a discipline that requires dedication and commitment, but can lead to a critically keen understanding of ourselves and the world around us.
Technical Tip: Don't over complicate journaling. Keep it simple by journaling in the morning and then again before bed. In the AM, take a few minutes just to be sure about the clarity in your purpose for that day, what you want to achieve, and the key tasks that need to be completed. This is the time of day that your vision for yourself should be the clearest. Articulating it in a journal sends an important message to your brain that it will happen. At night, simply reflect on your day by reviewing the key areas just mentioned. This helps you to stay focused, gives you something to write about, and brings your day full-circle.
Resource: If you are hesitant to journal for whatever reason, and you aren't sure that you know what to write about or that you will stay committed, check out The Five Minute Journal: A Happier You in Five Minutes a Day. We find this resource to be a great place to start due to it's routine questions, which, despite their simplicity, force you to dig deep.
The Leadership Challenge:
Within the four key areas, decide to take one step in the right direction to ensure that they are part of your daily regimen. Let us know the steps you take, whether it be going for a vigorous walk in the afternoon, committing to reading ten pages a day, eliminating a certain food or drink from your diet, or writing down one great thing that happened during your day. Commit to one thing, take the first step, and start your journey to long term success. Tweet @TSH302, comment on the blog, or send us an email about the challenge you've accepted.
That's TheSchoolHouse302 model for leading with the daily habits that will absolutely help you to grow faster. We hope that you use our technical tips in your life and work so that you can lead better and grow faster through, and we hope you find the resources useful. If you want more support with daily habits for the leaders in your organization, don't hesitate to contact us, we can help.
Let us know what you think of this #SH302 post with a like, follow, or comment. Find us on Twitter, YouTube, iTunes, Facebook, & SoundCould. And if you want one simple model for leading better and growing faster per month, follow this blog by entering your email at the top right of the screen.
TheSchoolHouse302 is about getting to simple by maximizing effective research-based strategies that empower individuals to lead better and grow faster.
References
Adler, N. J. (2016, March 10). Want to Be an Outstanding Leader? Keep a Journal. Retrieved from https://hbr.org/2016/01/want-to-be-an-outstanding-leader-keep-a-journal
Cuddy, A. (2015). Presence: Bringing your boldest self to your biggest challenges. New York: Hachette Book Group
Lanik, M. (2018). The leader habit: Master the skills you need to lead in just minutes a day. New York: American Management Association.
Gelman, L. (2020, February 7). Benefits of Reading: Getting Smart, Thin, Healthy, Happy https://www.rd.com/culture/benefits-of-reading/