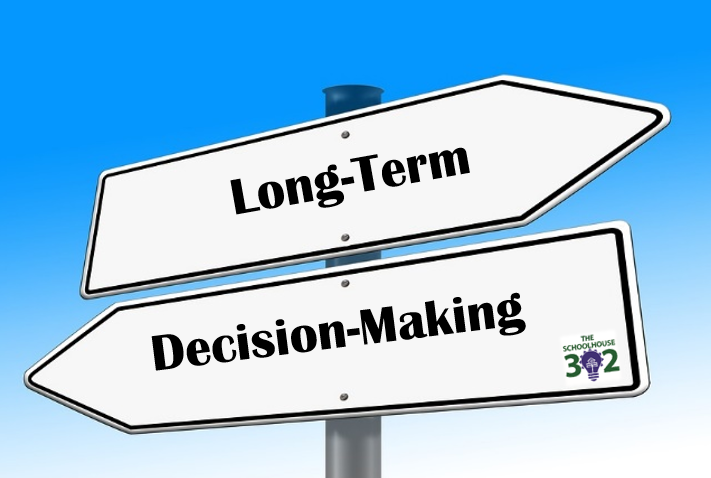 This is
TheSchoolHouse302
monthly #review&reflect, wrapping up our focus on Long-Term Decision Making.
Skills I need…
What qualities do I need to possess to ensure the decision I make as a leader are good for the long-term?
Review: This month's focus on long-term decision-making was supported by 4 key leadership qualities that ensure leaders stay focused on the future and sensitive to the present . Each area essentially equips the leader to make critical decisions by framing their thinking. Each component serves and develops the other. The model is unique in that each aspect can stand alone and still be powerful, but together they ensure the right thinking is involved when key decisions need to be made. Foresight is an attribute every leaders should possess. As John Maxwell writes in the Law of Navigation, "anyone can steer the ship, but it takes a leader to chart the course." Foresight enables leaders to make tough choices when answers are unclear. Couple foresight with the next component, think options, which allows the leader to recognize several opportunities and decide on the one that is best for the organization. This is why we introduced the third part, the use of principles. Principles, simply put, are the backbone of the organization. All three parts are made whole with the last quality–be responsive. We are confident that agility is a fundamental characteristic of thriving organizations. The ability to respond to conflict, demands, pressures, and change is the primal test for an organization's ability to survive. We contend that if you have foresight, think options, use principles, and act responsively, your long-term plans will be far more successful.
This model emphasizes 4 key leadership qualities that all leaders must possess to be successful.
Reflect: Each aspect of the model is critical for overall success and maximum effectiveness. While reviewing and considering each point, is there one that your team excels at and one that your team needs to improve? Long-term decision-making is difficult, and very often the immediate pressures "force" leaders to make short-term decisions. When challenges loom, quick fixes often present themselves in the best light. The challenge is in not succumbing to immediate needs and searching for the best decision that will equip the company for a vibrant future. One way to do this is to take time with big decisions, allowing yourself the space needed for clarity and foresight. We heard from Dr. Jackie Wilson regarding "history lessons" and the need to truly understand the past to know where you are to make the right decision to get where you are going.
As a leader, how do you create space between the issue and the decision to gain clarity and foresight?
How do I learn those skills…
What should I read to continually learn and grow if I want to be a better long-term decision maker?
Review: In our #readthisseries we featured the work of authors who we have found do an amazing job covering this topic and provide sage and practical ideas and suggestions:
How the Mighty Fall: And Why Some Companies Never Give In by Jim Collins
The Essentials Harvard Business Review's 10 Must Reads
The Rise: Creativity, the Gift of Failure, and the Search for Mastery by Sarah Lewis
You can't miss our #readthisseries on long-term decision-making. Watch it again here.
Reflect: Do I have daily habits that allow me to refine my skills and grow everyday? Do I have a routine that will enable me to develop the key qualities associated with long-term decision-making? Do I create space within my day to gain perspective and ensure my principles are guiding my decisions? Do I possess the foresight to make the right decision regardless of its popularity? As a leader, am I responsive to the people in the organization and the customers we serve?
Great leaders understand the power of journaling, reading, and reflecting to refine their skills to lead better and grow faster. This month reflect on yourself and your leadership team and determine the extent that each of you possess these necessary attributes. Based on the 4-point model, and using a 5-point scale, 1 being ineffective and 5 being highly effective, rate yourself and your team:
Who should I follow…
What does an expert have to say about long-term decision-making?
Review: For our #onethingseries, we interviewed Dr. Jackie Wilson, Assistant Professor and the Director of the Delaware Academy of School Leadership at the University of Delaware.
Throughout the interview, Jackie emphasized how leaders must fully understand the context and situation they are working in to be productive and successful. She stressed the need to talk to everyone to gain proper perspective to move forward and not repeat costly mistakes. She tied this to the critical need for a mentor so that as a leader you have someone to help guide you, develop you, and push you. What struck us as absolute is Jackie's commitment to students through ensuring that standards and policies are in place to provide all students with equity and access to a world-class education. She emphasized the power of the research behind much of the work she champions and how it can truly transform our practice. It's worth a second listen.
Reflect: Jackie stresses the importance of a mentor.
As a leader, do you have a specific mentor who you meet with intentionally to help you lead better and grow faster?
That's our #review&reflect for
long-term decision-making
. Take a look back to take a step forward.
TheSchoolHouse302
is about
getting to simple
and maximizing effective research-based strategies that empower individuals to lead better and grow faster.
Please let us know how our leadership posts are working for you, what you are reading to improve yourself, and your thoughts on leadership and growth here on our blog and Twitter. Follow our #onethingseries podcast on iTunes and our #readthisseries on YouTube.
Joe
&
T.J.
Maxwell, J. C. (1998).
The 21 Irrefutable Laws of Leadership: Follow Them and People Will Follow You
. Nashville, TN: Thomas Nelson