Businesses often fail to innovate because of the organization's culture and not the people. In fact, it's misleading to believe that the people in the organization are the ones thwarting new ideas. There's only one person in an organization who can truly squash any innovative thinking, and that one person is the CEO. It's only the principal, the chief officer, the managing supervisor, or anyone directly in charge of a group of people who can actually suppress innovation. Furthermore, one department within an organization can be cranking out new ideas all the time, working right alongside a department that cannot make any forward progress. As John Maxwell says, "everything rises and falls on leadership" (Maxwell, 2012). The good news for leaders is that there are ways to fix this so that your team is working together, thinking together, and innovating.
Why is Innovation so Important?
Tony Robbins once said that the only two things that matter in business are 1. Marketing, and 2. Innovation. He draws this conclusion for two reasons: 1. Because if you have a wonderful new idea that you can't market well and sell, it's worthless. It's merely an idea. And, 2. Sometimes an innovation is so creative and so inspiring that it doesn't really need marketing to sell. The product itself is so desired by the market that it moves all on its own. Doing both of these well requires a style of thinking that great leaders possess, but it's not enough for one person to be the innovator. Most leaders want this type of innovative thinking to permeate the organization and to spur success. At TheSchoolHouse302, we believe in getting to simple with research-based strategies and so we put together four simple strategies that can support any leader's efforts to build a culture of innovation in the workplace:
4 Strategies to Drive Innovative Thinking:
Strategy #1: Value ideas over everything else. This is about risk taking. "Risk taking is an increasingly critical element of leadership and essential for leader's effectiveness" (Tull, 2016). The greatest leaders didn't become successful by playing it safe and the same goes for organizational success, but too often organizations instill a play-it-safe mentality in workers because mistakes are seen as a performance problem. Risk taking, of course, cannot become reckless, but the value of teamwork and employing great people has to be placed on ideas and taking risks with learning and exploring and not the status quo. This means that leaders have to place extreme value on a continual flow of ideas so that thinking is new and not stagnant. Complacency is the death of progress.
Consideration: Why did Blockbuster lose its foothold on the homemovie and videogame market?
Strategy #2: Inspire creativity through the building blocks of innovation. This is about learning to be innovative. In his book, Pure Genius, Don Wettrick (2014) outlines the fact that innovation is cultural and schools, classrooms, and organizations can all spark innovation through teaching the foundation of innovative thinking. It's important for organizations to explicitly inspire people to take risks (where the leader models risk taking), to collaborate for synergy, to connect so that ideas are curated and then synthesized, to engage in a creative process that isn't linear, and to always reflect on both the product and the journey in getting to it. Creativity is not a congenital trait but rather something that can be inculcated by culture and expectation.
Consideration: Why did Play-Doh go from a cleaning product to a staple for children in the arts-and-crafts market?
Strategy #3: Always start with WHY. This is about having clear core values. As Simon Sinek explains in his book, Start with Why, great leaders know that inspiration comes from purpose, not from product or process (Sinek, 2011). Bottomline profitability, efficiency, narrow focus, and top-down management practices are just some of the reasons that contribute to an innovation void. But, when organizations have a clear set of communicated core values that drive shared decision-making, it allows for innovation to ensue because people are focused on the importance of the work and the mission at hand. This means that organizational culture has thinking and buy-in at its core rather than just following policies and doing the work.
Consideration: Why does a company like Apple continue to innovate even when their products are flying off the shelves?
Strategy #4: Allow innovation to be incremental. This is about small steps in the right direction. We interviewed @dougtimm34, an elementary principal who values innovation and leadership and who believes in what he calls "incremental innovation." Innovation doesn't have to be a massive change. It can be iterative. Doug explained that innovative thinking doesn't have to be about introducing something brand new but rather allowing yourself to have a process of revision where the end product is new and creative as a result of lots of efforts and input to refine ideas over time. The refinement process includes feedback from others and is used in top creative organizations like Pixar and Disney Animation where everything from the storyline to the characters' features go under review by teams of people before accepting a new product for development (Catmull, 2014). Tiny tweaks are always at the core of great change.
Consideration: Why does psychologist Amy Cuddy recommend making small nudges toward a goal rather than trying to take a huge leap?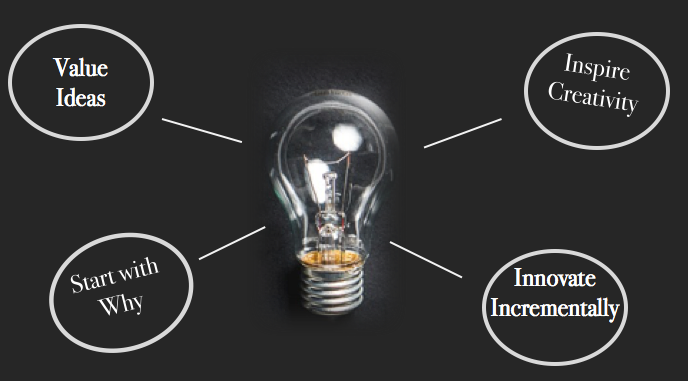 Using these four strategies in your organization will work to create a culture of innovation where new ideas are paramount to the fabric of what you expect as a contribution from everyone on your team. These strategies are complex by the nature of doing business with people, but they are not complicated and any leader can put them into place with thoughtful consideration and focus.
TheSchoolHouse302
is about
getting to simple
and maximizing effective research-based strategies that empower individuals to lead better and grow faster.
We value your comments, likes, and follows.
Joe
&
T.J.
Catmull, E. (2014).
Creativity, Inc: Overcoming the unseen forces that stand in the way of true inspiration.
Random House: New York.
Cuddy, A. (2015).
Presence: Bringing your boldest self to your biggest challenges.
Hachette Book Group: New York.
Maxwell, J. C. (2012).
The 21 indispensable qualities of a leader: Becoming the person others will want to follow
. Magna Publishing Co.
Sinek, S. (2011).
Start with why: How great leaders inspire everyone to take action.
Portfolio Penguin.
Tull, M. (2016). How taking risks evokes leadership success.
The Huffington Post
.
Wettrick, D. (2014).
Pure genius: Building a culture of innovation and taking 20% time to the next level.
Dave Burgess Consulting, Incorporated.