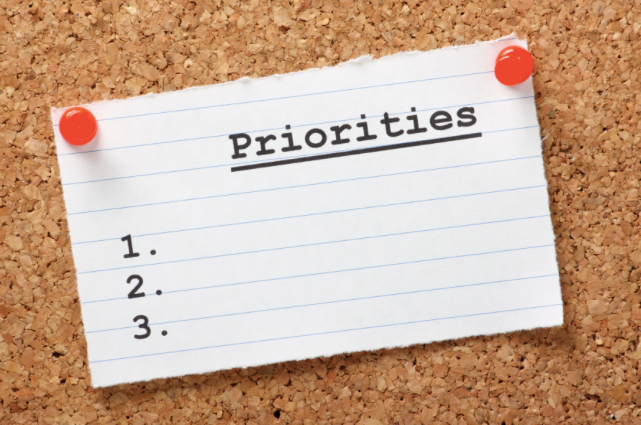 Last month, we posted about goals and goal setting, which is critical to leading and growing as leaders. One of our followers commented, saying:
Goals are great, but I try not to think of them in isolation. Something I would be interested in learning from you two or your readers is how moving up in leadership roles affects your time and energy that you can give to your family and health. How could this best be managed? How much of a factor is this change? Which leadership roles offer the most bang for the energy buck and which are the least?
Our reader, Sly, brings up a great point that leaders often have goals in many facets of our lives, such as family, health, work, recreation, and so on. But, the key, particularly when moving up in leadership roles, is clearly understanding your goals and being able to set priorities…and then making decisions based on them in real-time.
This month, we heard from Jonathan, who struggled with work/life balance and was actually making things  more complicated than they have to be. We often think of "balance" as equal time with work and play or that in attempting to achieve "balance" means less work than our current allocation, but that's faulty thinking. The balance myth is eclipsed by a more practical understanding of personal priorities. If working hard in your profession provides not only a sense of fulfillment, but also a better life for your family, then "balancing" time away from it is not the right choice. In fact, the reality is that more time at work can lead to better quality time at home. Priorities have to be thought about differently than goals. Priorities have to be in real-time all the time. While you might set aside time each day to dedicate to a goal with more of a long term objective, like earning an MBA, your priorities are minute-to-minute decisions about things that matter most. Here are three strategies that can make a difference with setting, keeping, and communicating your priorities:
#1. Identify your core values. Are your personal values clearly defined? Are they written for you and others to see? One key to leading and growing and to balancing your time on the things that matter most is to identify your personal core values. These should be open-ended but concrete, like "add value to others" or "work hard to contribute to the organization" or "family first." Don't set more than 5 and write them down.
#2. Make the right choice in the moment. Have you ever thought that you were making the right choice to then realize that your time would have been better spent on something else? Priorities should drive your decision-making and often the right choice may be counter-intuitive. This is where we lean back onto our core values to guide the right choices. It may seem like the right decision to leave your desk to spend time at home, but not if you're only going to dwell on the amount of work you have left to do. A better strategy—providing that your core values include your profession and your family—is to push a little harder to get that much more done on your project at work, which will allow you to feel better at home. This improves the quality of both experiences.
#3. Communicate your priorities to the people who need to know them. Do you tell your spouse that you're busy at work or do you clearly define an outcome that you're working towards? Does your family know how much you love what you do or do they see you as overworked and stressed at the commitment you've made to your current role? Your family deserves to know that you work hard and that you enjoy the fruits of your labor by providing for them. As a leader, your job doesn't just contribute to the organization's mission and vision, it allows you to be a contributor at home as well. That should be explicit to the people you love most. Johnathan realized that he needed to communicate better if his "hard work" core value was to transfer at home and so he decided to communicate better to his wife.    
Then we blasted out our #onethingseries, which followed up on our priority discussion. We talked at length about Jonathan's ideas, and we added one thing to the conversation, saying that the ability to stay consistent is critical to living your priorities.
#4. Stay consistent. It's all too easy to waver from your priorities. But this type of variability in your focus is detrimental to real achievement, and it's unfortunately common. Noise can cloud your ability to remain consistent, which is why being consistent has to be deliberate. This means going back to your written core values on a daily basis to review and reflect. Keeping your core values on your nightstand allows you to review them in the morning and at night: to reflect on them, to ensure that the day's schedule aligns to them at the start of the day, and to recall if your day's activities reflected them at the end of the day. Being deliberate with staying consistent requires strategies like this one or you're certain to lose focus on your priorities.     
There you have it. The four most important strategies for making sure your priorities are front and center.
Please leave us a comment.
TheSchoolHouse302 is about getting to simple and maximizing effective research-based strategies that empower individuals to lead better and grow faster.
Joe and T.J.