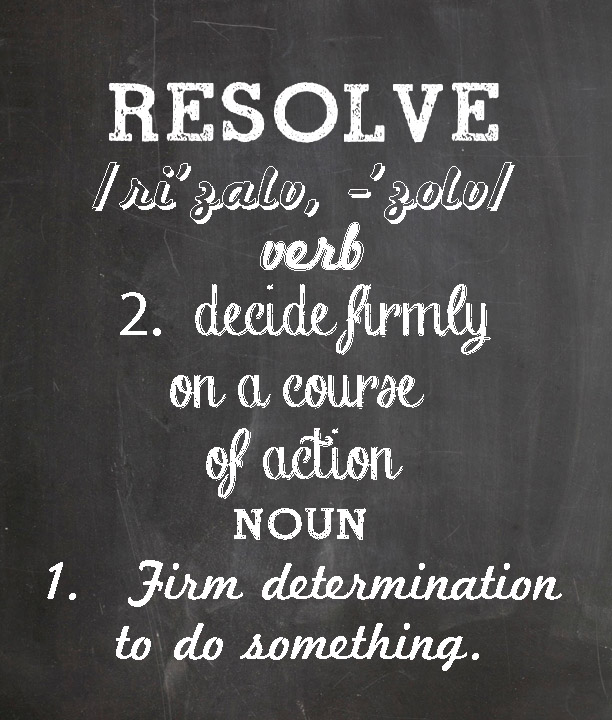 Making New Year's Resolutions in 2017
Who doesn't love a great cup of coffee, a must for many of us in the morning? Not only do I find coffee satisfying and energizing, what I love are the incredible conversations often had over a good cup of Joe. This past New Year's Day was one such conversation. Amid a great cup of deep dark Arabica coffee, I asked my friend if he had any New Year's Resolution. Jim acknowledged that he had set some goals and that he was really looking forward to achieving them in 2017. The realistic side of me questioned Jim's optimism, so I dropped some statistics, like, only 8% of the people who have resolutions actually achieve them (Pruitt, 2015).
Jim wasn't surprised by my doubt and nodded in agreement. We talked a little about the rich history of New Year's Resolutions, dating back to Ancient Babylonians, how the Romans used the tradition, and how for thousands of years human beings have desired to do better and be better (Pruitt, 2015). We talked about people's desire to grow, both personally and professionally, and how difficult it can be to simply be an improved version of our current selves. We both agreed that one challenge is life itself—it gets busy and before we know it, not only are we not on track to reach our goal, we haven't even thought about our goal in days, if not weeks. So I asked Jim what made him so sure that he would achieve his goals. Here's what he said:
I'm going to focus, focus, focus on one thing that I truly desire…
Jim's rationale wasn't complicated or overly involved, actually it was quite simple.  Don't focus on goals you are not passionate about. Too often, we set goals that we think we want, or we think are good for us, but they don't spark excitement or passion. In fact, they feel more like a chore (Grace Saunders, 2017). Jim's goals were very clear, explicit, and were centered on things he really cared about. Jim acknowledged that this took time and that his resolutions were goals of his that he had been thinking about for some time. Jim revealed that although he was well educated with a bachelor's degree and extensive professional training, that lacking an MBA created a ceiling that he was quickly approaching. So, his goal, enroll in an MBA program and earn 12 credits towards his masters this year as a part-time student was truly important to him. To ensure success, Jim already talked to his wife and boss to confirm that he would have their support. Knowing Jim's already hectic schedule, I asked him about the challenges he'll face particularly around time. He went on…
I need to identify the most effective strategies for my time, which challenge conventional thinking…
One of the biggest misunderstandings about achieving goals is that people think they have to do more. For example, take health and wellness. So many New Year's Resolutions revolve around losing weight with an increase in exercise (just look at the swell of gym memberships during the new year). Many believe that going to the gym or going to the gym more often, carving out precious time, is actually the answer and the most important aspect of weight loss. However, according to Shawn Talbot, nutritional biochemist and former director of the University of Utah Nutrition Clinic, weight loss is 75% diet and 25% exercise (Masin, 2014). So when we think that in order to lose weight, we actually have to do something like exercise or exercise more, although that's part of it, what matters more is a focus on our nutrition and caloric intake (Carroll, 2015). If the weight loss split is 75% diet to 25% exercise, then the truth is that 75% of our energy toward the goal should be about eating healthier and eliminating poor habits, with only 25% of our energy focused on exercising. Yes, both are necessary, but one is more important than the other and doesn't require necessarily more time. Arguably more planning, but not necessarily time. Jim's approach is powerful because he analyzed the best approach to achieve his goal, despite what he may originally have thought about it. So how will Jim find time for an MBA, one strategy he discusses was "time blocking" (Grace Saunders, 2017). Jim blocked time throughout his work day that he cleared with his boss and time at night he cleared with his wife. Jim knows that without blocking out the time each week for his MBA, he simply won't succeed.  The activities associated with his resolution are the most likely to help him achieve success. I asked Jim if there was anything else he thought would clear up time and energy to focus on what he wants to make a reality. He knew the answer:
There are things I need to stop doing…
In order to achieve our resolutions, we have to be honest regarding our time, level of commitment, ability, and the amount of goals we want to achieve. Jim said the biggest and most effective change he made in the past to help him reach his goals was evaluating what he need to give up to go up (Maxwell, 1998). He identified what he had to stop doing that was not going to help him achieve his goals. So Jim made a list of all the activities and behaviors that were counterproductive and would derail him. Through some serious introspection and evaluation of his lifestyle, Jim identified some areas of his life that he could improve. He made clear that some of these things he truly enjoyed and were fun, but would need to be tabled for the time being. He indicated that despite his best efforts, managing himself was challenging. That his attitude at times was fickle and his focus suffered, so in 2017, to reach his MBS goal, he would avoid those activities that he knew could lead him off the path to his goals. One example was that although he enjoyed his Monday night bowling league, he wasn't consistent with his attendance and it was drawing his attention away from bigger more important goals like earning his MBA.
Jim's Resolve
Making a resolution and having the resolve to achieve it are two different things. In 2017, Jim is going for something he's passionate about, something that will clearly improve his life. He set specific goals through focus, he understands exactly what he needs to do, which goes against conventional wisdom, and he even plans to set some of his current activities aside for a time to gain momentum in the right direction. We want to know your keys to success, your New Year's Resolutions, and your commitment to a better you. Please comment below.
TheSchoolHouse302 is about getting to simple and maximizing effective research-based strategies that empower individuals to lead better and grow faster.
Joe and T.J.
References:
Maxwell, J. C. (1998). The 21 irrefutable laws of leadership: follow them and people will follow you. Nashville, TN: Thomas Nelson.
Grace Saunders, E. (2017, January 03). Stop Setting Goals You Don't Actually Care About. Retrieved January 06, 2017, from https://hbr.org/2016/12/stop-setting-goals-you-dont-actually-care-about
Masin, P. (2014, Exercise Vs. Diet: The Truth About Weight Loss. Retrieved January 06, 2017, from http://www.huffingtonpost.com/2014/04/30/exercise-vs-diet-for-weight-loss_n_5207271.html
Pruitt, S. (2015, December 30). The History of New Year's Resolutions. Retrieved January 06, 2017, from http://www.history.com/news/the-history-of-new-years-resolutions
Carroll, A. E. (2015, June 15). To Lose Weight, Eating Less Is Far More Important Than Exercising More. Retrieved January 06, 2017, from http://www.nytimes.com/2015/06/16/upshot/to-lose-weight-eating-less-is-far-more-important-than-exercising-more.html?_r=0