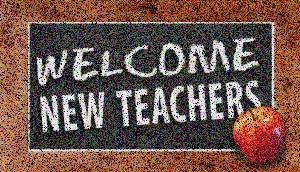 This month TheSchoolHouse302 is focused on bringing teachers back into the best culture imaginable.  Doing so couldn't be more necessary for all teachers but especially for new teachers.  New teachers need to be welcomed into a supportive and encouraging environment with very clear and high expectations.
What do new teachers need?  MTL!
#1: Mentor. New teachers need a qualified mentor, informal and formal. Some districts and states have formal mentoring programs, but all new teachers need a buddy—a familiar face in the school, maybe on their team or in their content area, to answer questions. Pick your new teachers' mentors carefully, but make sure that they each have one, assigned by you. That can make the difference with their success in their first year.
Challenge: Check in each week with your mentors to see how you can support them and their mentees. We often do check-ins with mentees but check your mentors for the support they may need.
#2: Time. New teachers, just like everyone else, but maybe more so, need time in their classrooms. Consider what's most important for teachers as they return to school. Carve away as much time as you can for new people, uninterrupted. Get new teachers into their spaces as often as possible before students come back, and make no excuses about letting them enter their rooms in the coming weeks. If you set the expectations correctly, harbored in a great vision and mission, then let the teachers do what you hired them to do! Time, time, time is the most important thing that all teachers need to come back to, but especially people new to your school.
Challenge: Free up time by modeling what you expect from your own teachers.  Flip your meetings and offer recorded videos that communicate the information. For more, listen here to a seasoned teacher talk about modeling what you expect during the first days back.
#3: Leadership. New teachers need a strong leader. They need to see you as the center of the school and the lighthouse for which they can rely on when the waters get rough. In the opening days, make sure to touch base with each new teacher individually to let them know that you're their ultimate support when they need anything.
Challenge: Visit every new teacher once a week through the first marking period.  These visits should be informal and quick, but they should see your face and know that you are there for them and their students.
The bottom line is that new teachers need support. It's our role to support them with MTL!
Tell us how you plan to support new teachers this year by leaving a comment.
Joe & T.J.