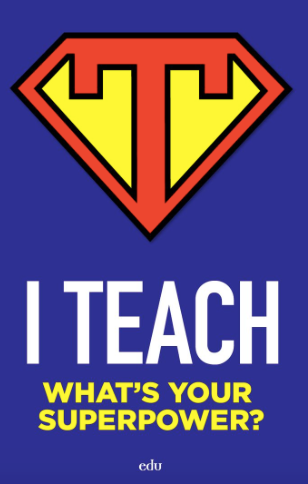 Early is the new on-time
–
theschoolhouse302
This comes to you well over a month before Teacher Appreciation Week (TAW). Why so soon? Because TAW takes planning. In fact, if you wait much longer and you want to do something totally innovative and creative for teachers, you'll be too late. If you get this before or during Spring Break, use the time to plan ahead. Your teachers deserve it. Teachers are surely an under-appreciated group. Even the most supportive and appreciative school leaders can't tell teachers just how awesome they are and how worthwhile the work is that they do as regularly as they would like. That's because teaching is often done in isolation, away from other adults. We call for school wide strategies to break this cycle of isolation, like Professional Learning Communities,
Walkthroughs
, and collaborative decision-making. But, regardless of your culture of collaboration, we think Teacher Appreciation Week should be a week filled with recognizing and celebrating the wonderful work of teachers. We hope that school and district leaders will read this with plenty of time to prepare for every single day of Teacher Appreciation Week.
Here are 10 strategies to fill the five days with fun for all teachers during their special week:
ONE: Breakfast.
Provide breakfast for your teachers on at least one of the days. This might sound simple but there are a number of logistical concerns to tackle to make sure that it goes smoothly. A) Make sure the breakfast arrives early. If you start time with students is 7:15, breakfast should arrive by 6:30 at the latest. If your start time is 8:30, have it arrive by 7:30. Teachers generally arrive to work early and need setup time before students enter. If they're also going to eat a relaxed breakfast, they need time to do so. B) Consider all of the luxuries if you plan to have a spread of items—toasters, something to keep coffee hot, ice to keep the OJ cool, etc.
Additional Tip to Make it Even Better: Administrators should serve the breakfast!
TWO: Lunch.
Providing lunch for teachers is a great way to thank them. It makes a difference in their day in that they have something special to look forward to and they don't have to spend time packing something and bringing it from home. Don't do this buffet style. You can do a buffet breakfast because everyone can eat at the same time, but a buffet lunch means that the teachers who eat last get leftovers and cold food; they might even miss out altogether. Instead, partner with a local business to have a special menu that teachers choose from days in advance and have the lunches delivered in waves so that all teachers get a fresh hot lunch no matter what time they eat.
Details:
Teachers make menu selection by circling their choices, they put their name on the top and circle the time that they eat. Menus are collected and submitted to the local restaurant a day or two in advance and either the restaurant agrees to deliver three times or non-teaching staff (administrators or secretaries) do the pick-up. Lunches should be bagged with each teacher's menu stapled to it for distribution.
THREE: Snack.
Put a small snack in every teacher's mailbox for their arrival to work. Again, do this in plenty of time in the morning or the night before for your early arrivers. It's critical that every teacher get the experience. Bagged granola or a granola bar or a few selections put together that you can get in bulk from local grocers are not hard to do. We suggest a printed label on the item that says "You are appreciated. Enjoy your day." The label is the extra step that tells teachers why they're getting something special when they arrive. This one is easy and fun and can be done on several of the days.
Additional Tip to Make it Even Better: Have a group of kids deliver the snack during teachers' planning periods with a special message that the kids convey—maybe your chorus kids could even sing a special song.
FOUR: Something Sweet.
Providing a dessert for after lunch or for at the end of the day is something nice to do for Teacher Appreciation Week, but make it special. Small bags stuffed with assorted candy is easy to do and sends a message that it's a special day. Another idea is to contract with a local pastry shop for original cupcakes. "An Apple for the Teacher Cupcakes" are fun—cupcakes made to look like apples, even taste like apples. You can also do a fun decoration on each that resembles the school logo. We've done this kind of thing before, if you don't have any ideas or strong opinions about what your cupcakes should look like, ask the pastry chef what she/he thinks. Just say, "I want something original that tells my teachers that they're special people." They'll come up with something fun for sure.
Additional Tip to Make it Even Better: Check out this site for Candy Sayings to show your appreciation: http://www.rmdsa.org/resources/tmueller/Candy%20Bar%20Sayings.pdf
FIVE: Happy Hour.
Definitely don't buy drinks, but you can provide an arrangement of appetizers to munch on while folks chat after school. You can set this up with your teachers' favorite local spot and give them plenty of advanced notice that you've done so. A school with positive culture always has people who hangout after work and on weekends. End TAW with a bang to include an after work gathering with food and beverage. Make it better by planning games and providing a private room, otherwise just plan to meet and set up a food station and a few tables pushed together.
Yes, 50 percent of our list is about feeding your staff. We argue that you should feed your teachers all five days during the day and once after school. We like the combination of breakfast twice (one individually prepared item and one buffet day), lunch once, snack once, a desert item once, and after school on that Friday at a happy hour, that's all five.
SIX: A Small Gift.
A useful gift is nice for TAW. Teachers generally like pens, thumb drives, bags, umbrellas, notepads, and all kinds of small gifts that you can find in bulk. The key here is to make it special with the school colors, logo, and/or a specialized note to make the items original. One of our favorites is a notepad and pen with a special quote on the top of every note.
SEVEN: A Clothing Item.
Get creative. Develop a t-shirt for each teacher with the school name on the front and their name and room number on the back. We've also done jackets, collared polos, hats, and hoodies. Personalizing it is best but any item that boasts the school name and colors is fun.
EIGHT: A Personal Note.
A handwritten personal note for each teacher goes a long way. This one is super time consuming if you have a large staff, but it makes a difference. Each of your teachers contributes something special to the overall goodness of your school. Telling them exactly what you appreciate about their individual contributions to the culture strengthens the understanding that your work is super worthwhile. If you don't decide to do this during TAW, think about it for Thanksgiving or Christmas or the end of the year.
NINE: Gift Cards or Coupons.
These can be donated; if you pound the pavement and knock on doors, you're sure to get loads of small offers that can create a "coupon book." Lots of businesses have readymade 10% off or 5 dollars off if you spend 20 coupons. They'll just need to know how many teachers you have. Movie tickets are a big winner. Local establishments are good contributors and this is a win-win when it drives traffic into their shops.
TEN: Trophies, Plaques, & Medals.
It's always fun to give out trophies that have the teachers' names on them. You can personalize it with their name but they can all get a trophy for a different reason—funniest, loudest, quickest lesson planner, etc. etc. Depending on the culture of your school, these can even be gag gifts. If you shop the Internet, you can usually find these things for pretty cheap. Note that none of this should be bought with taxpayer dollars. Schools should have a locally generated small school budget for things like this. Soda machine dividends, small contributions from picture day profits, and other revenue from events are where we generate enough to pay for celebrations. Again, if you plan ahead, work with local businesses, and bargain shop, you can make all of this happen for a manageable cost. Just don't wait. Nothing we have listed here can be done on a whim. It takes planning, which your teachers will know—the thought and time it takes in-and-of-itself tells them that you appreciate the work that they do. Let's plan for the best Teacher Appreciation Days ever. Let us know what you plan to do.
T.J.
&
Joe
Last Tip: Send an early note to parents, twice. Do it two weeks before TAW and then one week before. Parents need notice if they're going to send something to the school. Celebrating on the day with an email blast is too late.