Getting to Simple to Lead
better

and grow

faster

We are a passionate tribe for:
Leaders | Teachers | Principals
Allow Us to Introduce Passionate Leadership
FREE Podcasts & Resources
We Have the Power to Impact Our Future, and We're Doing Something About It – Join Us
Welcome to TheSchoolHouse302 where it's our job to help you lead better and grow faster. Leadership might be complex but it doesn't have to be complicated. Our models for leadership are simple and applicable in any organization…public, private, big, or small. 
Here's how you can enjoy the site. Each month, we start with a new leadership model built on the core tenements of leadership and based on both research and evidence from practice. There are several parts to the leadership curriculum we serve. This guide may help you gain clarity on how and where to get the most value from us:
#TSH302: Our Central Blog
Our blog is posted during the first week of the month under #SH302 so that you can find it on Twitter, etc. Next, during the second and third weeks of the month, you get our ReadThisSeries and our OneThingSeries, posted as #readthisseries and #onethingseries. 
#ReadThisSeries
In our ReadThisSeries, we recommend the best books to read on the topic for that month. We always recommend three because we know that leaders are readers. 
#OneThingSeries
In our OneThingSeries, we conduct a short-form 20-30 minute leadership podcast with a great leader, author, researcher, professor, or otherwise top thought leader on the topic for the month. 
#reviewandreflect
Last, you get our Review&Reflect (under #review&reflect) to wrap up the month so that you can take a look back to take a step forward with our reflection questions. 
Our content provides a leadership curriculum for anyone who aspires to lead better and grow faster so that you can serve others better. We hope you'll connect with our amazing audience by following, commenting, and liking our work.
And, as always, you can contact us for professional development on our leadership models or to recommend a topic for the blog, a book for our #readthisseries, or guest for our podcasts.
Suffering arises from trying to control what is uncontrollable, or from neglecting what is within our power. ~ Epictetus Open any news source or social media app and it is easy to become disillusioned, questioning where we are headed as a country. COVID-19 is still...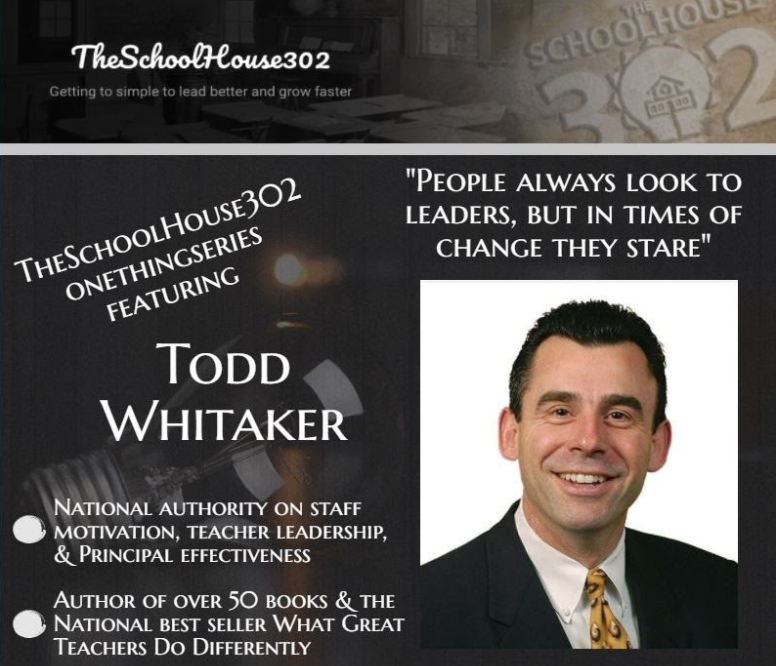 About Todd Whitaker Dr. Todd Whitaker has been fortunate to be able to blend his passion with his career. Recognized as a leading presenter in the field of education, his message about the importance of teaching has resonated with hundreds of thousands of educators...
Looking for More Resources? 
Please check out our books and other resources.
Announcing Master Classes
Coming very soon in 2020
Sign Up Below to Get Exclusive, Early-Bird Access  When we Launch Later this Year
Here's what you can expect when you join the Master Class:
5-week virtual learning series 
75-minute session, once per week
Expert content 
Challenges to practice each week 
A community of learners as a support network 
A unique ebadge for finishing each course
Thank you to everyone who supports our mission to bring better leadership to schools each day. Depending on sponsorship level, we'll either give you shoutouts on our Podcast or invite you to join us as a featured guest!